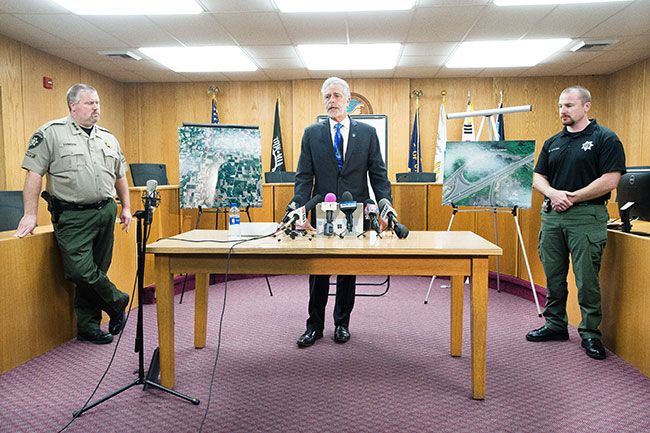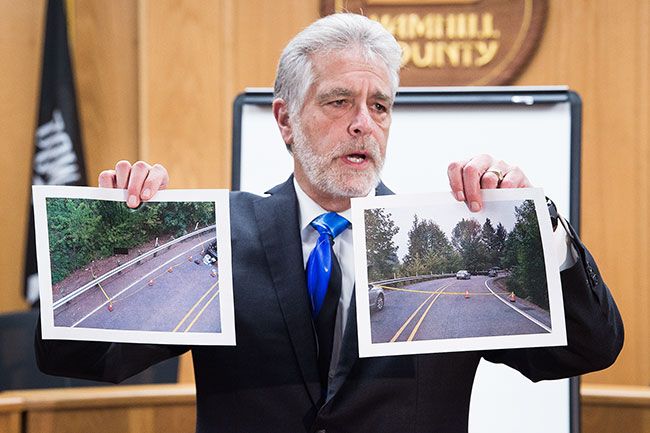 Mother charged, but Cordie death ruled an accident
Updated 9/28 9:45 a.m.
Jennifer Weathers has been charged with driving under the influence of intoxicants and recklessly endangering another person in connection with the death of her 27-year-old daughter, Meighan Cordie, Yamhill County District Attorney Brad Berry said Thursday evening.
Weathers, a Washington County resident, is tentatively scheduled to be arraigned on the charges at 1:30 p.m. Wednesday, Oct. 3, in circuit court. She was cited but not taken into custody.
Yet, Cordie's death has been ruled accidental.
According to Berry, Cordie sustained two broken vertebrae and an aortic separation after either accidentally or purposefully exiting a moving vehicle -- being driven by Weathers -- and colliding with a guardrail. The aortic injury resulted in a loss of blood pressure and Cordie "bleeding out," the district attorney said.
Berry left no doubt the case was made all the more difficult to investigate because of Weathers' unwillingness to fully cooperate.
"Currently, there are not applicable statutes that (Weathers) could be charged with, given the information we would be able to present to a judge or jury," Sheriff's Office Capt. Chris Ray said Friday morning, discussing anger expressed by many on social media regarding Berry's findings.
The Yamhill County Major Crimes Response team deliberated over the Oregon Revised Statutes for some time and spoke at length with Berry regarding the issue, according to Ray.
"I believe at the root of all this, what folks are having the most difficult time with, me included, is that it simply doesn't seem fair," Ray said. "And it's not."
He said it's disappointing to see on social media people insinuate that Berry or investigators who had to recover Cordie's body and investigate "this tragic event" are failing her as a victim.
"That's simply not true," Ray said. "I have seen people post on social media that Mrs. Weathers should be charged with manslaughter; The elements for manslaughter require that a criminal homicide take place, which we do not have in this case.
"I've heard she should be charged with 'hit-and-run' - fail to perform the duties of a driver to injured persons. This requires the vehicle be involved in an accident, which did not occur."
Berry gave an account of the events of Saturday, Aug. 18, when Cordie and her mother attended a wedding and reception on Grand Island:
About 10:30 that evening, the two argued and a physical altercation also ensued in the vehicle that also contained Cordie's 3 1/2-year-old daughter. Investigators were told by Weathers that Cordie got out of the vehicle and left on foot without her phone, shoes and purse.
They were told she left the vehicle at the intersection of Southeast Grand Island Road and Upper/Lower Island Road, 9 1/2 miles from the location where Cordie's body was found, and it was determined as part of the investigation she could not have walked that that distance.
The investigation, in fact, determined Cordie was in the car, sitting in a rear passenger seat of the vehicle driven by her mother when she either accidentally opened the door along the off/on-ramp leading from Highway 18 to 221 - Wallace Road - just north of Dayton and fell out and under the guard rail, or she purposely jumped from the car and ended up down the embankment.
Her injuries were consistent with hitting a stationary object at a high rate of speed, and those objects would have been two support pillars. It's believed her back hit one of them and then her head struck another, before her body tumbled down the embankment. She died on impact.
"We do not know all that happened," Berry said. "We do know she left the vehicle a second time and was killed instantly. There is no evidence of criminal conduct (beyond the DUII and recklessly endangering charges), and as a result, it's been ruled an accidental death. It's a tragic case with a lot of incomplete evidence."
Weathers took one polygraph examination Tuesday, Aug. 21, and the results were inconclusive. She told the examiner she had taken a muscle relaxant the night before the exam. She was scheduled to take a second exam, but never did, and has been uncooperative with authorities ever since, according to Berry.
A clump of hair was found in the vehicle, which Berry said they believe was Weather's, but they have not completed testing to verify.
"I have heard people asking why we don't compel her (Weathers) to tell us the truth," Ray said. "Simply put, it's called the Fifth Amendment to the U.S. Constitution, which protects a citizen from being compelled to be a witness against him/herself."
Friends and relatives combed the area during the initial search. Relatives reported her missing the following day when they still had not heard from her.
The sheriff's office launched an expansive air and ground search on Grand Island and the surrounding area until the time her body was found.
Joggers discovered Cordie's body over the steep embankment about 10:30 a.m. Thursday, Aug. 23.
She was initially identified based on physical description and clothing.
The state Medical Examiner's Office previously determined Cordie was the victim of blunt force trauma.