Maxine Joy Niehus - 1917-2018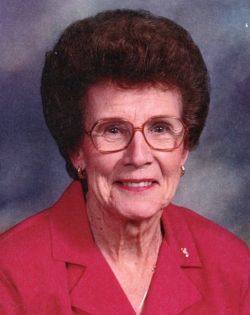 Maxine Joy Niehus passed away peacefully July 2, 2018, at the age of 100. Maxine, the oldest of seven children of Meadie (Rabe) Ferris and William Ferris, was born November 28, 1917, in Platte, South Dakota. She had three sisters and three brothers, Dorothy George, Kenneth Ferris, Beverly Robinson, Melvin Ferris, Joan Robbins and Robert Ferris.
She graduated in 1936 from St. Ann's High School in Geddes, South Dakota. In 1937, after Maxine's father passed away unexpectedly from pneumonia, Maxine's mom and seven children moved to McMinnville, Oregon.
Soon after Maxine arrived in Oregon, she was followed by her high school sweetheart, Ralph Niehus, and his two brothers, Vern and Bob. Ralph and Maxine were married November 6, 1937, in St. James Church McMinnville. They lived on a farm about seven miles out Baker Creek Road in McMinnville, where they raised their five boys, Richard, Roger, James, Gary and Michael.
Maxine worked in McMinnville at Archway Cookie Company and later worked in Carlton at the Portland Glove Company, where her husband Ralph was a supervisor.
Maxine belonged to St. James Catholic Daughters and was very active in the church. After her retirement, she continued to donate her time at St. Vincent de Paul.
Maxine enjoyed family reunions and campouts with family and friends. She was the perfect hostess for holidays and casual get-togethers. She was a hard-working, loving and devoted wife and mother. Her grandchildren and great-grandchildren were her pride and joy. She sincerely loved every single relative from the Ferris and Niehus family and many close friends. She will be missed by many but forgotten by none.
She was preceded in death by her husband, Ralph; her son, Richard; and her six siblings. Maxine is survived by her sons, Roger, James (Helen), Gary (Lyla) and Michael (Debby); and many grandchildren and great-grandchildren.
Viewing will be held from 4:00 to 7:00 p.m. July 16 and 17, at the Chapel of Macy & Son. Services will be held on Wednesday July 18, 2018, at St. James Catholic Church. Recitation of the rosary begins at 9:30 a.m. with a Funeral Mass celebrated at 10:00 a.m. In lieu of flowers, donations can be made to Serenity Hospice.
The family wishes to thank all of you who provided us with the much appreciated love and comfort. To leave condolences, please visit www.macyandson.com.