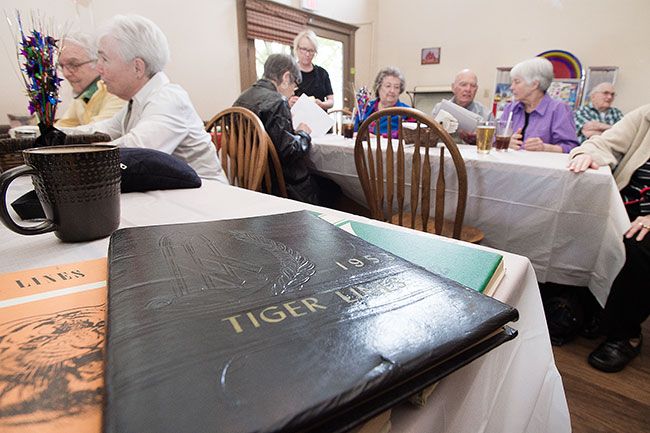 Starla Pointer: Reunion opens window on the soul
I have attended more high school reunions than almost anyone — a few of my own, but mostly reunions from other schools and previous eras.
I've covered 25- and 30-year gatherings, along with those marking 35, 40, 45 and 50 years — and sometimes more. The roster includes the 73rd anniversary of McMinnville High School's Class of 1942, back in 2015; the annual small schools' reunion in Dayton, which draws alumni of the numerous one-room schools once active around the county; and earlier this year, the 65th reunion of Yamhill High's Class of 1953 and 60th of Mac High's Class of 1958.
At each one, I've witnessed classmates hug. I've heard them reminisce about the good times they had together, and the activities that made their school days unique.
Former students tell me their classmates were always close, always friendly, but I've taken that with a grain of salt. Surely, there were a few conflicts back in the day?
It's true, though, that "time heals all wounds," or at least erases the petty jealousies and misunderstandings that occur in any group of young people together for four or seven or even 13 years.
Reunions are a wonderful way to remember who we are and where we've come from.
But I wasn't sure about the first of my own high school reunions in 1988, 10 years after I'd waved goodbye to most of my classmates.
On June 4, 1978, we marched into the Reedport High School gym, boys in black robes, girls in red, as the band played "Pomp and Circumstance."
I was class secretary, so I led the Pledge of Allegiance. Kim and Ginger delivered the valedictory and salutatory speeches.
Mr. Whipple, our favorite English and French teacher, told us how much he'd thought he'd known when he was our age — and how, in the ensuing 12 years, he'd learned how much he still had to learn.
Miss Nordyke, our drama teacher, sang "Everything," a song from the recent movie "A Star is Born." We had a second class song, too — Fleetwood Mac's "Don't Stop Thinkin' About Tomorrow."
And we didn't. After graduation, we scattered like dandelion seeds in the wind at Shore Acres State Park. Some went off to college; others married and became parents; some traveled; others settled down to work in the woods, mills or fisheries of our hometown.
Ten years later, I was eager to see friends I'd made growing up. After all, at least two-thirds of our classmates had been together since elementary school.
But I was scared as well. Would they want to see me?
When it was time to leave Mom's house for the reunion dinner, fear was winning out. I decided to drive around for a couple hours, letting my mother think I'd been to the event. But first, I parked alongside the Umpqua River, in a spot where I could see my classmates entering the restaurant.
I spotted Ceil, and Billy, and Lisa, Dee Dee, Stephanie, John, Kevin and so many others. Classmates. Childhood playmates. Part of my life.
I soon found myself joining them — and having a great time. Ten years out, we were all agreeable. Any rough spots had been worn away by time, displaced by shared memories.
We met in kindergarten, or before, and over the years, we shared so much.
We went on field trips to the farm and the lighthouse; we competed in spelling bees and swim meets and contests naming state capitals. We planted trees. We cheered for our football and basketball teams, with Mr. Pierce and the pep band shouting exclamations like "outstanding" after each score.
We stood outside in the rain during evacuations triggered by bomb threats, which happened many, many times during our mid-70s secondary school years. Inside, we stood in line for vaccinations, which seemed almost as frequent.
Together we slogged through "Beowulf" and "The Scarlet Letter." We rehashed last night's episodes of "Welcome Back, Kotter" and the weekend edition of "Saturday Night Live."
We listened to Bachman-Turner Overdrive, Elton John, the Bee Gees and Fleetwood Mac. Mr. Sinner even played Stevie Nicks' songs in junior English.
Bobby did "Monster Mash." Wes cracked us up with his stories. Delilah drew. Natasha wrote. Holly sang.
Back in elementary school, we ran to recess on the big lot next to a daffodil field, hanging on the fence in springtime, hoping pickers would bring us blossoms.
In winter, Kenny and I built dams in the river-like mud puddles that ran beside that fence. Today, we would be marked as future engineers.
We climbed the monkey bars and went spinning upside down on the flip bars.
I flipped off during one recess, embedding a sharp rock in my knee and ending up sobbing as if my life were over. It wasn't because it hurt, but because blood was running down my leg onto my brand-new white Keds.
We went swimming on Saturday nights for a quarter, and during school days as well. The town swimming pool was attached to our elementary school, and served as the place where Mr. Winters taught our weekly swim lessons.
They were crucial, as we lived among lakes and rivers, next to the ocean. I still say thanks for the skills I learned then as I swim in the McMinnville or Carlton pools today.
When we reached fifth grade, nearly all of us boarded buses each morning to travel to W.F. Jewett Middle School in Gardiner, the next town over.
Many members of our families worked in the sawmill or paper mill there. Oh, the smell of the latter, when the wind shifted.
We returned to Reedsport for sixth grade at Pioneer School, a fortress on the hill in the center of town. And we started band that year.
I remember grumbling daily as I hauled my heavy saxophone to school, walking beside my neighbor Janice, with her tiny flute. I didn't complain when we got to play in the Fleet Days Parade, though.
Band, like swimming, would play a major role for me the rest of my life. As an adult in McMinnville, I played in the Second Winds and Frank Messina bands for several years.
'Way back then, I joined classmates for band trips — to Bandon, to North Bend and, yes, even to McMinnville for an exchange concert.
I stayed overnight with the Morton family in a house not far from Mac High's band room. Our band performed the next day in the MHS gym, a separate building back then.
Who knew, two years later, I'd be back in Mac as a Linfield student — a choice greatly influenced by our journalism and photography teacher, Mr. Stuller, a 1934 Linfield grad.
Who knew I'd end up attending so many assemblies in that gym, and cover construction projects that first linked the gym with the rest of the high school, then razed it to make room for more classrooms?
Funny how one moment in life leads to another ... how what happened then shapes who we are today. That's one of the benefits of class reunions: we get to remember and relive those critical moments with the people who were there at the time.
If you're hesitant to attend your reunion, don't be. You'll discover some of your present in your past.