McMinnville business owner charged with abusing young boy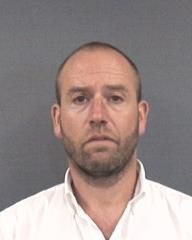 James Adam Tate, owner of NW Food & Gifts in downtown McMinnville, was arraigned Wednesday afternoon in Yamhill County Circuit Court on one count of first-degree sexual abuse. His alleged victim was a boy under 14 years old, and they were known to each other.
The district attorney's charging instrument alleges the 41-year-old McMinnville resident knowingly and unlawfully subjected the boy to sexual contact in the form of touching.
Tate was taken into custody about 10 a.m. Tuesday in the area of Northeast Third and Irvine streets. He was booked into jail on $150,000 bail related to the Class B felony charge that is a Measure 11 offense. If convicted of the charge, Tate could be sentenced to more than six years in prison.
McMinnville attorney Abraham Hanson represented Tate at Wednesday's proceeding, but told Judge Ronald Stone that the defendant was in the process of hiring an attorney. The pair had discussed issues related to the case, according to Hanson.
He requested that Stone reduce the bail to the "statutory minimum" of $50,000, which would require Tate to post $5,000 to secure his release. Hanson said family members and friends were available to bail him out.
"He has known the allegations are out there and stayed around," said Hanson, who told the court that Tate is well known locally.
Deputy District Attorney Benjamin Donner argued for the original bail to remain in place. He said there are a "ton of concerns" amongst family members related to the charge.
Stone said he would release Tate on conditions that include he have no contact with the victim, no contact with minors and abstain from alcohol.
Hanson told Stone Tate works in the wine industry, and the judge did not prohibit him from continuing to work in that environment.
Had Stone left the bail at $150,000, it would have taken $15,000 to free Tate. He was bailed out not long after the proceeding, with one individual making the $5,000 payment, according to court records.
The district attorney's charging instrument alleges the sexual contact between Tate and his victim occurred from Oct. 1, 2015 to Dec. 31, 2015.
McMinnville police gave this account of events leading up to Tate's arrest in a probable cause affidavit:
In mid-May, an officer contacted the victim regarding the sexual assault, and the victim gave a brief statement.
He was interviewed at Juliette's House, and stated he and Tate slept together. He said he awoke around midnight to Tate touching him in appropriately. Tate then got on top of the victim who said the incident lasted five to 10 minutes, during which time he pretended to be asleep.
Tate eventually got off the victim, but remained in bed with him the remainder of the night.
An individual identified as "witness" in the affidavit said Tate and the victim often slept together. Other people who were contacted as part of the investigation said they were told of Tate's alleged conduct prior to the police beginning their investigation.
Anyone with information about this case should call the McMinnville Police Department tipline, 503-434-2337, and reference case No. 18-2090.
Tate's next court appearance is at 2 p.m. Wednesday, Aug. 22, at which time he will likely be arraigned on a grand jury indictment.
See Friday's print edition for additional details.