Christmas trees a year-round labor of love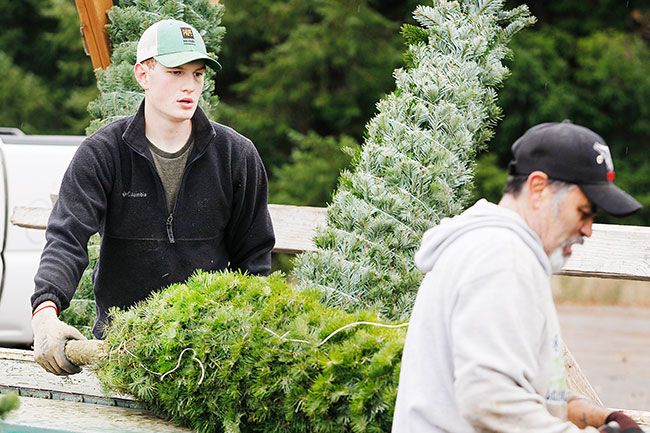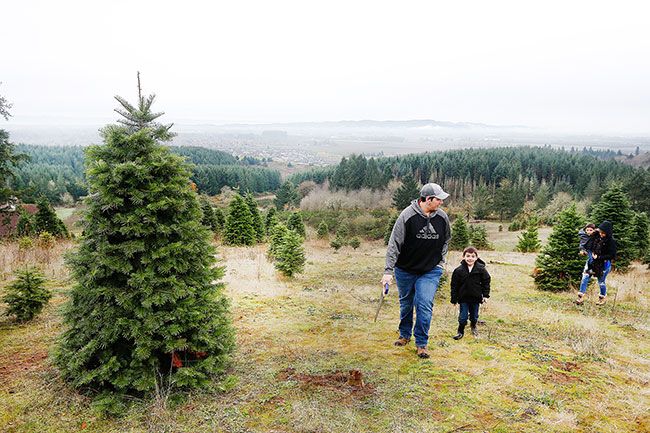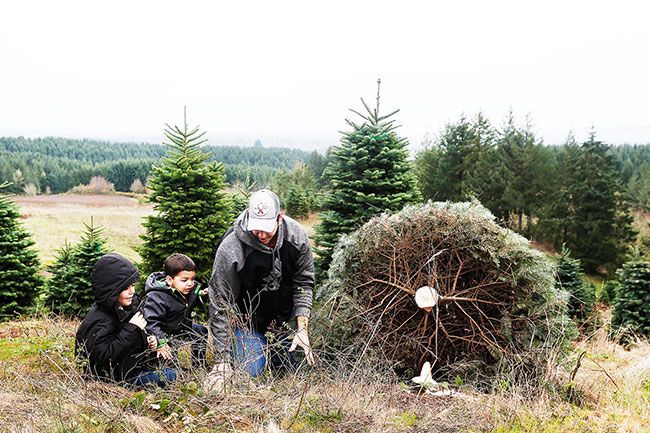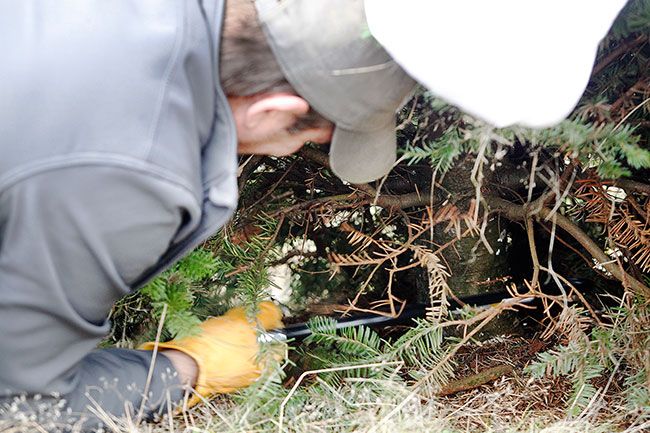 But Karl Kraemer and his brother, Bert, think about Christmas trees year-round. They always have.
"I've done this as long as I know," said Karl, partner with Bert in the Fox Ridge Tree Farm.
In addition to their U-cut stand, and two 20-acres parcels in west McMinnville that help supply it, they own and manage 50 acres of trees near Amity. Christmas tree wholesalers, they ship trees to remote locations in addition to selling them locally.
As a boy, Karl said, he followed his father around the farm "with a bucket of trees to stick in the ground."
Planting those foot-tall seedlings was fun, he said. And eventually, it became a way of life.
As the brothers grew older, they assumed more of the responsibilities, from planting to shaping to selling. By the time they were teens, "Dad let us make the decisions," Kraemer said.
Karl, who graduated from McMinnville High School in 1991, also worked in the other family business, Kraemers' Garden Center. He's now president of the nursery, which sells garden art, growing supplies and other items, in addition to indoor and outdoor plants.
The Kraemer family is celebrating its 50th anniversary running the retail business on 99W, at the north end of McMinnville. Karl said his dad bought what was then Ted's Market produce stand in January 1968 and gradually turned it into a garden store.
"This is the only job I've ever had," he said of his tree farming and nursery work.
The garden store keeps him busy year-round. But then, so does the Christmas tree operation.
"You have to think years in advance with the trees," he noted.
Most buyers want a 6- to 7-foot tree.
It takes a Douglas fir about seven years to reach that size, and a Noble fir about nine years. The Nordmann fir, a newer variety growing increasingly popular, also needs about nine years.
The Kraemers plant new seedlings in the first weeks of the new year. Over the ensuing months, they control weeds and monitor the trees' growth.
They make sure they're growing straight. And they remove some lower branches so there's room to place the trunk in a water-filled tree stand.
They shape the seedlings into the classic Christmas tree outline, using a long and very sharp knife. It's hard work, especially in the heat of summer, so workers usually either work at night or start very early in the morning.
In the fall, he said, they inventory the trees and prepare for harvest. Depending on wholesale customers' demands, they start harvesting about the middle of November, and continue through Christmas.
"We cut some for local tree lots," he said, including the one maintained at the garden store.
The Kraemers like trees and enjoy working with them.
"Every tree is different, just like us," Karl said. "A tree doesn't have to be perfect to be beautiful."
He enjoys working with the customers who pick out trees at the U-cut. "Some have been coming every year since the mid-90s," he said, recalling the little tent he and his brother used as a stand in the early years.
The stand has become more substantial, and now he's seeing a second generation of buyers.
At the U-cut site, families don't have to do any hard labor, Karl said. Workers are available for the actual cutting, and to carry, wrap and load the tree.
"We give them a tag and all they have to do is find a tree they like," he said.
Christmas trees last for weeks if they're taken care of properly, Karl said.
He suggests that families make a fresh cut on the bottom of the trunk when they get the tree home, then submerse the end in water. Keep adding water throughout the season, he advised.
As Christmas tree growers, the Kraemers have always had freshly cut trees themselves. "I usually grab one from the pile or get the Charlie Brown tree, something odd," Karl said.
He's already cut this year's tree. It's not lighted yet, though.
He's waiting for his daughter, Bailey, to return from college before placing the decorations. Son Jake, 12, who's already helping out with the tree farming operation, will help with the decorating, he said.
"The best time to get a tree is when your family is home," he said.