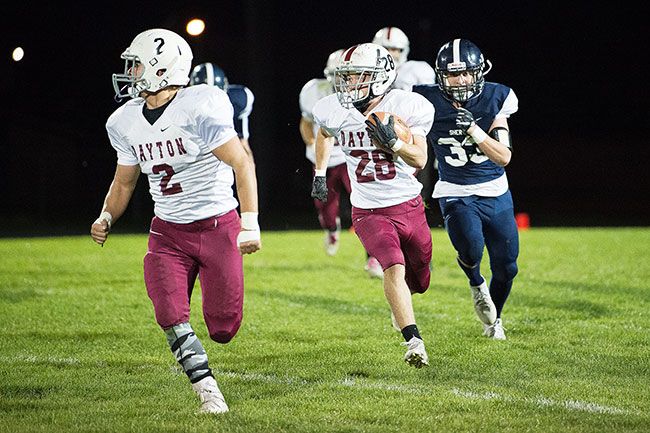 Pirates capture 41-7 road win against Sheridan
SHERIDAN – Dayton raced to a 27-0 first-quarter lead, and never looked back as the Pirates eventually cruised to a 41-7 victory over Sheridan tonight. Zach Russell led a powerful Pirate offense with a season-high four rushing touchdowns and Braeden Nowlin compiled over 200 return yards to consistently hand Dayton possession in Spartan territory.
Russell added 76 rushing yards to his quartet of scores and recorded eight tackles on defense. Nowlin averaged 30.5 yards on six punt returns and returned his only kickoff 47 yards to give him 230 total return yards. Tristan Fergus, the Pirates' starting quarterback, completed 17-29 passes for 217 yards and a touchdown.
For Sheridan, Jake DeBoff completed 10-21 passes for 87 yards and an interception. He also ran the ball five times for 68 yards and he scored the home team's only touchdown of the night on a 24-yard scramble in the second quarter.
The Spartans' first series ended with disaster. After a pair of penalties, DeBoff was hit hard and fumbled. Dayton's Luke Primbs recovered to hand the Pirates a short field starting at the Sheridan four-yard line.
Russell took the first handoff and plowed his way into the end zone, and following Bailey West's PAT, Dayton led 7-0, only 21 seconds into the match.
A holding call ruined the Spartans' next drive, and after Nowlin returned the punt 27 yards, Dayton took over at the Sheridan 41.
Fergus hit West on an 11-yard reception, then the Pirate play caller scrambled for another 11 yards. Russell capped the three-play drive with a 19-yard touchdown run. DeBoff blocked the PAT, but Sheridan stared down an early 13-0 deficit with 8:55 remaining in the first quarter.
Less than two minutes later, the Pirates struck yet again. Starting at the Spartan 35, Fergus lofted a 28-yard pass to Nowlin. Fergus then rifled a pass to Owen McLoud for a seven-yard touchdown and a 20-0 edge.
Aiden Huber completed the 27-point first-quarter explosion when he dashed six yards for a score with 3:36 left in the period.
The Spartans turned the page in the second quarter, and DeBoff orchestrated a 66-yard series leading to their first touchdown. He totaled 44 rushing yards on the drive and Josh Rogers pitched in with 16 rushing yards. After Trevor Lambert knocked through the extra point, the margin was 27-7 with 5:37 left.
Sheridan's defense regained its composure following the offense's opening score, and the unit forced a turnover on downs on the next series.
With time winding down in the first half, it appeared the home side would escape with a 20-point deficit. However, Pirate head coach Greg White called for a perfect trick play. Fergus snapped a throw to West on a comeback route, and Russell flew into the picture to take West's lateral for a 37-yard score.
The Spartan defense continued improving in the second half. They limited Dayton to a lone score, Russell's fourth, which occurred with 9:30 left in the fourth quarter.
Unfortunately for the home fans, the Sheridan offense couldn't break through for another TD to chip away at the deficit. One last ditch offensive drive for the Spartans ended as Nowlin picked off DeBoff on a deep pass to the end zone.
Dayton (5-1, 3-0 WVL) takes on Willamina next Thursday at 7 p.m.
Sheridan (3-3, 1-3 WVL) hosts Salem Academy, also at 7 p.m. Thursday.