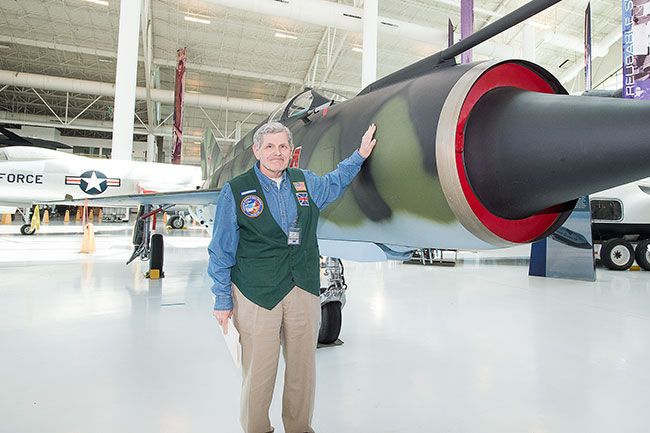 Stopping By: Flying for queen and country
"God, please don't let me get killed," the young pilot prayed, crossing himself like a good Roman Catholic. And then he was off, flying into battle in the Indo-Pakistani War.
Gibson-Zeigler, who now lives in McMinnville, spent 29 years in the RAF, British equivalent of the U.S. Air Force.
He was born and raised in Santa Barbara, California, where he played in a band with his buddy, Jimmy Messina, later of Loggins & Messina fame. He went on to study at Reed College in Portland.
But his parents were English. Not only that, but his mom served with the WAAF, Britain's Women's Auxiliary Air Force, while his dad was serving in the RAF.
Like Christopher Plummer's character in the movie about World War II's Battle of Britain, his dad's cockpit once caught fire. That prevented him from opening the canopy to bail out, so he shot it out with his sidearm.
His mom heard her beau's plane had caught fire and assumed the worst. When he turned up with only his left wrist bandaged, she scolded him, saying, "Don't ever do that to me again!"
Their son said they met on her 18th birthday, which she was celebrating with friends. She approached her future husband and asked, "Pilot officer, would you dance with me?"
After the war, they married and moved to California, where he worked in agricultural chemicals and she became a literature professor.
The elder RAF pilot passed along his passion for aviation to their son. "From a very young age, I was in love with airplanes," recalled Gibson-Zeigler, who was born in June 1952.
When he was 6, his father built him a toy WWII RAF Spitfire. It was painted like the one he'd flown — dark gray with green on top, with a light gray underbelly.
Later, when Gibson-Ziegler was old enough, his father taught him to fly real planes.
His dad teared up when Gibson-Zeigler announced he planned to join the British air force. He even accompanied his son to England when he reported for boot camp in 1970.
Gibson-Zeigler graduated form RAF flight school and received a queen's commission to fly fighter jets.
Less than a year into his career, he was approached by his squadron leader about participating in a pilot exchange with the Indian Air Force. He eagerly accepted.
He was stationed in the Punjab region of northern India, near its border with Pakistan. The climate reminded him of Santa Barbara, and he loved the Indian music, food and beer.
He liked the local people, too. He was especially fond of his new commander, Arjan Singh, who had flown with his father.
Gibson-Zeigler was assigned to a Russian-made MIG 21. "One of the finest planes I've ever flown," he said.
The jets were fast and highly aerodynamic. And the Indian Air Force kept them beautifully maintained.
He was a little disappointed in early December when their gleaming silver exteriors were repainted in sand-and-brown camouflage, the colors of combat.
He'd gotten used to seeing planes from the Pakistani Air Force flying over, pushing into Indian air space. "We'd take off and chase them back to Pakistan," he said.
Suddenly, though, it became clear that war was imminent.
On Dec. 10, the klaxon sounded, and he said, "We took off running. We scrambled to our MIGs and took off."
The young pilot was targeted by a Pakistani counterpart in a U.S.-built Lockheed F-104.
"I heard whirring, and a bullet caught me in the right shoulder," he recalled. "That made me mad."
He remembered a lesson he learned from his father:
If an enemy plane is behind you, drop the flaps and lower the landing gear doors in order to slow down quickly.
When he did that, the Pakistani jet shot past him, putting Gibson-Zeigler into perfect position to shoot at its tail.
He released a sidewinder air-to-air missile and scored a direct hit. "I saw a ball of flames," he recalled.
He had his shoulder patched up when he returned to base. The next day, against doctor's orders, he climbed into his MIG again.
He flew several more missions during the 13-day war. He returned to Britain with a scar, which he still carries, and a collection of battle stories.
That wasn't supposed to be part of the program.
"I expected peace in India," he said. "Peace, curry and long-board surfing."
Gibson-Zeigler, who used to live in McMinnville, and recently moved back, talked about his experiences in the Indo-Pakistan War at a recent Veterans Band of Brothers meeting.
Like his fellow docents at the Evergreen Aviation & Space Museum, the vets understood his stories because they were grounded in the realities of war, he said. People who've never served in the military don't always appreciate them, he said.
"War is hell," he said. "Sherman was right. But if we didn't have (our armed forces), we'd have no freedom."
After India, he went on to serve in several other battles.
But first he enjoyed years of peacetime flying, including another pilot exchange, this time with the U.S. Marine Corps in North Carolina. "No war, just fun," he recalled.
He also spent some time in Denmark, where he flew Saab Drakens.
Then, while attached to the HMS Hermes, he returned to combat in the Falklands War in the early 1980s, in the South Atlantic, near the tip of Argentina. He flew Sea Harriers, fighters known for near vertical takeoffs and landings.
He later fought in the Gulf Wars. He didn't like being based in the desert, where sand gets into everything — food, water and even flight suits.
This time, he carried a knife that had belonged to his grandfather, a British cavalry officer, and a handgun, as well, just in case he was shot down. He and other pilots had been warned about the enemy giving no second chances, he said, explaining, "I wanted to take them out."
Gibson-Zeigler said a fighter pilot needs to display bravery. But he also needs to display good common sense.
If outnumbered in the air, he said, he needs to know when to tap the afterburner and head for the hills.
Pilots also need to be intuitive and careful as well as daring. They need to be prepared.
"I'd pre-flight my plane twice," he said. "I'd talk to it. I wanted it to be ready to do what I asked of it," he said, referring to it as "my lover, my best friend, my weapon."
While he loves sharing memories of his service, he said he's glad to be retired. It gives him a chance to pursue other interests.
He has, for example, owned a vintage guitar shop, not to mention a mail-order business specializing in tiny ejection seats for scale-model planes.
He likes to stay involved with aviation on a larger scale as well, and volunteering at the air museum every Friday fits the bill. "I'm in my element," he said, relishing the conversations he has with fellow pilots and veterans.
Gibson-Zeigler said he regrets his father didn't live to see the Evergreen museum.
"He would love it here," he said. "He'd want to fly the Spitfire."
Starla Pointer, who is convinced everyone has an interesting story to tell, has been writing the weekly "Stopping By" column since 1996. She's always looking for suggestions. Contact her at 503-687-1263 or spointer@newsregister.com.