Letter to Readers: Thinking of others to very end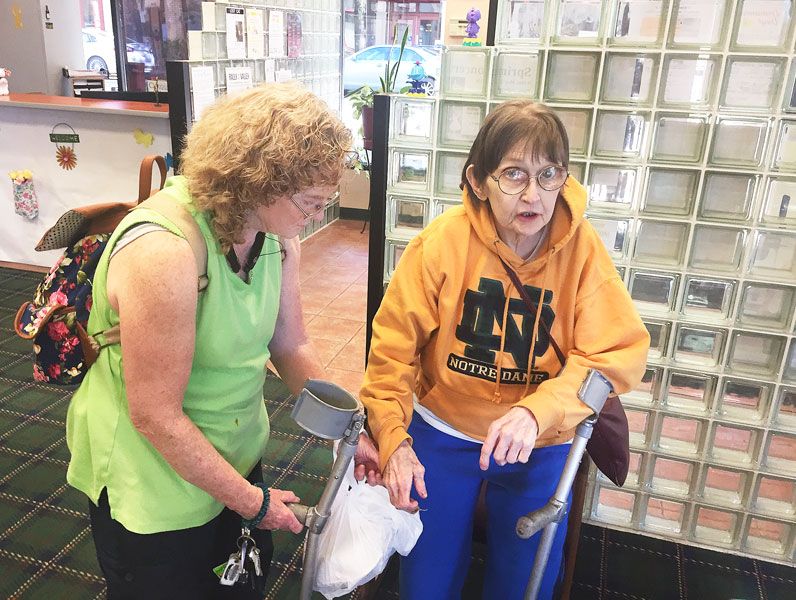 Sidne Grace, 74-year-old resident of the Highway 18 hamlet of Otis, was a woman on a mission when she dropped by the paper unannounced Wednesday. She wasn't going to be put off by anyone or anything.
"I told Catherine," she said, referring to 45-year friend Catherine Miller Manning of Ellensburg, Washington, "that I wasn't leaving town until I got to the paper."
She had called me earlier from the Comfort Inn, where she was meeting up with Manning in preparation for the return trip to Otis, but hadn't managed to make connections. She had a story to tell and was determined to tell it.
She wasn't interested in talking to just anyone, either. She wanted to go right to the top, or at least as near the top as she could get.
It seems Grace has suffered most of her life with an array of afflictions.
She's legally blind. She battles atrial fibrillation, a potentially lethal cardiac arrhythmia. She needs a pair of leg braces to manage even an agonizingly halting pace. She suffers from advanced osteoporosis, so bones are prone to breaking, including her back.
When she arrived in McMinnville for a Monday morning visit to the Willamette Valley Medical Center, she was severely anemic, requiring infusions of iron and red blood cells. "I looked like death on a stick," she confided.
But that wasn't the worst of it.
The last two or three years, Grace has been suffering waves of abdominal pain. In fact, she recalls the exact date the first ones washed over her — July 14, 2014.
Visits to coastal clinics failed to produce a diagnosis, so she turned her attention to a trio of hernias she'd developed. She visited the McMinnville hospital to have them evaluated for possible surgical repair, feeling a larger facility would be a better bet for a Medicaid patient suffering from a mix of maladies.
At the hospital, she saw internists George Khoury and Jack Vining, who commissioned a battery of tests requiring her to stay over Monday and Tuesday nights.
She said the tests "left me black and blue," and to prove it, she held up a spindly arm displaying some distinct discoloration. But they also provided her with what she had long been seeking — a definitive diagonisis.
It was delivered by Dr. Khoury, whom she views as the most patient, kind and caring man on the planet.
It turned out the lumps weren't hernias after all, he told her. They were tumors.
She was, he confided, suffering from Stage IV cancer that had taken over her liver and colon, and begun invading her bones.
Sadly, it was terminal, he said. She didn't have long. Hospice should be called in.
So Grace rushed to the paper to share the news with every McMinnville resident she could reach — about what a wonderful and caring hospital we have here. She said she's been in lots of them during her medically challenged life, and not one of them compares.
She made a list of everyone she wanted to thank for her great treatment, but managed to misplace it. Upset with herself, she struggled to remember names of nurses she felt deserved mention, coming up with Brandon, Michelle and Theresa for starters.
"Lovely town, lovely hospital," she said. "What a jewel in the crown you have with that hospital."
But what of the deadly diagnosis? Didn't that give her pause?
"I'm a hard-ass," Grace said, punching the air for emphasis. "I don't fall apart that easy."
Besides, she said, her faith gives her the confidence to meet her Maker. "I know where I'm going," she said.
That taken care of, she turned her thoughts to letting strangers know what a nice facility they have to fall back on when the going gets tough.