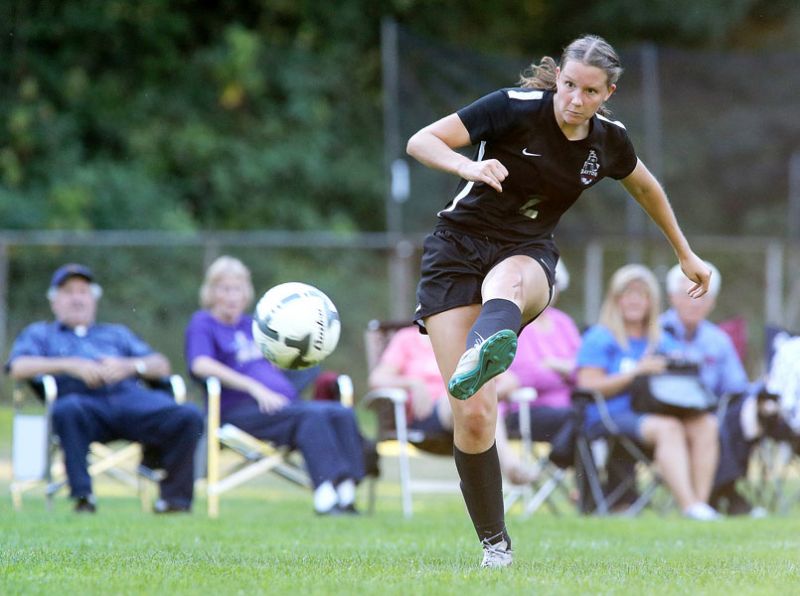 Katzler's foot propels Pirates past Pioneers, 4-0
LINCOLN – Pirates and Pioneers. Among smaller 3A/2A/1A schools, they represent one of the premier rivalries in girls' soccer. The past three years, 1-1 draws and one-goal victories are routine when the two teams meet for battle. Before this week, only once has a match been decided by more than two goals, with Western Mennonite prevailing 4-0 long ago on Sept 16, 2013. But head coach Pat Myer's Pirates, led by Lynsey Katzler, brought the fight to the Pioneers Monday, securing a monstrous 4-0 league triumph.
"We've never seen a result like this against them. Early on in our games against each other, we were always getting beat. Then last year, we beat them by a goal after coming from behind and then we tied them (at Western Mennonite). But the most important thing, beyond the rivalry, is how well we play," said Myer.
On a night when Western Mennonite's star athlete, Madison Hull, was in goal, Myer and Katzler realized the team was in for a battle.
"Anything close to Maddie (Hull) is going to be snatched up. There were a few shots she got with just her fingertips, and then brought them in like it was a piece of cake. She has great hands, so you can't go high with your shots," said Myer.
"She's tall and quick. You can really tell with all the stops she made tonight how good she really is. If you shoot it up high, she is bound to get it," said Katzler.
Hull was quick off her line, denying through balls by Dayton's dynamic midfielders. When the Pirates gained traction in the attacking third, Hull defended her goal with even greater ferocity. High shots were snatched easily. Rocketed attempts at her posts were parried away. For 38 minutes, she was unbeatable.
However, Dayton chose Katzler to ruin Hull's shutout. Taking advice from her coach pre-game, Katzler adjusted the height of her shots, keeping them low in warmups. With the sound tactic, she broke the scoreless tie with a perfect goal in the 38th minute. The location? Low, in the corner and just out of reach of Hull.
With the halftime score 1-0, the match had all the makings of another close, brutal skirmish. Twenty minutes into the second half, that narrative remained true. Then Katzler ascended to a higher plane of soccer existence.
In the 61st minute, she slotted home her second goal off a feed from Nancy Arroyo, again beating Wester Mennonite's keeper with a shot on the ground. She wasn't content with a brace. Four minutes later, she pentrated the Pioneer defense, faked out Hull and placed a left-footed shot into the far right corner of the goal. Hat-trick accomplished. Still Katzler wasn't satisfied. Yasmin Arenas floated a through ball to Katzler in the 67th minute and she calmly punctuated the win with her fourth goal.
"I've scored a hat-trick before. But this is definitely my first time scoring four. It's such a crazy feeling; I was expecting to score a couple goals and my teammates would score a couple. But this was so awesome and I couldn't have done it without (my teammates). We've all grown so much, playing together all these years," said Katzler.
While Myer's star forward taught a clinic of goal-scoring prowess, the Pirates' midfield was giving her excellent chances. Arroyo and Arenas each registered an assist and April Anguiano delivered a pair of helpers to Katzler. Their strong play was evident; Dayton held roughly 70% possession.
"We have a lot of responsibility to deliver good passes to Lynsey. Nancy and I, we have an unbelievable chemistry that leads to a connection on the field," said Arenas.
The Pirates also continued their stout defensive play. Their 14 goals allowed are tied for fewest in the league, and the performance against Western Mennonite showed why. Captain Kaylie Holland and Julia Bateman were forces of nature on the back line. Not only were they halting the advance of the Pioneers, the two routinely carried the ball forward into the midfield. Holland and Bateman's skilled defensive efforts were pivotal to the match's result.
The win was even sweeter for the victors, as they not only defeated their bitter rivals, but also leapfrogged them in the standings. Dayton (5-1, 5-4) now claims sole possession of second place in the 3A/2A/1A Special District 3 (SD3). The Pioneers (4-2, 6-3) fall to third place.
As playoff runs intensify, the climb in the table for Dayton has significant repercussions. Only two teams are guaranteed to qualify for postseason play from the SD3. Dayton's success on Monday means it controls its own destiny for the remaining six games.
The team hopes to continue the march to playoff qualification with a 4:15 p.m. match against the Taft Tigers (3-3, 3-4) Tuesday. A home rematch with Western Mennonite will conclude the Pirates regular season schedule Oct 21.