Don Iler: Springtime for Trump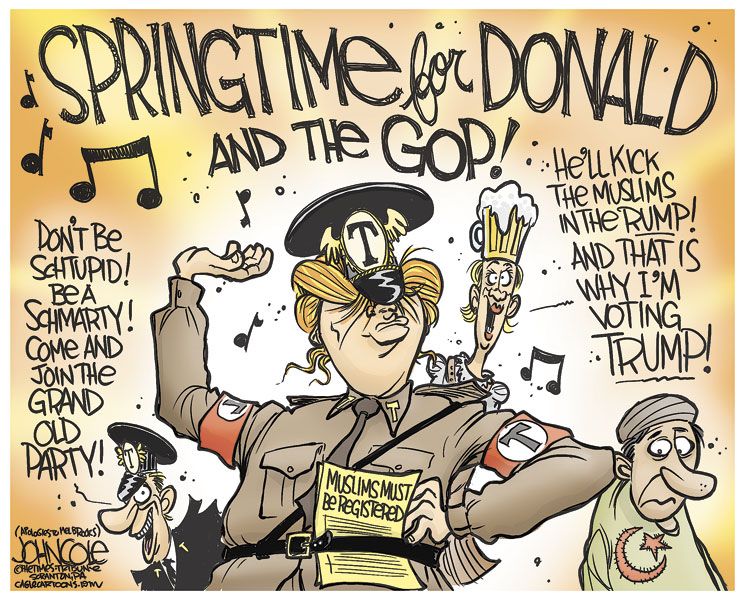 With Donald Trump's path to the Republican nomination looking increasingly like a sure thing, his neo-fascist statements and attitudes reminded me of past dictators. Since Hitler's rise to power is so similar to Trump's, I took the liberty of imagining what the infamous Nazi would say to the spray tanned and oddly coiffed one. While our democracy may seem secure and November a distant way off, other democracies around the world have elected dictators with populist messages during hard economic times: Hugo Chavez in Venezuela, Benito Mussolini in Italy, Adolf Hitler in Germany. If Trump's bombast is true, and he is elected, I fear the possibility of the beginning of a dark future for America.
Comrade Trump,
Congratulations! Like a valkyrie riding across the battlefield, you have rescued fascism from its long dormant slumber. For too long, the educated people of the world turned a blind eye to the glories of totalitarianism, but you have returned it to the forefront. You have learned when you play upon people's basest instincts, their ignorance and their fear of human beings who look different from them, you can pave a path to victory.
You are already doing so much right. The large rallies at arenas full of banners with your name emblazoned everywhere are a gallant first step. With some practice and discipline, you can hold rallies as glorious as those designed by my friend Joseph Goebbels at Nuremberg. You already fill your speeches with bombast, lies and half-truths, and your ability to stir up the crowd into a frenzy reminds me of my glory days on the stage in Berlin. People don't want to hear real proposals. They want a strong man, a decisive man, who has all the solutions to their problems. Think of it: one empire, one people, one Trump.
What a shame America is still recovering from an economic downturn, but this helps your meteoric rise to power. The unemployed, the desperate and the bitter are excellent allies. You ignited their passion to make America great again. I did the same in Germany. Ten years of economic turmoil and a large national debt after our defeat in the Great War created plenty of open ears ready to hear the gospel of Nazism. You have found your audience — people angry, still poor, still unemployed. Your Americans see defeats in Iraq and Afghanistan and, along with a large national debt, feel ashamed. Ride the tide of rage to victory in the election! Let the hate course through your veins!
Use nationalism and you will be unstoppable. The downtrodden love nothing more than clinging to the idea their country is the best. Use this nationalism to build a strong military and secret police. Once in possession of my Wehrmacht, my SS, my Gestapo, I eliminated my enemies and solidified my power. You will be surprised how easily a well-off, well-educated country will acquiesce to the demands of a dictatorship. Many thought I was a joke, that no one would take me seriously at the election, that there was no way the country which produced Beethoven, Bach, Goethe, Heine, Kant and Nietzsche would allow a racist, vegetarian corporal like me to become Führer. Forget the haters, Comrade Trump; use force to will yourself to power. Execute the dissenters once you have absolute authority.
With fears inflamed, already you have found a solution to America's problems: a scapegoat. Blaming millions of undocumented immigrants from Latin America is a stroke of brilliance. You told crowds you will deport all of these Untermenschen and force Mexico to build a wall to keep them out. Rounding up people, splitting apart families, destroying businesses and burning neighborhoods might bring condemnation from the United Nations and weak liberals, but do what you know is right. Being a racist isn't easy. Why stop at just deportation? You will need to build camps to house these vermin once they are arrested. Housing and feeding them will be expensive. Do what you feel is best, but I recommend slave labor and execution.
If Mexico won't build the wall, I suggest invading them. Your problems at the border are already more than we ever had with Poland. The climate is pleasant there and the United States is already too crowded. What your country needs is Lebensraum.
Religious minorities will also need to be dealt with. Your statements about Muslims reminds me of the halcyon days of Kristallnacht. I had my own problems with the Jews, like you do with the Muslims. Round them up for deportation and invade the countries they came from. You already suggested this in your speeches and debates. Great work.
I'm glad you haven't just stopped there. Your misogynistic statements about women, your belittling of a handicapped reporter, your rough treatment of the press, the put downs for your opponents and your discriminatory statements warm this old dictator's heart. Might is right. You must attack the weak at every opportunity. I also applaud your proposed loosening of libel laws to quash unflattering articles about you. Silence those pesky journalists; I did. When there is nothing but the glory of Trump on TV, you will be on your way to total victory.
Really, there is so much you are doing right, it's hard to find fault, Mr. Trump. I had my moustache, you have your hair. I took over from a chancellor who ruled through executive order with a parliament paralyzed with partisanship. You'll take over a similar situation. I had the Jews to blame, you have Muslims and Latinos. Before I forget, what legacy will you leave for your country? I left Germany the Autobahn. Oh, and I'd suggest not invading Russia.
The elites will underestimate you and say you aren't serious. They said the same about me in Germany. I proved them wrong.
See you in Hell,
Adolf Hitler