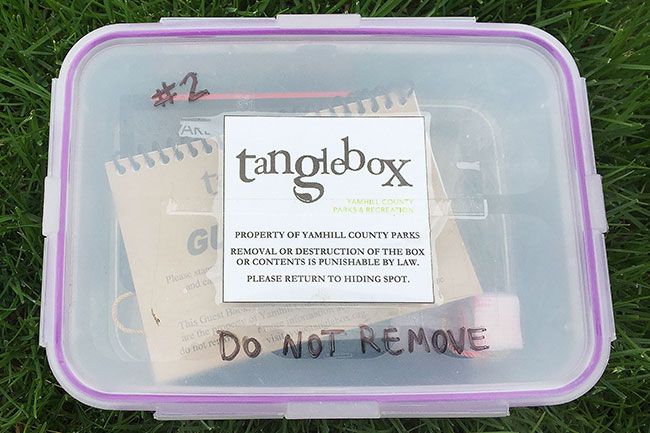 Tangleboxing in the parks
"That's the beauty of living here," said Branson, an avid parks user and member of the county parks board.
@@fast-facts@@
She likes to picnic with her children, take her dogs for a stroll or a splash in parks like Ed Grenfell, just west of McMinnville, or Deer Creek, up Gopher Valley Road near Sheridan.
ALSO: Parks offer peace, picnics and play
But tangleboxing is her favorite park pastime.
Tangleboxing is a pursuit in which people follow clues to find a box hidden in a park. The "tanglebox," so named because it may be hidden in a "tangle" of brush, features a stamp inside. The object is to find the box, use the stamp to mark your book of clues, called a "passport," and move on to the next clue in another park.
"Imagine, on a beautiful summer day, getting out and exploring things while you search for the tanglebox," she said. "Besides, who doesn't enjoy a treasure hunt?"
Branson, who works at McMinnville City Hall, fell for tangleboxing long before she joined the parks board. Her whole family has been doing it for several years. Sometimes her parents and friends join in, too.
"Tangleboxing is one of my passions," she said. "It brings together multiple generations and it's completely low-tech, so it gets you moving instead of playing video games."
Naturally, after she volunteered for the parks board, she was appointed chair of the tangleboxing program. She assigned her fellow board members and parks director Brett Henry to write clues.
She and other parks board members are hiding tangleboxes in 12 locations this year — four of McMinnville's city parks, along with two state parks and six of the 17 county parks.
The treasure hunt will take searchers to Tice, West Hills, Joe Dancer and City Park in the city system; Bald Peak and Maud Williamson in the state system; and Ed Grenfell, Deer Creek, Lafayette Locks, Rogers Landing, Crabtree and Blackwell in the county system.
The tangleboxing season runs June 15 to Sept. 18. A passport with clues to all the hidden locations is scheduled for release this week.
Passports cost $3. If you find all the tangleboxes, your completed passport can be entered in a prize drawing.
In McMinnville, passports will be available at the library, aquatic center, senior center and community center, the county commissioners office, and Incahoots and Kraemer's garden shops. They also will be available at the Chehalem Valley Chamber of Commerce office in Newberg, and at most city halls and libraries around the county.
For more information, call the county parks department at 503-434-7463.