Horticulture students visit market garden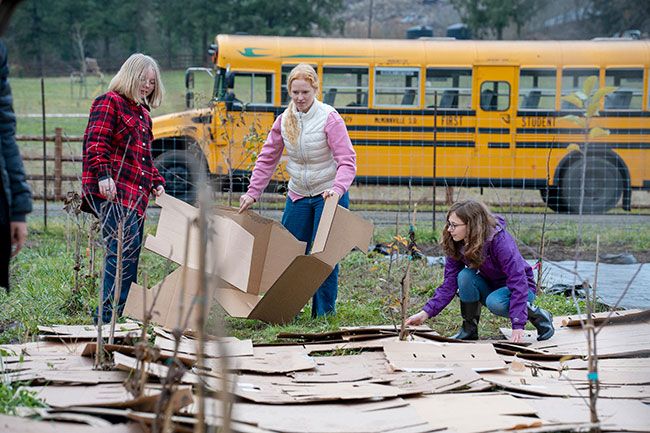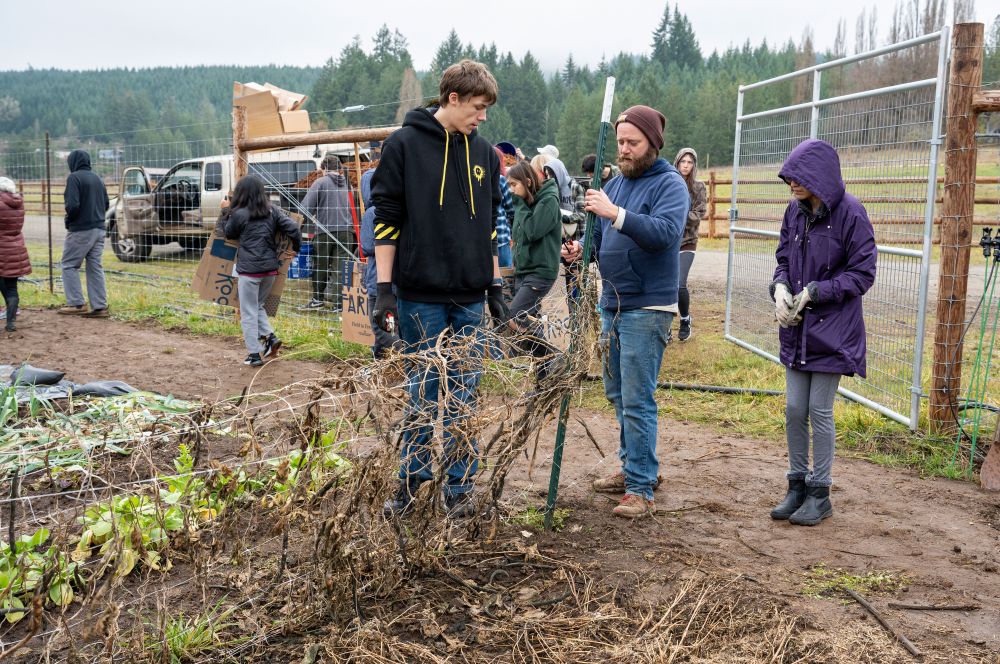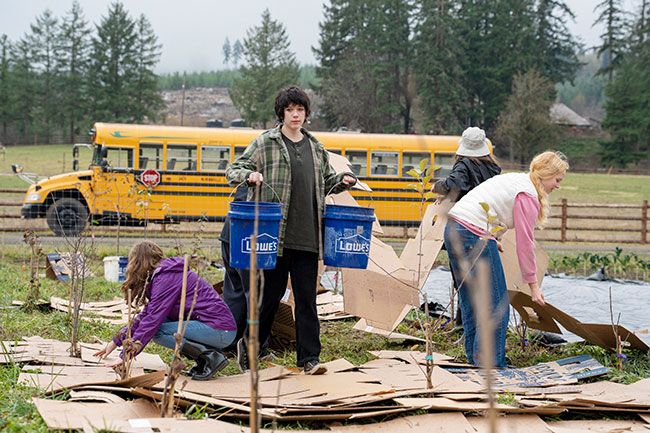 The December weather was cloudy and chilly, with spitting rain, but the market garden at Tabula Rasa was percolating with life when McMinnville High School horticulture students visited last week.
"It's fun to see the ponds and hear the animals, and to see a real farm functioning every day," said Charlie Porter, who pitched in to load wheelbarrows with mulch for the garden.
Porter and other students visited Tammy and Frank Fotis' sustainable agriculture operation west of Carlton. They also toured the farm's water conservation system, a series of ponds and other features designed to capture water and stop erosion.
Heather Miller, who works with the farm and the Fotis' foundation, TREL, or Truth, Responsibility, Evolution and Love, said the Mac High groups were the first students to visit; there will be more in the future.
Brian Altree, who teaches horticulture classes in Mac High's natural resources pathway, spent time at the farm last summer helping to set up the program. Since MHS and other schools have little money for field trip transportation, the TREL Foundation donated funds to the McMinnville Education Foundation for that purpose.
In addition to hosting more field trips, Miller said, the farm hopes to have students visit for research and projects in the future.
"We want to engage and encourage the next generation to be part of agriculture," she said.
Miller said they also wanted students to see the "real life" value of the market garden, which supplies produce for the Source farmstand at 15713 Highway 47, a partnership between Tabula Rasa, Kookoolan Farms and other local growers and meat producers.
The garden also supplies much of the produce used at Humble Spirit restaurant in downtown McMinnville.
Justin Peterson, who manages the market garden, said he works closely with Humble Spirit chef Brett Uniss to produce not only a variety of vegetables, herbs and fruits for the restaurant, but also particularly flavorful varieties.
About 120 different edible species grow in the 1.5-acre garden, he said. Many of the plants are harvestable year-round. He plans to add row coverings to protect some of the plants, increasing the length of the growing season.
"Winters are mild enough to grow things all year round here," said Peterson, who previously gardened on Sauvie's Island and ran the West Linn/Wilsonville School District's educational farm.
Both the market garden and Peterson are in their first year with Tabula Rasa Farm. Peterson has been gardening professionally for 20 years and holds a degree in organic farming.
He recalled volunteering at a garden center when he was in high school. It sparked his love for being outside and working with things that grow. He said hopes visiting Tabula Rasa inspires students, just as that experience inspired him.
——-
Peterson told students that the farm focuses on regenerative agriculture, which is based on minimal tilling, planting diverse crops, and feeding of the soil. The farm stresses keeping the soil covered to prevent erosion and decrease compaction and "keeping living roots in the soil" to feed the good fungal and bacterial system.
For instance, he said, the market garden is bordered with hedgerows that are a mixture of fruit trees and other plants that attract birds and other pollinators. As another example, he said, the garden gets nutrients from compost made from droppings of animals raised on other parts of the farm.
Mac High students pitched in to help with some of the chores associated with getting the garden ready for winter and the coming seasons. Some spread straw mulch on newly planted garlic or laid down cardboard to control erosion around the hedgerows.
Seleste Aboytes-Avina and Landon Kring worked together to remove a lengthy trellis on which beans had grown.
Both students said they signed up for the horticulture class because they like plants and wanted to learn more. Kring said he grows a garden at home, as well; he plants "whatever my mom wants," from bell peppers to zucchini.
Aboytes-Avina is in her second semester of the course, serving as an aide this time around. "Mr. Altree is such a cool teacher," she said, adding that field trips made the class even more interesting.