Grizzlies fall, Bulldogs and Tigers advance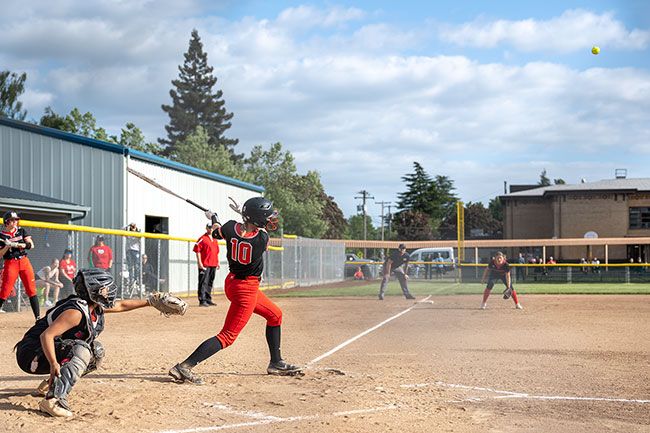 The No. 4 McMinnville Grizzlies softball season came to an end after a 9-4 loss to No. 5 Sherwood in the state quarterfinals.
The Grizzlies got on the board with two in the first, but Sherwood tied the game in the fourth and took a 4-2 lead in the fifth. McMinnville responded in the bottom of the fifth with two more to tie the game at four.
Sherwood regained the lead in the top of the sixth on back-to-back home runs from Destiny Cornwell and Jordyn Henderson. After a double and a single brought in another run to make it 7-4, Maisy Schindler broke the game open with a two-run homer.
After entering the game in the circle in the second, Cornwell threw six innings, allowing seven hits and two earned runs. For the Grizzlies, Mackenzie Bekofsky allowed six runs in five innings, though only three were earned, and Mackenzie Roberts allowed three earned runs in two innings.
---
The No. 2 Yamhill-Carlton Tigers advanced to the state semifinals with a 13-2 win over Enterprise.
Lexiss Antle led the way offensively with three hits, and four other Grizzlies recorded multiple hits as the offense cruised. The Tigers scored in every inning, led by Cecelia Petraitis' five runs batted in. Antle drove in three, and Kaitlyn Knapp and Taylor Bradfield drove in two each.
The Tigers will host No. 3 Burns/Crane in a rematch of last year's 3A state championship, which the Tigers lost 3-1. When the two teams met earlier this season, Burns/Crane won that matchup 2-1.
---
The No. 4 Willamina Bulldogs advanced to the 2A semifinals with a 7-5 win over No. 5 Blanchet Catholic. The Cavaliers jumped out to a 2-0 lead in the first inning, but the Bulldogs immediately tied it in the bottom half, took a lead in the third, and stretched the lead to 6-2 with a three-run fifth.
Blanchet Catholic made it interesting in the seventh with two runs to get within two, but Laney DeLoe finished the game off and the Bulldogs moved on to the final four.
In addition to allowing five runs (two earned) in seven innings in the circle, DeLoe also went 3-for-3 at the plate, homering, tripling and driving in three. Her sister, Paisley, also drove in two.
With No. 8 Weston-McEwen/Griswold upsetting No. 1 North Douglas in their quarterfinal, the Bulldogs will host the semifinal.
All semifinals are set for Tuesday, with the winners advancing to the state championship games next Saturday.
See Wednesday's paper for more.