Phyllis Ann (Mallery) Riley - 1933-2018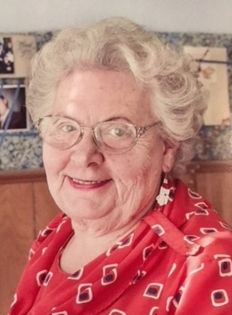 Surrounded by family, Phyllis Ann (Mallery) Riley left this earth peacefully in her sleep on Saturday, September 8, 2018.
Phyllis was born June 29, 1933, to Harold (Skeet) and Edythe Mallery on the Chodrick Farm in Yamhill, Oregon. She attended grade school in Yamhill and graduated from Yamhill-Carlton High School in 1951. Following high school, she attended Oregon College of Education, now Western Oregon University, for 1 ½ years before receiving a scholarship to beauty school in Salem, Oregon.
Phyllis met her lifelong companion, Richard (Dick) Riley, and they were married July 30, 1955, at the Yamhill Christian Church in Yamhill. After they were married they resided in Carlton, where they would live for the remainder of their lives together.
Phyllis purchased the Carlton Beauty Shop in 1953 and kept it operational until she officially retired on January 3, 2017. Phyllis loved being at the beauty shop; that was her social hub! In the summers, Phyllis worked at the cannery in Dayton on the graveyard shift and would operate her beauty shop during the days. She truly enjoyed her time at the cannery. Phyllis was an amazingly social person and knew just about everyone in Carlton and Yamhill. Every year at Christmas, Phyllis would host an "all invited" Christmas brunch and the house would be full of friends and family, which is exactly what she loved. She loved people...there's no other way to say it.
Phyllis was involved in several social groups for the majority of her life. To name a few, she was a longtime and devoted member of the Carlton First Baptist Church, the Yamhill Rebekah Lodge, and the Legion Women's Auxiliary Post 173, volunteering at the VA Hospital for 35 years, the Red Hat Club, the Sunshine Club, Y-C Boosters and Carlton Food Bank.
Phyllis was a tremendously caring and giving person. She opened her heart and her home to many and was a very loyal friend. She loved her family more than anything and looked forward to family gatherings and trips.
Phyllis was preceded in death by her parents, Skeet and Edythe Mallery; and one grandchild, Mallorie. She is survived by her sister, Barbara Springer of Newberg; her husband of 63 years, Dick Riley; her son, Scott Riley of Carlton; daughters, Colleen (Jim) Wilcox of McMinnville, Caroll (John) Riley-Cox of Amity, and Colette (Mike) Musselmen of Sherwood; five grandchildren, Shelby, Kyler, Shanna, Raegan and Jolee; and two step-grandchildren, Marcus and Sarah. She was blessed with six great-grandchildren.
Phyllis will be missed by the many people who were blessed to know her.
There will be a celebration of life at 1:00 p.m. Sunday, September 16, at Wennerberg Park in Carlton. In lieu of flowers, donations can be made to the Yamhill Rebekah lodge or YC Together Cares, P.O. Box 638, Amity OR 97101.