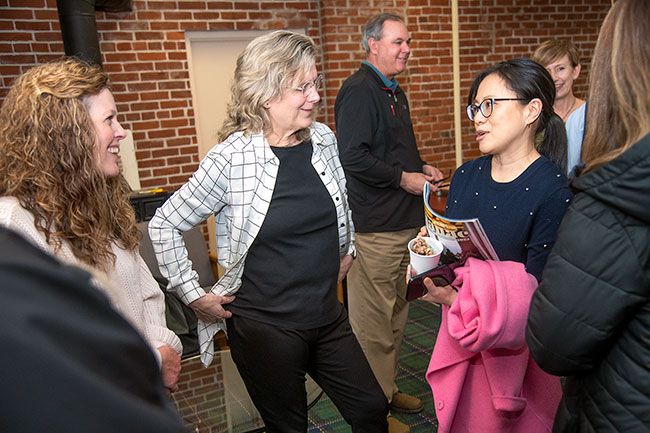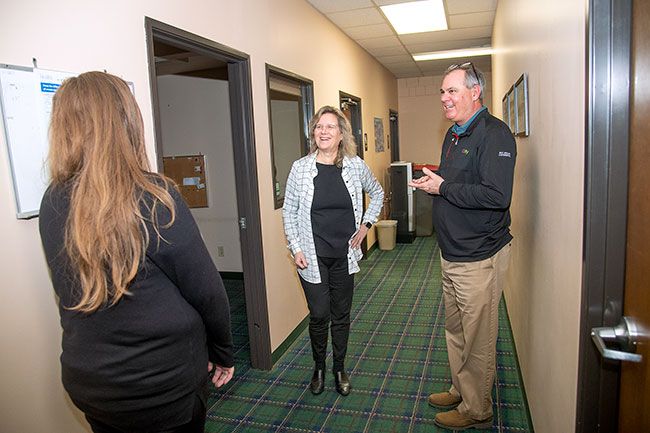 MacHub welcomes eBay in a focus on re-commerce
MacHub was the center of attention Monday as officials from the online company eBay came to McMinnville for a close look at the nonprofit's success story.
Almost a dozen eBay directors, vice presidents and engineers visited and learned how MacHub takes in reusable items and sells them through an online store as well as via auctions.
The eBay officials saw for themselves how the MacHub process provides jobs as well as funds for charity. In 2022, eBay honored MacHub founder Cami Nyquist for having one of the best and most productive stores on the website.
Nyquist, in turn, said eBay plays a crucial role in her nonprofit's operations. "EBay is like Main Street for us, like Third Street was with all sorts of little shops where you could find what you needed," she said. "The more traffic on the street, or the site, the more sales."
Nyquist and other representatives of the nonprofit hosted the eBay visit. They were joined by representatives of the McMinnville Economic Development Partnership, former state Rep. Ron Noble and others, who talked about the benefits of running a business out of McMinnville, as well as about MacHub.
Brian Burke, one of the eBay vice presidents, said his group decided to learn more about MacHub because the like Nyquist's mission. "She's really given back and helped the community," he said, noting that he's worked at eBay for 24 years "because of sellers like Cami."
Xiaodi Zhang of New York, head of product and engineering for eBay, thanked the McMinnville hosts for showing them behind-the-scenes at MacHub.
"This is such an inspiration," she said, noting that MacHub is leading the "re-commerce," or repurposing and selling economy, that's become a trend nationwide.
Nyquist, in turn, said MacHub hopes "to empower people to have a better life by redeeming stuff and redeeming people …. (it is) taking technology and stuff and creating a compassionate output."
MacHub grew out of Nyquist's personal online store, Swedemom.com. She created the non-profit MacHub to sell donations and teach charitable organizations, such as Homeward Bound Pets, how to maximize earnings by using eBay and other selling techniques.
During the pandemic, she and Jeb Bladine, publisher of the News-Register, created a program that encouraged people to donate their useable furniture, household goods and other items to give themselves more room and help the community at the same time.
MacHub hosts several interns each year in addition to hiring community members and taking volunteers.
MEDP directs interns to MacHub's system, as it does to other businesses. This year, 106 young people applied for spring and summer internships, said Heather Blank, deputy director of the MEDP; depending on the number of employers that participate, 15 to 20 will be hired for spring internships and about 26 for the summer.
Interns help with, and learn about, marketing, administration, merchandising and other aspects of the nonprofit, including technology. "We've benefited greatly with young software engineers," Nyquist said.
MacHub's interns and employees collect and vet the items, and then make a record of and photograph and display them in their online stores and auctions, and "repurpose them for the good of the community," Bladine told the eBay representatives.
MacHub operates out of several local buildings, including a warehouse next to Washington Roofing just southwest of McMinnville.
Nyquist recently was notified that MacHub needed to move out of another of its sites, the old Chemeketa Community College building on Hill Road, which is owned by the Nazarene Church on the Hill.
Functions located there will move into the former News-Register building at 611 N.E. Third St., downtown McMinnville.