Back, and Forth: Despite turnout, town hall maintains traditional spirit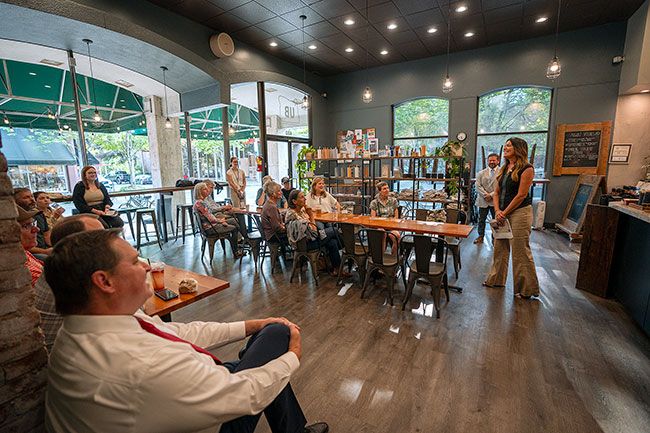 There's an irony to the term "town hall," as it can refer to both a gathering and a building.
"An event at which a public official or political candidate addresses an audience by answering questions posed by individual members," from Dictionary.com, hits the mark for the former. Of course, "town hall" can also mean "a public building used for town-government offices and meetings."
Over the years, I've seen them tend to resemble the second definition.
Town hall as a meeting needs to be a vibrant but civil event. Some structure is good. The walls should be flexible, but you don't want to raise the roof.
The town hall held last week by State Rep. Lucetta Elmer, R-McMinnville, leaned toward the active assembly of questions and ideas side, which is the way it should be. Elmer found a fairly open and lively combination between her legislative report and the Q-and-A.
In the 2023 session, her first since being elected in 2022, "my biggest personal gain was building bridges," she told her audience. And in her town hall, she ended up mediating in an attempt to do just that.
Fentanyl abuse and homelessness got extensive floor time, which led to a spirited exchange between Mayor Remy Drabkin and a business owner regarding the city's steps in response to homeless concerns.
Metaphorically, "town hall" suggests the town is in attendance, not just a small audience of folks. Generally, it is not the fault of the elected official host that few people show up, but in this day and age, it's a sad reality that political gatherings tend to be lightly attended.
Elmer's drew 17 citizens, including mayors Linda Watkins of Carlton and Marianne Thomson of Sheridan, along with residents of Carlton, Amity and Lafayette as well as McMinnville.
It was held at Union Block Coffee in downtown McMinnville, as her first choice, a city-owned venue, was booked. The shop is small, but it's owned by Elmer, so the coffee was free.
With a "Pick Up Here" sign over her head, and her café staff cleaning up after the day, noisily at times, Elmer took a few minutes to point to two accomplishments achieved during the session.
First, Elmer was honored as "Person in the Arena" by the Republican caucus. The term is derived from Theodore Roosevelt's 1910 description of the "man in the arena" as the one "…whose face is marred by dust and sweat and blood; who strives valiantly…"
To earn it, she said, "I definitely stood my ground and went to bat on the House floor and filed minority reports and put myself out there in front of all 59 other legislators, fighting for something."
Second, one of the bridges she built was with Rep. Janelle Bynum, D-Portland, then chair of the Economic Development Committee.
"We found we had a lot of common ground even though we sit on opposite sides of the aisle," Elmer said. As a result, Bynum asked Elmer to succeed her as the lone legislative seat on the 60-member Oregon Business Development Commission.
This summer, Elmer was also selected to serve on the House Republican Campaign Leadership Team. The team "will guide the caucus through the upcoming 2024 election, working to recruit, fundraise for and elect Republican candidates to the House," according to a statement she issued.
Elmer went on to discuss the short session planned in February, in which each legislator is limited to two bills. She is working on one to provide more beds and care opportunities to traumatic brain injury victims, and plans to devote the other to housing.
Thomson said mental health was the leading topic at the recent Oregon Mayors Association conference and Sheridan is using state funds to address the problem (see article in Aug. 25 News-Register). "There is a lot of support for the state working on that," she said.
That triggered a debate between Drabkin and downtown business owner Andrew Anderson, who asserted, "Whatever you are doing, it is not working." Anderson, a funeral director at Macy & Son and part-owner of The Oak, expressed frustration with litter and verbal abuse.
Drabkin pointed to ongoing projects such as the Navigation Center, under construction on Southwest Adams Street south of the police department. And she said arrest and detention options are limited when it comes to people experiencing mental health issues.
"Perception is reality," he responded. "What the city has been doing has not been working yet."
"We do enforce our ordinances," she replied. "We don't have enough officers to do that full time."
In the city newsletter emailed this week, Drabkin elaborated on the topic of "exclusion zones," only briefly referenced in the town hall:
"There is a misconception in the community right now that the city isn't responding to concerns because we aren't pursuing a recent suggestion related to painting yellow lines around schools to create visual boundaries," she said, noting, "While this suggestion was well publicized, it was not well vetted. The Ninth Circuit Court of Appeals has found these types of exclusionary activities to be unconstitutional."
At the town hall, Drabkin said, "We have known problem areas and we're asking for help. I am out asking for assistance on the things the city is not able to do." She said the city was doing everything it could in terms of criminal response," promising, "I know what you're experiencing."
When Anderson responded, "We need to see some change on the streets," Elmer stepped in. Credit her for allowing others to dominate the discussion as long as she did, while respecting a key part of the town hall code: Keep it to an hour.
"This is exactly what a town hall should be about. It should be having discussions about what is impacting your community, and this is one of them," she said.
Elmer concluded with a message befitting the purpose — seeking feedback from citizens.
"What we need to remember and what has been said here, you need to identify the issue and I have heard a lot of people identify their version of the issue, and you need to hear what can be done at the local level, what can be done at the state level, and what can be done at the federal level," she said.
"Continue to put the pressure on me. Continue to put the pressure on your elected officials."
Contact Kirby Neumann-Rea at kirby@newsregister.com or 503-687-1291.