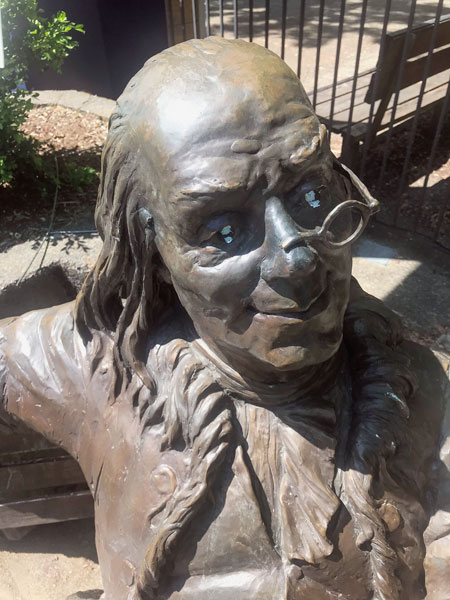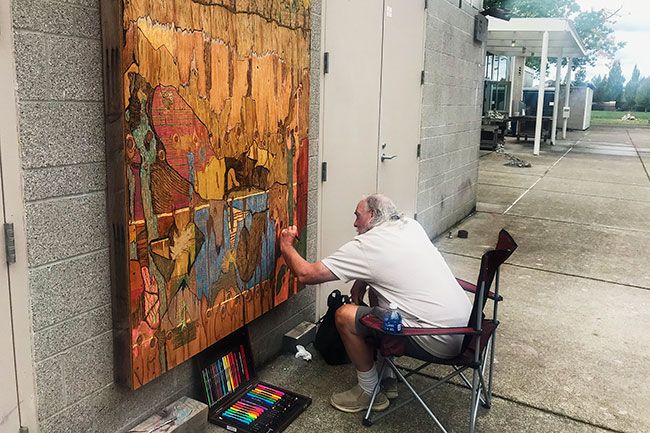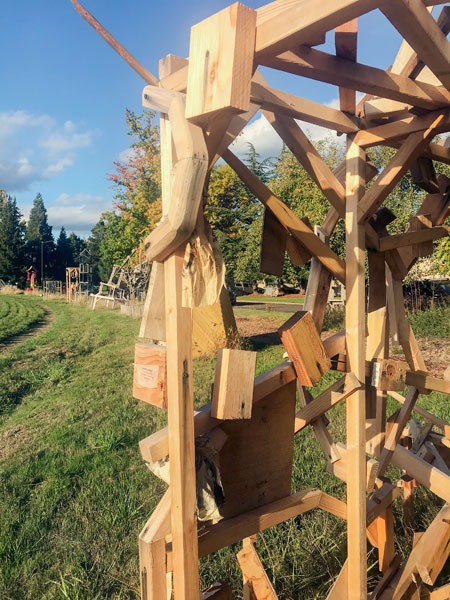 Back, and Forth: Chronicling comings, goings in the McMinnville art realm
Public art is a growing force in McMinnville. And while most individual pieces are static, the field itself has been increasingly dynamic.
Though these things all stand still, there's some mystery and drama to public art. The scene sees pieces moving: new ones commissioned or installed, and old ones removed or placed in storage. At least two downtown pieces have quietly left, though they may possibly return.
Most of the works are managed or installed by either the City Committee for Public Art, a joint venture of the McMinnville Downtown Association and the city of McMinnville, or Linfield University's art students and faculty, based at James F. Miller Art Center. The committee, founded in 2009, is responsible for about 30 pieces,
Let's start downtown, with three art locations grouped within 200 feet of each other, around Second and Adams streets.
"Stepping Stones" may be new to you if you've never ventured into the children's section of the McMinnville Public Library. The life-sized metal sculpture of a six-year-old girl has a new home on the library grounds, where it is more visible.
The work by Wah Ming Chang was originally installed in the lobby, then relocated to the children's area. It was crowded there, thus under-appreciated, so library director Jenny Berg and staff decided to relocate the piece to the breezeway a few months ago.
The committee has a new plaque on order for the piece.
Plaques are also being made to replace the zinc ones at the Gary Lee Price sculptures, "Dreams" (2009) and "Book Worm" (2011), at the corner of the library property. They are among several zinc plates that had weathered to the point of needing replacement.
This is a good way to forestall what has happened to a piece of large metal artwork in front of Renshaw Hall on the Linfield University campus. The nameplate is irretrievably illegible, and no one I have contacted knows either its name or that of the artist, nor is there any apparent record to fall back on. The names seem lost to time.
A public art piece was lost this summer at a location just off Adams and Second — the "pizza wings" mural on the south side of the former Geraldi's restaurant. The wings were erased via powerwasher after the departure of Geraldi's, whose owners are reportedly seeking a new McMinnville location.
Conversely, next door on the Third Street side of the block, some works of art have been, you might say, reintroduced. The art deco overhang and leaded glass panes depicting lyres, gracing what was once Kienle Music, are visible again now that a black awning has been removed.
The building now houses Vintage Third Street, which opened in September.
Southeast across the Adams/Second intersection, next to the McMinnville Fire Station, is the now-empty pedestal once graced by the suspended stone piece, "Drift," by Lee Imonen. It was installed in 2013.
Steve Rupp, art committee chair, said the piece was damaged this summer, so had to be removed. He said the pedestal will receive another piece of art, perhaps next year if the budget allows.
The library grounds are home to at least two other works, including "The Thinker (aka Booker T. Frog)," by Ralph Tretheway. It is a duplicate of "The Thinker" in Hood River, which was stolen from its beachside location a few years ago.
Theft or vandalism of McMinnville art is far from unheard-of.
Someone apparently attempted to steal Steve Tyree's bronze "Cougar" sculpture on Cowls near Third Street a few years ago but only succeeded in moving it slightly.
The eyeglasses on the Benjamin Franklin statue at Third and Davis were torn in half last spring. A new pair, made of stainless steel instead of bronze, was attached in September.
Someone then painted Ben's eyes white, another headache Rupp has to deal with.
This was the third time the spectacles had been vandalized, according to Rupp, who said he hopes the stainless steel will weather to match the bronze tone of the sculpture.
Price's companion Abe Lincoln sculpture, installed in 2012 outside the McMinnville Community Center, has suffered no known vandalism.
Maybe it's because Abe sits right next to the Baha'i Peace Garden. I would lobby for a third Price bench statue, preferably a female, to finish the downtown bench triumvirate.
Anyone remember "Ancient Oaks"? The Tom Hardy work is the oldest in the downtown art walk, installed in 1964 over the door of Key Bank's Third and Davis quarters.
The piece was removed a year or two ago and placed in storage, according to bank officials. They said they are developing a plan to reinstall it in another location.
It seems the lattice-like artwork created a haven for birds, whose droppings made a mess of the bank's entryway.
Over the summer, the art committee moved the red-painted steel sculpture "Expose Time" (2011), by Jesse Swickard, from Lafayette and Fifth to the McMinnville Garden Club's new Serenity Garden at the Willamette Valley Medical Center.
Plans call for installation next year of a new piece at Lafayette and Fifth, a Benjamin Mefford work. Also slated for installation next year are two pieces by Scappoose artist Michiro Kusage, donated by the artist's family.
One weighs 4,500 pounds and the other includes rocks of varying weights. The committee is in process of designing secure foundations.
The family also donated pieces to PSU, UO and OSU.
Over at Linfield, there is a new mural on the changeable wall on the northwest corner of the Miller Art Center, a canvas that is painted and then covered over twice a year. Indeed, many of the exterior works are intended to be temporary.
The prompt for this term's mural was "word salad." It features a list of words that best describe what each student's interest is, according to art professor Totem Shriver.
"For example, lots of color, symmetry, concepts like fall theme, gender studies, etc.," he said. "Then you mix up the salad to see what kind of focal points are similar or not."
The mural, now finished, depicts birth and earth creations in a vibrant, kaleidoscope palette of pinks, greens, yellows and oranges.
Nearby are two new sculptures on the art walk, including installations resembling Indigenous fishing baskets. Students also created a mound of clay resembling a pile of rubble, with organic products atop it, such as heads of cabbage and pumpkin, along with a green gourd.
"The new sculpture is simply the ceramics class getting rid of old clay, and 'decorating' with gourds," Shriver said. "It will slowly return to the earth."
Allow me to revisit a Linfield art walk work I wrote about in this space six months ago: "Tunnel," by Linfield art student Marissa Nagano — a scrap wood structure adorned with sheets of newsprint. Symbolically, many of those newspaper pages have hung on — still intact, still readable.
Around the corner on Keck Avenue is an untitled work by Neil Lawson, a former Linfield custodian. The four-by-six-foot work is attached to a wooden board on the north side of the Miller Center, a space designated for temporary works.
Lawson lacquered and painted a plywood board, then limned it with pastel chalk, ink, leaves and other materials. He hopes to find a permanent home for the work.
Lawson is a self-professed make-it-up-as-he-goes-along artist, who starts with a single line or piece, and adds to it from there. Now retired on disability at 65, he has filled dozens of notebooks with drawings.
Shriver asked him to put one of his works on the art center wall.
Meanwhile, Shriver has placed his own wooden archway carving in storage, after it graced the former Red Fox Bakery for more than 20 years. He is considering a new home for it.
It was removed when the bakery sold and the new restaurant, Pinch, remodeled the space.
Contact Kirby Neumann-Rea at kirby@newsregister.com or 503-687-1291.