Witnesses confirm cars racing before fatal crash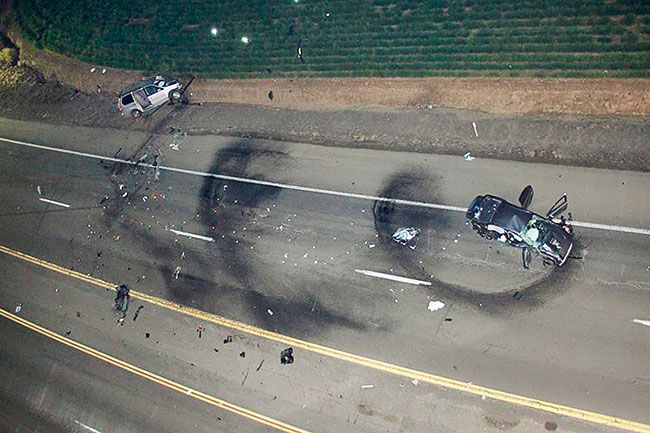 Melissa Gates told Yamhill County Circuit Court Pro Tem Judge Sam Justice she had trusted Jeremy Hopper with her daughter's life.
"I never thought I would be standing here," said Gates, who was flanked by Deputy District Attorney Alicia Eagan and Debra Bridges of the Victims' Services Department.
"I'm usually there," Gates said, nodding toward the work station of a judical assistant, a position she held alongside Judge Ronald Stone for many years. She now acts in a lead worker role.
Gates was in the courthouse Monday afternoon for the arraignment of Hopper and a co-defendant. She spoke emotionally on behalf of her critically injured daughter, 18-year-old Natasha Fisher, who allegedly fell victim to a high-speed street race.
Hopper, a 24-year-old Amity resident, and Andrew Olsen, a 22-year-old from Lafayette, were arraigned on one count each of first-degree manslaughter, second-degree assault, fourth-degree assault and reckless driving in connection with a May 4 head-on crash that left one dead and three injured.
First-degree manslaughter is a Class A felony and second-degree assault a Class B felony. Both fall under Measure 11 mandatory minimum sentencing guidelines that could, on conviction, send the men to prison for years.
Olsen was taken into custody Saturday at his residence. Hopper turned himself in Sunday at the county jail. Bail was set at $160,000 each.
They were racing a pair of high-performance Mitsubishi Lancer Evos when Hopper lost control just north of McMinnville on Highway 99W, according to the Oregon State Police.
Hopper's Evo slammed into an oncoming 2004 Honda Odyssey van, killing driver Claudio Martinez-Marquez, a 43-year-old McMinnville resident.
Fisher, who was riding with Hopper, was flown to Legacy Emanuel Medical Center in Portland by Life Flight helicopter. Victim of life-threatening brain trauma, she has remained in critical condition ever since.
Gates said her daughter has undergone multiple surgeries for her many injuries and has "no normal function left."
Hopper and van passenger Bonifacio Martinez-Garcia, a 33-year-old McMinnville resident, suffered lesser injuries. They were transported for treatment by ground ambulance.
Attorney Amanda Marshall of McMinnville is representing Hopper and Robert Crow of Portland is representing Olsen. They indicated they will be seeking bail reductions for their clients at a hearing set for 1:20 p.m. Thursday, June 30.
Justice is a McMinnville attorney who was requested by Stone to preside over the arraignments because of the obvious conflict of interest. In her circuit court position, Gates works alongside Stone and other judges.
"In the future, we have arranged to have a Judge from Washington County to come here to handle these two cases," Stone said.
Both defendants have family and employment ties, so should not be considered flight risks, the attorneys said. Marshall said Hopper had been experiencing "emotional distress" in the jail environment.
Gates indicated she opposes any reduction. She told the court that neither Hopper nor Olsen deserved pre-trial release.
"I think they need to feel what she's feeling, she said of her daughter.
Gates said Fisher has been rendered "non-functional" as a result of the two men's actions.
A large contingent attended the hearing in support of Gates, Fisher and the family, including some of Gates' co-workers. Judge Cynthia Easterday was among those opting to attend.
Outside the courtroom, Gates said she expected Hopper to "love and protect" her daughter as opposed to taking her life into his own hands. "He's a man," she said.
She posted this message on the Team Natasha Facebook page following the arraignments:
"Thank you to all that showed up to support us today, me, Natasha, Claudio, Bonafacio, and even the defendants.
"Like I said, this is very difficult for all of us, we were all friends and family at one time and now we are separated.
"This is a difficult situation but one we have to work through now."
The page can be located at https://www.facebook.com/teamnatashafisher/?fref=nf. More than 1,700 people have "liked" the page.
Martinez-Garcia, who was riding with Martinez-Marquez, attended as well. He was joined by Martinez-Marquez's son, Efrain.
Speaking through an interpreter, he told the court Martinez-Marquez was like a brother to him and he wants justice. He and Efrain also went on record in opposition to any bail reduction facilitating pre-trial release.
Trooper Phil Richardson gave this account of the crash in a probable cause affidavit submitted to the court:
A local car club held an impromptu meeting in the Town Center parking lot on North Highway 99W, and Hopper and Olsen both attended. They left together in their Mitsubishis, Hopper in a 2010 and Olsen in a 2013, and headed north.
About 9 p.m., Hopper lost control at a high rate of speed. His car spun across the center median and careened into the southbound van.
Olsen was not involved in the crash, but stopped at the scene and cooperated with investigators.
When Hopper was interviewed afterward at the Willamette Valley Medical Center, he told investigators he got off work about 7:30 p.m. at Rent-A-Center in the Baker Street Square center on Northeast Baker Street, where he serves as manger.
He said he went straight to the car club meeting and stayed about an hour.
He said he couldn't remember anything after that. He couldn't even remember leaving, he said, let alone crashing.
Hopper told investigators said he had owned his car for about a year and didn't believe there was anything wrong with it mechanically. There was nothing in the affidavit indicating the conversation ever turned to asking about Fisher's condition or the well-being of anyone else.
Olsen, interviewed at the scene, acknowledged attending the car club meeting and seeing Hopper and Fisher there. Afterward, he told investigators, he headed northbound on Highway 99W.
He said he was traveling in the left lane when Hopper passed him on the right, then lost control and spun out in a cloud of dust. He realized Hopper had crashed, so pulled to the side of the road.
He denied engaging in a race with Hopper. He said he was going about 75 when Hopper sped past at about 90.
Advised his vehicle contained a computer system that would reveal his exact speed, he changed his estimate to 80, but continued to deny racing.
A witness said she saw the cars gathered in the Town Center parking lot. She said the Mitsubishis left simultaneously, with Olsen heading north.
She said she was traveling side-by-side with Hopper, who was trailing Olsen in the left lane.
As they approached the Highway 47 interchange, in the area of Cascade Steel Rolling Mills, Hopper sped up, she said. She said she could hear the car's exhaust roar as it pulled away at a high rate of speed.
There were multiple cars on the road, she said. She said Hopper cut in front of a car in the right lane and remained in that lane.
As he came up beside Olsen, she said, both cars accelerated. She could hear exhaust roar from both cars, and thought, "This isn't going to be good."
She said there was no doubt in her mind that the two cars were racing. She was concerned they were going to crash if they continued driving in such a reckless manner, she said.
She said she lives in the area, and turned off the highway to head home prior to the crash. A few minutes later, she said, she saw emergency vehicles converging on the area.
A male witness said he was headed northbound in the left lane when the Mitsubishis passed him.
He said Olsen swung around him on the right. Then Hopper began coming up on his so fast from behind that he moved over into the right lane to make way.
After the two vehicles got past him, he said, they slowed around the McMinnville Honda dealership, got lined up side by side, began revving their engines and took off. He said they accelerated "hard core."
He attempted to get the license plate numbers, he said, but they took off too fast for that.
He said they were going under the railroad overpass when Hopper lost control, spun into the southbound lanes and crashed into the van.
He estimated their speed at 100 to 110 mph. He said Olsen immediately came to a stop when Hopper crashed.
A third witness said she was headed southbound in front of the van when she saw the two Mitsubishis headed her way in the area of Bunn's Village.
She said they accelerated hard, really "getting on it." She thought to herself, "Those idiots are racing," she told investigators.
As the vehicles approached, she saw Hopper's car fishtail and careen out of control. She said she caught the crash in her rearview mirror.
Video was obtained from Oregon Vineyard Supply, located on Northeast St. Joseph Road. It showed the headlights of multiple vehicles making their way north in a normal fashion, then two sets of headlights passing by side-by-side at a high rate of speed.
Investigators said the timing of the latter set of headlights coincided with the timing of the crash, which occurred less than a mile away.