Velna Ellen Burkett 1922 - 2023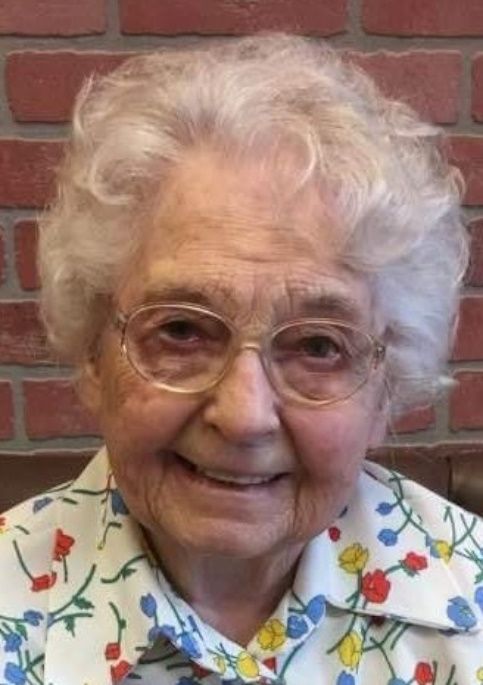 Velna Ellen Kethcart was born August 10, 1922, in Nebraska to Dora Viola Pulley and Dewey Alex Kethcart. She had three brothers and three sisters.
Velna met the love of her life, Clifford Burkett, while she and a friend were hitchhiking across a bridge in Salem, Oregon. Clifford and one of his friends picked up the girls and drove them home. Clifford later returned to Velna's home with his mother and asked Velna out on a date. She said yes, and the rest is history! They had two children during their marriage, Larry and Laura. Clifford affectionately called Velna "Jelly Beans" and letters between them show that they both signed their letters to each other lovingly, "Me." In retirement, Clifford and Velna enjoyed making clocks together. Clifford would make them and Velna would apply the paint and wood stain. Clifford even made a special clock just for her. They both shared a passion for travel and, together, they visited 20 different states in the 73 years they were together.
During Velna's life, she held a handful of jobs, which included working on many farms and hops fields, at an aircraft company, and for an answering machine manufacturing company.
Those of us who knew Velna best knew that her greatest accomplishment was her family. She loved deeply and poured much of her time and energy into creating a warm and welcoming home. Velna was always a star hostess, cooking and serving meals to anyone who walked through her door. She had a great sense of humor, an affinity for sweets (chocolate and divinity being her favorite), and was also quite the card player, showing no mercy for her opponents. Velna liked roses, and she enjoyed putting puzzles together, reading, sewing, crocheting, and the color pink was her favorite. Velna always looked forward to attending church services and loved her Lord and Savior, Jesus Christ, with all her heart.
Velna spent the last few months of her life surrounded by her friends and family and passed away August 28, 2023, at her home in McMinnville, Oregon, when she was 101. She lived a very abundant and fruitful life. She was preceded in death by her loving husband Clifford, her parents; siblings; and son. Velna is survived by her daughter, Laura Okorn; six grandkids, Traci Herring, Shelli Wainwright, Cindi O'Brien, Lesli Okorn, Paul Burkett and Duane Burkett; great-grandkids; great-great-grandkids; and many other extended family members. Her smile, hugs, and sweet demeanor will be dearly missed.
A celebration of her life will be held at 3 p.m. Sunday, September 24, 2023, at Sunrise Church, 823 N.E. Ford St. McMinnville OR. Fond memories and condolences can be shared at Neptunesociety.com/Obituaries