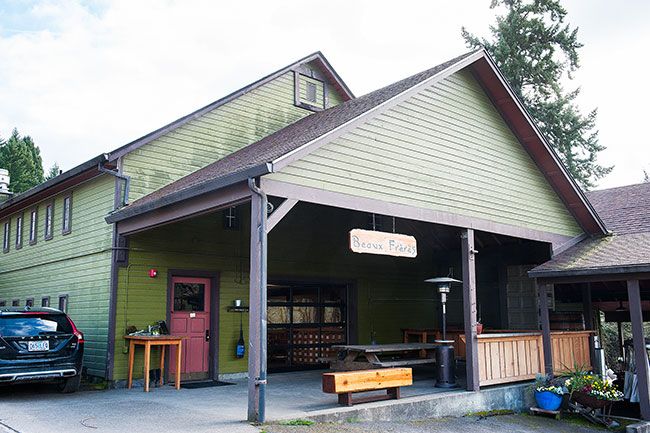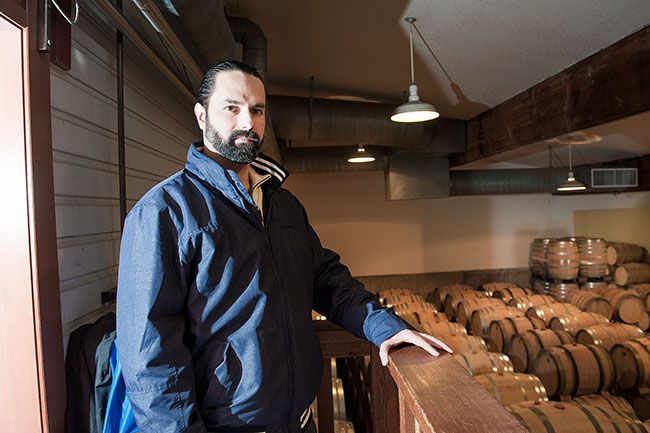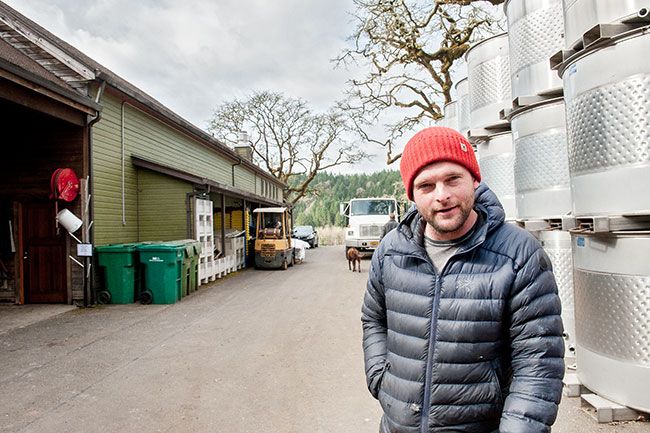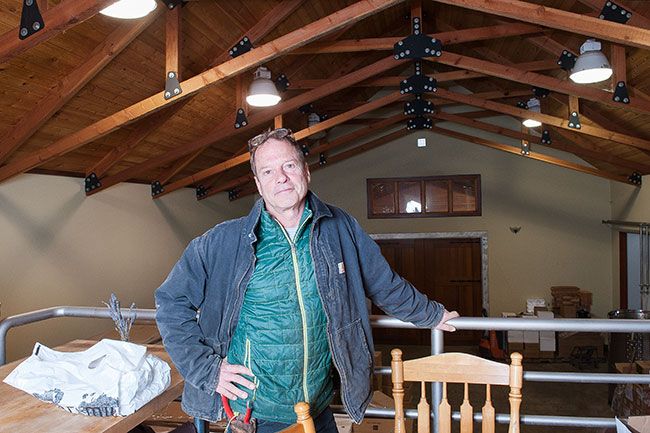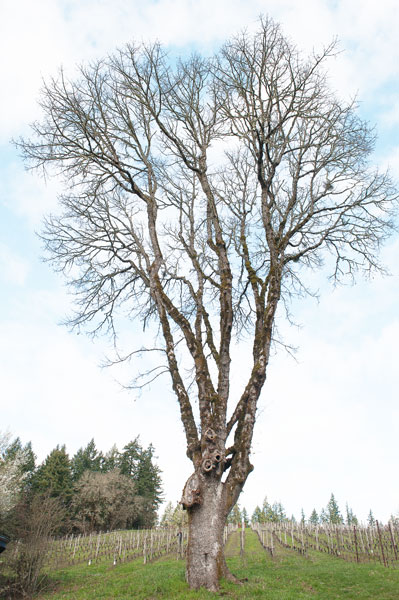 Stopping by: Beaux Frères: 'Farming is what we do'
The rich soil of a former pig farm near Newberg combined with biodynamic farming practices has created some award-wining pinot noirs at Beaux Frères Winery.
"It's the vineyard that makes us so good," said Mikey Etzel, second-generation winemaker at his family's winery. "Farming is what we do. The vines and the wines are the result."
Etzel, who took on the role in 2016 after studying wine and winemaking, known as oenology, in the U.S. and Spain, added modestly, "It's not the winemaker."
The farm is Mother Earth, he said, and "the winemaker is like the midwife or the doula, taking care of the mother and making sure delivery is smooth."
He and everyone else at the winery — including six remaining pigs — are involved throughout the year in the farming effort. Three big dogs help, too. "They slow us down and keep our morale high," Etzel said.
Beaux Frères uses natural pest controls instead of chemical sprays, plants a cover crop to distract bugs and makes its own compost, augmented with manure from an organic dairy: the elements of biodynamic farming. The 80-acre property includes a mixture of species, and only 25 of those acres are planted in grapes.
"It looks, and it is, natural," said Luis Figueroa, the winery's logistics coordinator.
Figueroa has worked at Beaux Frères for four years and been to the Classic three times. He said it's always fun to meet people who already know the winery and introduce newcomers to its estate pinots and pinot blends and chardonnays, many of which have won awards at Salud! and other wine competitions over the years. The winery's 2017 Upper Terrace Pinot Noir made this year's Wine Spectator Top 100.
The Classic also is a great opportunity for people to taste Beaux Frères wines, he said. Otherwise tasting is available by appointment at the winery on 15155 North Valley Road.
Beaux Frères, has been producing grapes since 1990 and wines since 1991 — the winery's library still includes a rare bottle of that first vintage. It has been growing grapes a few years longer.
In fact, Figueroa said, founders Michael Etzel and Robert Parker originally planned to grow and sell grapes from an all-pinot noir vineyard. They later decided to convert the big barn into a winery and make wine in order to keep the business viable, he said.
Etzel, the current winemaker's father, brought his family on vacation to the Oregon wine country in 1986.
Originally from Maryland, Etzel was involved in the Colorado wine industry at the time. He came west looking for an Oregon wine he had tasted and loved.
After seeing an ad for a foreclosed pig farm in the Ribbon Ridge/Chehalem Mountains AVA, he stopped at the property.
"Michael recognized its potential," Figueroa said. "There was a clearing where he could plant vines, and a barn. It was a great place, a good opportunity."
Etzel called Parker, his brother-in-law, a respected wine critic with the Wine Advocate magazine. He asked him to join him in buying the property and starting the vineyard.
Parker retired in 2017. Gilles de Larouzière of the French winemaker Maisons & Domaines Henriot is the new partner.
When they started in the 80s, the brothers-in-law named their new venture Beaux Frères -- which means "handsome brothers" in French and also is the French term for brothers-in-law.
They planted their first grapes in 1987 and 1988. Figueroa said their vineyard was unusual for the time, since most people were planting several types of grapes, while they stuck to pinot noir.
"It was a crazy idea, but Michael made it work," he said.
They intended it to be pinot noir only, at least. But a shipment of vines accidentally included a few chardonnay plants, which ended up scattered among the pinot. To this day, the dark and the light grapes are tended together, but harvested separately, and the winery produces one barrel of estate chardonnay along with many barrels of estate pinot.
Mike Etzel learned winemaking by working with Ponzi and Erath wineries. He oversaw the first batches of estate wines, using grapes only from the Beaux Frères vineyards, in 1991.
Successful vintages followed, and the winery in the former pig barn began turning out blends, as well, buying grapes from six or seven other vineyards in the Willamette Valley.
Figueroa said Beaux Frères now produces 11,000 cases of wine a year. Their wines include two estate pinot noirs from two separate vineyards, named Beaux Frères and Upper Terrace, which it runs on North Valley Road; the Willamette Valley blend and separate wines from each of the six source grapes; a chardonnay made from grapes from other vineyards; and 25 cases, or one barrel, of estate chardonnay.
Most of the wines age in oak barrels imported from France. The winery reuses about 60 percent of its barrels each year and buys the other 40 percent new.
Figueroa said it also has three large clay vessels for aging some of the wine, including one for chardonnay. The Italian clay containers originally were intended for wines that would become components of the blends, although in 2018 the winery bottled the contents of one vessel separately.
About 10 people work at the winery. The numbers swell during the busy summer months and fall harvest.
In March, workers are grafting pinot and chardonnay cuttings onto a hardy American grape rootstock. The roots wouldn't produce good wine grapes on their own, Figueroa said, but they are strong and resistant to phylloxera, a tiny, sap-sucking pest that's the bane of the wine grape industry.
Winery staff members also are continuing their year-round efforts in biodynamic farming. "It's like a lifestyle," Figueroa said of the practices, which are similar to organic farming, but take things further.
"The whole ecosystem is connected," he explained, "and we respect that."
For instance, they encourage a diverse ecosystem on the 88-acre prope. Oak trees and other species are left to flourish as well. This week, plum trees are in bloom.
In the vineyard, a cover crop is planted between the rows. The idea is that bugs will eat the cover crop and leave the grapes alone.
Chemical sprays are banned. Instead, Figueroa said, the winery makes "natural tonics" and discourages pests with egg shells, dandelions and other methods.
The winery makes compost, as well. It contracts with a McMinnville-area organic dairy, which provides manure.
The biodynamic techniques, the people and the soil work together to make premium wines, Figueroa said.
Born in California and raised in Mexico, Figueroa has been working in the wine industry since he moved to Oregon 14 years ago. The McMinnville man has bottled wine, worked for a vineyard management company and a wine warehouse, and helped with events.
Now he does whatever needs doing at Beaux Frères, from talking to guests who've made appointments for tastings to helping with the harvest.
"I find the whole process fascinating," he said. "The whole story of the Oregon wine industry is captivating."
Why wouldn't it be? he asked. "Wine is a beautiful thing."
Starla Pointer has been writing the weekly "Stopping By" column since 1996. Contact her at 503-687-1263 or spointer@newsregister.com.