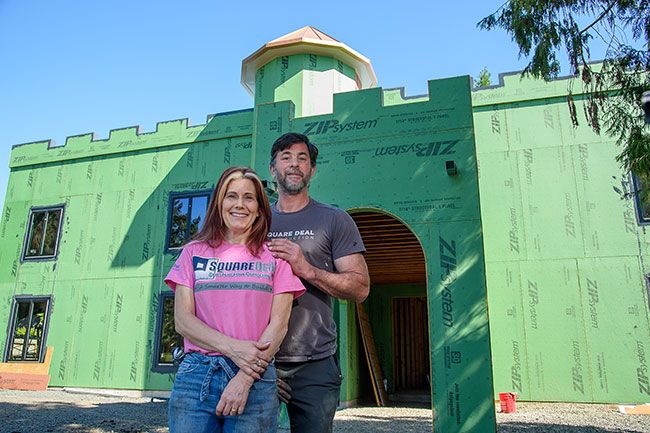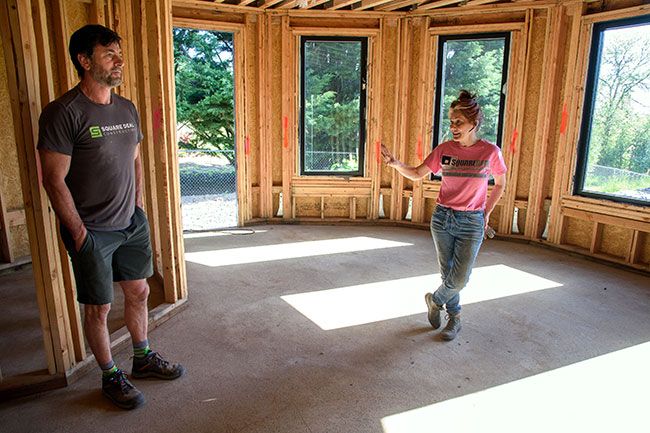 Stopping By: A home fit for royalty
Soon a knight in shining armor will have a home in Carlton.
A real knight, in real armor, albeit a tiny version. But the statue will live in a castle, which is under construction on the east side of town.
Terry and Jody Hall are building the castle-shaped house. "We didn't want it to look like everybody else's," said Jody, a Realtor.
She's always been fascinated with castles. She's visited real castles in Scotland, Germany and other countries in her travels, which have taken her to every continent, including Antarctica; her husband has been along on most of the trips.
She said she especially loved the "gorgeous monasteries, castles and cathedrals of Europe."
And when she dreamed of her own castle, she pictured a combination of a Disney theme park centerpiece and the Neuschwanstein Castle built by King Ludwig II of Bavaria — itself said to be an inspiration for Walt Disney.
So she asked her husband, a builder and remodeling contractor who owns Square Deal Construction, to build one of her own.
"I'd had the plans for many years in the back of my mind," she said.
The Halls live in McMinnville now, but are familiar with Carlton. They lived there for several years — in a house he built just southeast of the castle.
Local residents also are familiar with the "brick house," long the home of Mr. Church, just to the southwest of the castle; the Halls' son, Jared, lives there. They also have a daughter, Sabrina, who lives in Vancouver.
Terry has built several new houses over the years, but his work at Square Deal focuses mostly on remodeling kitchens, bathrooms and other spaces.
Square Deal, which has offices in Newberg, is in its 25th year. Terry started the business after moving to Oregon from Ohio, where he was a drywall contractor.
Some of his remodeling projects are in older homes or structures that have been damaged — "water intrusion here creates a lot of work for guys like me," he said. He also frequently completes projects in newer houses owned by people who want to upgrade from the original basic finishes.
"I get more satisfaction out of remodeling," he said. "Building new is a certain skill set; remodeling is a different one. I prefer taking something crooked and making it look like it always was right."
Jody praised her husband's skills. "Terry doesn't like short cuts. He does things right," she said.
With the castle and other projects, he said, he uses a computer to create exacting plans. (Some of those can be seen on the company website, squaredeal.construction.)
After customers — or his wife — approve, he makes "sure expectations are met or exceeded."
He added, "I like to know everything down to the last nail, the art and the colors before I get started." He doesn't want to make adjustments during construction, especially since that could affect the budget; he said he'd rather the customer knows what the price will be from the outset.
When considering the design for the castle, they tried to balance their own preferences with what would be marketable. They don't plan to live there forever, so they wanted to be sure it would appeal to potential buyers someday, too.
They include elements that are both castle-like and homey.
The home features three patios, a huge master closet and master bath, and large, modern windows along with additional bedrooms, a game room, laundry room, pantry and pass-through window from kitchen to the eating areas, and other features.
But it also has amenities fit for a king.
The master bedroom, for instance, is located in the larger of two turrets; its ceiling stretches to the heavens right now, although they may install timber beams to give the space a royal appearance. Below, on the ground floor of the turret, is a dining room large enough to accommodate their extended family.
The other turret holds a spiral staircase with a wrought iron handrail that resembles a tree branch.
A two-story library features four walls of bookshelves and a movable library ladder that also provides access to the second floor.
"You have to have a library with a castle," Jody said.
In the living room, the large, gas-burning fireplace will be wrapped in stone. She would like to hang a moose head above the mantle.
Throughout, interior doorways are topped with Gothic arches. Some windows will have arched tops, as well, and the glass will be recessed so it appears that the walls are thick enough to deter invaders.
The knight statue will stand on a ledge overlooking the two-story grand foyer. Other art pieces and souvenirs from their travels will decorate the spaces.
"A coat of arms would be fun," Jody said.
"Maybe cannons for the battlements?" Terry suggested.
Entering the driveway, visitors will see the portico extending toward the driveway. The Halls can stand on it and wave — or, conceivably, mount a counterattack if need be.
There's no moat to keep armies away, but there are battlements around the perimeter of the roof, just in case. A concrete path leads around the house.
The exterior will be finished with siding that resembles stone panels, with some spots, such as the turrets, covered in individual rocks — actually another type of siding that resembles the real thing. The finishes will add interest and whimsy, Jody said.
"It's a great design, a lot of fun," she said, again complimenting her husband.
He explained an important part of the design-and-build process: "She says what she wants, and I say, 'Yes, ma'am,'" he said. "Then I figure out how to make it."
The turrets, for instance, required a lot of thought. Building round towers was "significantly more time- consuming," he said. "It took a lot of engineering to make it strong enough."
He's not complaining. "I enjoy it, especially geeky, nerdy stuff," he said.
He also enjoys building things well and in a way that conceals the mechanics, such as the air management system and the geothermal, radial floor heating. "People might notice the house is more comfortable and the electric bill is lower, but they won't see why," he said.
A garage is incorporated into the floorplan of the 3,700-square foot structure. Jody said she's looking forward to having more space again — she and her husband are currently living in a three-bedroom, 1,100 square foot cottage in McMinnville.
Construction started in September 2022. In addition to work by subcontractors, the Halls are doing some of the construction themselves, particularly on weekends. Jody's dad, Terry Wolbert, is helping, as well.
By spring, the turrets were easily visible to passersby on East Main Street, leading to a great deal of speculation on social media. Most of the rumors were inaccurate, the Halls said.
No, Jody said, it's not being built by an actual prince. But she does consider Terry her "king of the castle."
Starla Pointer, who believes everyone has an interesting story to tell, has been writing the weekly "Stopping By" column since 1996. Contact her at 503-687-1263 or spointer@newsregister.com.