James (Jim) L. Mayes - 1942-2018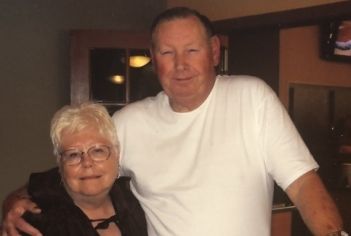 James (Jim) L. Mayes was born April 3, 1942, in Jeffersonville, Indiana, to Joe O. and Lavina R. Mayes. As with all great men, his tale starts with humble beginnings and grows into a life to fully accompany the Titan Jim was. Life in Indiana taught Jim how to survive on the land, the value of hard work, the importance of family and love.
In high school, at the age of 16, Jim fell in love with the love of his life, Mary. Becoming the high school homecoming queen and king, the two fell in love, and James, after signing up for the Navy to serve God and country, made her his wife and the center of his world.
During his tour, in which he served with honor, Jim and Mary had four children, Jimmy, Dawn, April and Tina. His family would become the basis of his life and driving force that pushed him to succeed and offer them the best he could.
Over time, as Jim left the Navy, he used the hunting, boating and fishing skills he learned as a youth to become a master butcher in meat cutting school in Cottage Grove, Oregon, and teacher to those looking to make a life for themselves, making sure his children never wanted and always had a place to call home.
As his children grew to adults, Jim was blessed with eight grandchildren and eight great-grandchildren, with another one on the way. He sat at the head of the table for every holiday and special occasion, making sure all were invited and welcome. In his own special way, Jim made all his grandchildren feel loved and unique, even raising two as if they were his own sons. He was a man of great humor and was always willing to lend a hand or ear to anyone in need.
As children, we always saw Jim as a giant, 10,000 feet tall, and carved of wood. We loved him. He was the center of so many people's worlds.
As all great men and stories often do, Jim's life had an ending as well. At 4:05 a.m. on August 2, 2018, Jim was called home. He would be joining his parents, his brother Joe, and sister Mildred. The world grew smaller that day, but hearts laid heavy with grief felt love for the man who was Jim Mayes. His great love, Mary, now sits at the head of his table, guiding and helping his children, Jimmy, Dawn, April and Tina, and their grandchildren through the great celebration and remembrance of his life.
If you were touched by Jim's life, as many were, and you would like to pay your final respects, the family is having a viewing from noon to 6:00 p.m. Friday, August 10, at Macy & Son funeral home. Services will be held at 11:00 a.m. August 11, at the Chapel of Macy & Son. Jim will be laid to rest at Evergreen Memorial Cemetery in McMinnville, Oregon. (Macy & Son is located at 135 N.E. Evans Street McMinnville, Oregon, 97128). To leave online condolences, please visit www.macyandson.com.