Derby Days rolling into town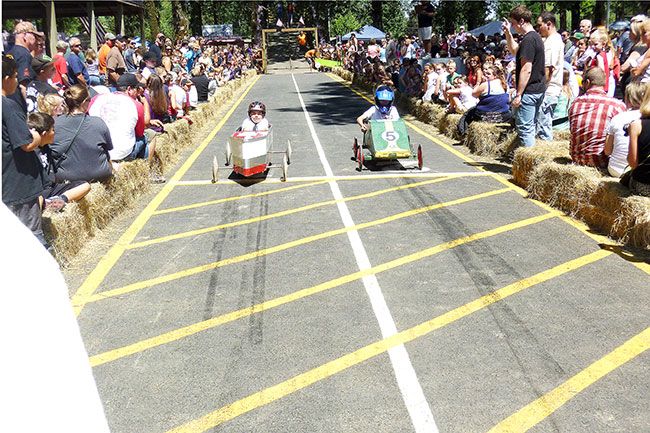 The town's 61st annual festival will carry the theme "Derby Fun in the Country Sun."
Derby Days grew out of the 1954 anniversary celebration at T&E General Store. Residents loved the festivities and the soap box derby car races, and both became a tradition.
Today's derby racers, who zip down the steep ramp in Beulah Park, often are the children or grandkids of previous racers. Some still use cars that are family heirlooms.
Preliminary derby races will be held Friday night and the finals will begin at 12:30 p.m. Saturday in the park. Children 8 to 11 years old may enter. For rules and more information about the races, call 503-662-3822.
Derby Days will get under way the previous evening. The festival queen will be crowned at 6:30 p.m. in the park. This year's princesses are Rachel Shirkey, Meli Slater, Valerie Wilson, Katelynn Groce and Makaya Challinor.
A talent show will follow the coronation at 7 p.m., with community karaoke at 7:30.
On Saturday, residents will gather for a pancake breakfast in the Yamhill-Carlton High School cafeteria. The Carlton-Yamhill Lions Club will start serving at 6:30 a.m. There will be a charge for food.
The Derby Days road run will get under way at 8:30 a.m. from the center of town. For information about entering, call 503-662-3761.
Parade entries will start lining up at the high school about that time, as well; call 503-662-4489 for information about entering the parade.
The parade will roll through town on Maple Street, aka Highway 47, starting at 10 a.m. The festival queen and her court will be featured, along with grand marshals Coach John Kuehnel and members of the Y-C girls' softball team. The Tigers were league champs and went to the state finals this spring.
Following the parade, Derby Days activities will move to Beulah Park. At noon, there will be a flag raising ceremony performed by local scouts.
Bingo will start at 11 a.m., continuing all day.
A live auction will begin at 2 p.m.; a silent auction also is planned. Proceeds from the auctions will go toward Yamhill Community Club's commitment to improve Beulah Park.
In addition to the soap box derby, several other community competitions are planned.
Bring your own frog for the popular frog jumping contest, which starts at 3:30 p.m. Tricycles of various sizes will be available on site for kids and adults who want to enter the trike races at 4:30 p.m.
At 5:30 p.m., Yamhill firefighters will compete with their counterparts from other departments in the bucket brigade. The contest requires firefighters to lift heavy buckets of water and pass them along to their fellow volunteers.
Participants will make their own music — via karaoke — for listening and dancing Saturday evening.
On Sunday, residents will return to Beulah Park for a clean-up party, starting at 9 a.m. At 5 o'clock Sunday afternoon, a free barbecue dinner will be served in the freshly cleaned park.