Carsley, Grizzlies ready for postseason push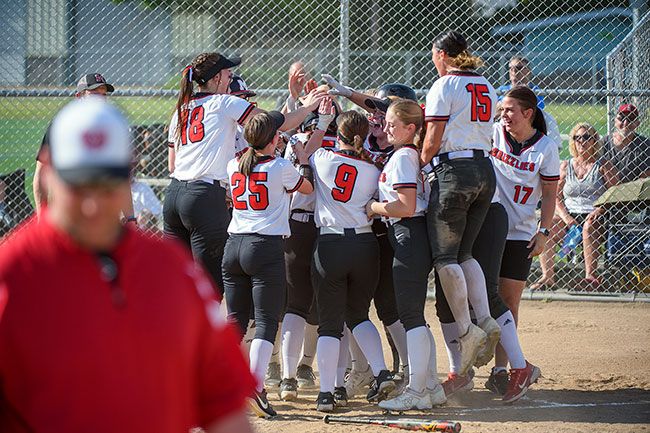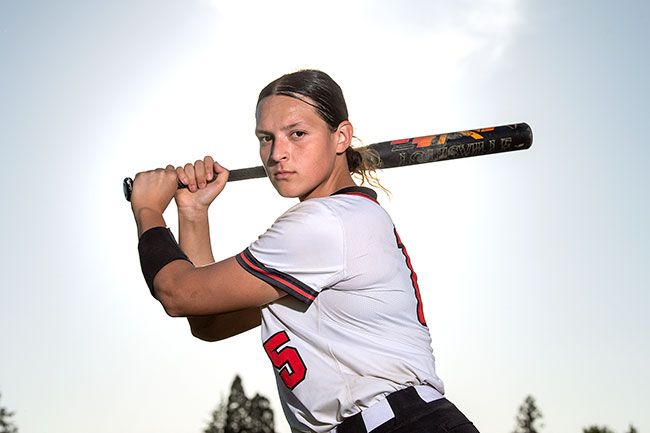 The scoreboard at Baker Field is no stranger to crooked numbers.
For the second straight season, the McMinnville Grizzlies are leading all of 6A in runs scored. At 276 runs, a couple of strong showings in the postseason could break the school record of 296, which the Grizzlies set last season.
Even with the departure of 2022 6A Co-player of the Year Brynn McManus, the Grizzly offense hasn't missed a beat this season.
Nine Grizzlies are hitting .300 or better, seven have an on-base percentage of .400 or better, and five have an OPS of 1.000 or better.
Leading the way is senior Abigail Carsley, a senior who transferred to McMinnville from Newberg after her family moved to town last year.
Carsley has stepped into McManus' shoes and then some, slashing .532/.607/.1.223, drilling 17 home runs and driving in 56 runs. She's also a perfect 17-for-17 on stolen base attempts.
With one more home run, Carsley would tie McManus' school home run record, set during last year's run. Last summer, while she was playing club ball, her bat and fielding behind the plate caught the attention of Kansas coach Jennifer McFalls.
McFalls and Carsley's club coach played together at Texas Tech, and after seeing her and speaking with Carsley and her coach, McFalls extended Carsley's first Division I offer.
Although Carsley always had her sights set on playing Division I softball, she had no offers prior to that encounter with McFalls. She was close to deciding between Linfield and other two-year programs, hoping to make the leap to Division I after two seasons at a lower level.
Instead, when the opportunity arose, she accepted.
She didn't get to visit Lawrence until the fall, after she had committed, but said that the visit served as validation after she met people within the program.
"I met with a lot of the trainers, the weight lifting coach, with tutors, people that help us," Carsley said. "They basically said there is going to be a lot of support around us. They said we have to try to fail. There's no way we're not gonna succeed.
"Knowing that I'll have support there is really helpful and it reassured me."
While this is her first and only year with the Grizzlies, Carsley said she quickly got accustomed to the girls on the team. She had played with and against many of them in club ball growing up, and she said that helped ease the transition to a new school.
While she has always stood out on the diamond, she played multiple sports growing up and encouraged others to do the same, noting how playing several sports made her a better all-around athlete.
"It all builds off each other," Carsley said. "It's so similar but so different at the same time. I think it's great to play other sports and I am glad that I did.
"It definitely helped me a lot. Not just the physical aspect, but it got my mind right about playing with a team and other girls … I had to adjust and learn."
At times, she struggled while playing other sports, but she said that helped her form a strong mentality surrounding slumps, which is especially relevant in softball.
"I think it's so good to fail. If I never failed then I would never be successful," Carsley said. "Okay, I know I'm in a mental slump right now but I'm not gonna stay here forever. I need to fail in order to be successful in the long run."
Carsley isn't the only Grizzly mashing the ball around the yard. Margo McManus, Brynn's cousin, who is slashing .494/.529/.815, leads the team with 26 doubles and is second with 40 hits.
Mackenzie Bekofsky is another big bat in the lineup, as she's drilled nine home runs, driven in 35 runs, and posted an OPS of 1.150.
Kaylee Dinger has two dingers of her own. Libby Hardee has three, as well as 20 runs batted in. Peyton Justice also has 20 runs batted in, and she has 11 stolen bases, third on the team behind Carsley (17) and McManus (12).
The Grizzlies have scored 10 or more runs 13 times this season, including 20 in a win at Century earlier this month.
The high-octane offense has led the Grizzlies to a 21-5 record and the number four ranking in the OSAA poll.
As similar as this season is to last spring, when the Grizzlies powered their way to a 24-5 record, they are hoping for a different outcome this year.
Last year, after winning their first two playoff games, the Grizzlies fell at second-ranked Bend 13-3. At Newberg, Carsley shared a similar fate, as the Tigers fell to top-ranked Tigard, which went on to win the state title in a 1-0, 10 inning win over Oregon City.
McMinnville's playoff opponent has been set, but it was set after press time. For the full 6A state postseason bracket, visit OSAA.org.