Back, and Forth: May the pendulum swing away from bans and bots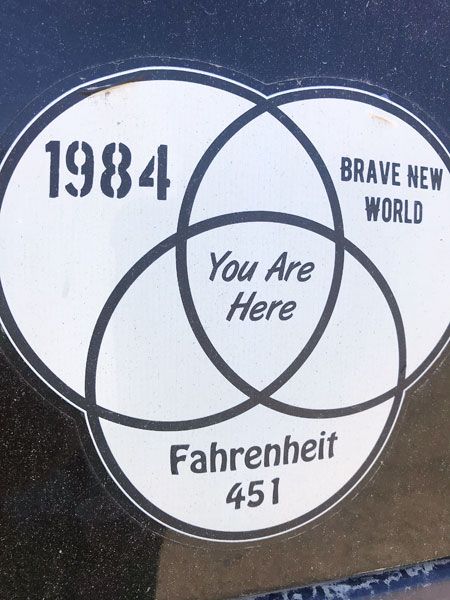 "Read or listen to an entire book in a weekend."
That's a reading challenge issued by Linfield University's Nicholson Library, in a pamphlet I picked up on campus last week. I love a challenge, so will try it soon.
Throughout my life, I've been a library hound.
In high school, it was my lunchtime hangout zone. I had a classmate who went there every day his junior and senior years and read "War and Peace" all the way through along the way.
In college, the library was my study zone of choice. In that, I suppose I was like many students.
My dorm room was worthless; so were the "quiet" rooms set aside in the building, as well as most other gathering places. Laptops and earbuds did not exist in the '70s, nor did coffee shops as we now know them today.
During my sophomore year at Linfield, I began using the basement of Failing Hall. It was then a women's dorm, but my intentions were honorable; the basement was spacious and no one was ever down there.
In the end, I was politely asked to desist.
So it was back to the library, then called Northup. It's since been renovated into classroom and office space and renamed T.J. Day Hall.
I have not set foot inside T.J. Day since returning to McMinnville, perhaps in part because I know I would miss good old Northrup, cramped and dusty as it might have been.
I'd spend a few hours at a time — I was never good for much more — in one of the second-story corners. I could usually find a table all to myself there, or a secluded chair to curl up on.
Periodically, I'd take a break from studies and peruse the stacks, many of them caverns of narrowly-spaced shelves tucked in under low ceilings. The place was a bit of a warren, but I loved it.
Seeing modern, spacious Nicholson for the first time, however, it's clear that today's Wildcats are far better served.
It was at Northup that I gained an appreciation for serendipity in book searches, finding myself idling in the stacks and pulling titles out of pure interest. The magazine reading room was a chamber of wonders in its own right, introducing me to publications such as The Atlantic, Harper's and The Nation.
It was to The Nation that I applied to do my internship for Linfield credit, allowing me to spend the life-changing though under-achieving summer of 1980 in New York City. I credit the Linfield reading room for making it possible by providing me a portal to the world.
So it was with a kind of nervous anticipation that I walked into Nicholson the other day for the first time since moving back.
I'd frequently walked by. I'd been curious, of course, but always hesitated to go in.
As I'm not a current student, I didn't want to get in the way. Yet I knew I would always be welcome, and my reception upheld that.
It was not an idle visit. I was interested in reading some works by my friend Bill Apel of McMinnville, retired chaplain and professor of religious studies at Linfield.
Bill and I had little contact in my time at Linfield, but through mutual friends, we've gotten to know each other over the years since — a pleasant byproduct of my time as a Wildcat.
I figured Nicholson would have an Apel collection and, courtesy of Chase Andrews, I learned that was indeed the case. Andrews, who carries the apt title of collection development and engagement librarian, sent me a list at my request.
My thanks, too, to Bahram Refaei, director of access and educational media services, for greeting me at the counter and taking me back to see Andrews.
Before I left, I picked up the "23 Reading Challenges, 2023" pamphlet. Other challenges include read-or-listen to books by Black, Arab, Latinx, LGBGTQ authors, or one about or by someone with a disability.
Variations included "recommend a book on Instagram," "try reading or listening to a book at a different speed" and "read a book published the year you were born."
In my case, the latter would include "Brave New World," "The Dharma Bums" and "Yertle the Turtle." Check, check, check.
Challenge #3 is, "Read 10 pages a day or listen for at least 10 minutes a day for a month." That fits nicely with past practice, though "War and Peace" would probably take at least two months.
Challenge #2 stood out: "Read a banned book. As it happens, Banned Book Week came and went two weeks ago, and I admit to giving it insufficient thought at the time.
In recent weeks, I've looked back at my own reading challenge of 2020. It was to read a novel a month, and I managed 13.
Though not by intent, the list included at least four books that have been banned or challenged in one place or another for one reason or another: "The Adventures of Huckleberry Finn" by Mark Twain; "Beloved" by Toni Morrison; "The Power and the Glory" by Graham Greene; and "To Kill A Mockingbird" by Harper Lee.
Looking back, I see that my list, a mix of first-reads and re-reads, was heavily weighted to the American South. It included "A Confederacy of Dunces" by John Kennedy Toole, which was set in New Orleans.
In recent years, I've read other oft-banned works, including John Steinbeck's "The Grapes of Wrath," Allen Ginsberg's "Howl," and each tale in James Joyce's "Dubliners."
In McMinnville recently I spotted a large decal on a vehicle. It was a Venn diagram connecting, cloverleaf-style, George Orwell's "1984," Aldous Huxley's "Brave New World" and Ray Bradbury's "Fahrenheit 451," with the shared middle space reading "You Are Here."
When I was in high school, my mother persuaded me to read the Bradbury book, and the Orwell and Huxley books were highlights of my Linfield literature and communications assignments. Ironically, Bradbury's "Fahrenheit 451" — about institutionalized book-burning — is also among books that have been banned.
Are we "Here" yet?
I'm fearful of any attempt to limit literature availability. The person claiming others are "pushing an agenda" is clearly an expert on the matter, and any reasons for banning are of fleeting merit, if any. Book-banning is undertaken out of selfish ideology, with no concern for the greater public good.
This week, the other thing that concerns me is artificial intelligence. Are we ignoring the warnings in the same way we ignored the warnings on the climate crisis?
This newspaper received something this week for the first time, as far as we know: a press release whose sender openly stated it was written by a certain celebrity "chatbot."
As I see it, the first thing we need to do is change the name to something less comical and cuddly. I suggest "Wartz."
We appreciate the sender's honesty. We hope this is the end of a trend, but probably not.
Of course, the media have been dealing for years with the reality of computer-generated copy, usually identifiable by its blandness and idiosyncratic syntax. When it lacks the human touch, you can usually tell.
The next thing, if it has not already become widespread, is entire novels written by bots. It would be hypocritical to suggest banning such books, but, then again, they are virtually devoid of human expression.
Call it a lame new world, one for which we have a cure: insistence on genuineness, on the human touch.
There's hope in a passage by Greene from "The Power and the Glory":
"It is one of the strangest discoveries a man can make that life, however you lead it, contains moments of exhilaration; there are always comparisons which can be made with worse times: even in danger and misery the pendulum swings."
Contact Kirby Neumann-Rea at kirby@newsregister.com or 503-687-1291.