Back, and Forth: Bearded space-fly guy comes in peace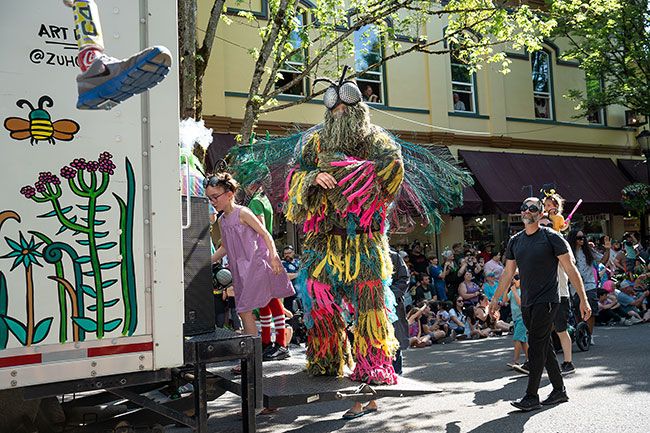 Town festivals based on flowers, rodeos, derby races or other themes are always full of possibilities.
But after seeing my second full-on version of the McMinnville UFO Festival, held May 19-20, I think "space is the limit" for this annual extraterrestrial extravaganza. I'm beginning to think you have to go with the passion and the numbers and call the UFO Festival this community's signature festival.
After the hugely popular last two years of UFO, it feels as if the event is what McMinnville is fast becoming known for — that and "Wine Country" identity, which extends beyond McMinnville.
As a sure-fire way to brand a town, UFOs comes close — especially given the indelible effect of the as yet undebunked alien spacecraft sighting at the Trent farm in the 1950s, which lives large in our local imagination. Perhaps the impending 75th anniversary of the Trent farm incident will be the moment to fully accept the UFO Festival as our official town festival.
What inspires something like the UFO Festival? The McMinnville Downtown Association and the McMenamins chain of breweries and hospitality sites, which organizes the local event, have much to gain from the huge influx of visitors. And visiting vendors, along with local businesses, do well over the two- or three-day event.
But it is far more than a commercial motivation.
People want to have fun. And they want to believe.
There is whimsy, even wildness, in celebrating the UFO Festival. There is also earnestness, and, face it, empiricism. A whole lot of people live, if only vicariously, by the T-shirt slogans: "Believe" and "Take Me With You."
The third arm of the UFO fact/fantasy equation, and the one that makes the UFO Festival in McMinnville increasingly vital, is a festival theme so widely open to interpretation.
Whatever you want to believe, witness or portray is up to you. I saw it fairly widespread in this year's event.
Fizzy from planet Zurzia, aka Fiona Floyd, 10, of Portland, joined her parents, Bobby and Hazel, in matching cylinder foil headgear as they toured the vendor fair. Fizzy's bore a sign saying, "Ask Me Anything About UFOs."
Fizzy got the idea to attend in Zurzian form, after visiting UFO Fest in 2022. She explained, "I got a call from Jupiter that there was a UFO festival on the third rock from the sun, and I should stop by."
Fizzy was far from the only visitor to adopt a well-defined alienesque persona and add a unique imaginative touch.
There was the delegation from P.L.U.T.O — Plutonian Lives Unjustly Thrown Out – seeking signatures on a petition to officially reinstate Pluto to its former status as ninth rock from the sun. Their slogan was: "9 Not 8, No Debate."
If Plutonians have tongues, theirs were probably planted firmly in cheek.
But there is an earnest element to this. After all, the scientific belief that Pluto deserves full planet status is not without strong adherents.
Other festival attendees spoke to the double nature of the event: fantasy or fiction meeting a sense of science.
Julie Gray of Seattle, who had a weekend pass to attend her first UFO Festival, said, "The speakers are very good, and I love all the alien stuff everywhere. It's very fun. I like the costumes a lot."
Gray paraphrased one speaker, alien abduction experiencer Sev Tok, as indicating the reason aliens are coming is to engage in a "hybridization of humans."
Asked her take on that, she said, "I'm not sure. They say they're here and we wouldn't know."
Gray said, "Others were very into statistics — this many sightings per day, and by zip code" — but not Tok. "She's had experiences since she was little, and that's where she thinks it's going," Gray said.
Tok's partner, George Elvin of Oriental, North Carolina, wore a Star Trek tunic as he waited to drive her in the parade. He termed the local festival "wonderful."
"I've been to some UFO conferences which are great in their own way, but this is a festival, which makes it more fun. It does have the research component — the speakers give it that perspective — but then there is the parade and the costume contests. And you get maybe 1,000 people at conferences, not 10,000."
Then there was the BLUFO team, its acronym standing for Beach Ladies UFO. It was the first time for the group and four of its members.
McMinnville resident Heather Sorenson hosted the BLUFO contingent, which consisted of six classmates and friends from grade school in Long Beach, Indiana. Three of its members witnessed what they believed were alien spacecraft over Lake Michigan in the 1970s and 1980s.
"We saw the same thing at different times," Sorenson said of the lake sightings. "We were watching a light in the sky take off and then come back and go and come back. It was fascinating."
They walked as a group, encircled by a cloth spaceship replica, and sang their old school fight song. "We saw what we thought was an actual flying saucer shape," Sorenson said, noting that sightings over Lake Michigan are actually "pretty common."
Fittingly, Sorensen's day job is chief administrator at Northwest UAV, which specializes in unmanned aerial vehicles, as the name would imply.
Between the purely fanciful and the expressions of the Experiencers, UFO Festival attendees and parade participants had fun while also celebrating practical applications and connections to technology, futuristic visions, and interplanetary study and exploration.
Ultimately, I think one of the main things that holds our fascination with UFOs and such is lockstep with our fascination with technology. And that only starts with Jetson jetpacks.
Truly local organizations rallied around the outer space and technology sensibilities, be it in the spirit of imagination or exploration. Examples include:
n The Mac High NerdHerd robotics team, running its creations in the street, to much applause.
n A team of Chemeketa Community College marchers, dressed in alien style and carrying a banner reading, "Go Further."
n Folks from the Carlton Observatory, who drove a double-rocketship bearing signs reading, "Searching for Extra Terrestrials" and, in keeping with the nonprofit's ongoing mission, "Keep Looking Up."
n The Yamhill County Transit Authority, sporting its special occasion bus, "Interstellar," replete with images of the solar system.
n Outdoor Adventures Education, riding a bullfrog float reminding us of another type of "invasive species" —the type that harms native flora and fauna in our midst.
One example of serious-fun UFO-themed applications was, literally, earthbound — the Chapul Farms van, a rolling Zug-art mural, featuring gangly arms fashioned from metal drink containers.
The van was sponsored by Zero Waste McMinnville and the artwork was contributed by Bryan Nichols. The art reflected the style of Nichols' 2022 mural on the BoHo Building on First Street — the one with a looming alien spaceship.
On the back of the truck, Todd Severson of Mac Market and Chapul Farms danced in a costume that led me to dub him, in a May 23 news story, the "bearded peacock-feather space fly guy," a description Severson took to heart. He and his mother-in-law, Kim Riggs, evolved the colorfully shaggy Halloween costume to a playful connection to Chapul Farms' very earthy project, using black soldier fly larvae to turn food waste into high-value food and agricultural products.
The Chapul Innovation Center is located at Tainable Regenerative Agricultural Laboratory on McPhillips Farm in McMinnville. According to farm owner and spokesman Ramsey McPhillips, "Tainable is a climate change research hub hosting scientists conducting agricultural research that centers on sequestering carbon back into the soil."
In other words, while the good-natured jesting so much part of the UFO Festival vibe is often about destruction and domination, this portion was about saving our planet.
Contact Kirby Neumann-Rea at kirby@newsregister.com or 503-687-1291.