2022 in review: A few of the people we won't forget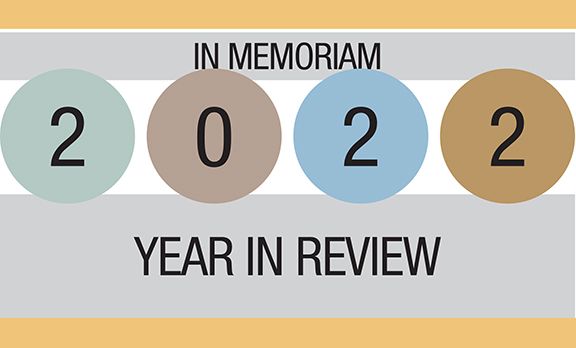 Yamhill County lost many of its residents in 2022. Every single one will be missed.
Here are a few of those we won't forget.
In January, retired Yamhill-Carlton School District teacher Don Cram collapsed and died Tuesday morning in the Y-C High gymnasium while exercising with friends and former colleagues. The Yamhill resident was 65.
Ashlynn Winter Weathers, 11, died Jan. 1. During her school years in Sheridan, she was active in sports, and she loved spending time with friends and family members.
James William Sulak, who worked as a surveyor in Yamhill County until his retirement in 1999, died Jan. 31, at age 83. Born in McMinnville, he served in the South Pacific with the U.S. Navy.
Also in January, Alice Earl died 12 days short of her 106th birthday, which would have been Jan. 31. She had lived for many years in Dayton and McMinnville.
Dennis Anderson, a 1958 Linfield graduate who was an avid supporter of the school's athletic programs, died Jan. 12 at 84. He had been a reporter and editor for more than 50 years.
In addition, local tattoo artist Jesse Michael McFerran of Lafayette was found dead in Tigard in early January. Relatives and friends had been looking for the 38-year-old since he went missing in late 2021. He had owned the Fancy Rabbit Art Collective on Third Street in McMinnville.
In February, Cal Kearns died following a long illness. He was 69. A Dayton native and Oregon State University graduate, he became a landscaper and ran C&D Landscaping with his wife, Debbie. He was active in his church and supported Henderson House, Dayton athletics and the See Ya Later Foundation.
Elizabeth Van Staaveren, 98, died Feb. 1. She was a civil servant who worked as a librarian with the Army Special Services in Germany following World War II. She cofounded Oregonians for Immigration Reform.
Cyrus G. Maloney died in early February in his home in Yamhill; his wife, Clara, also died. Both were 91. Cyrus had served in the Marines and retired from Tektronix; he enjoyed fixing things, panning for gold, fishing and operating the sawmill he built himself.
Auguste "Gus" Franey, born in Germany in 1933, died Feb. 25 in McMinnville, where she had lived since the 1950s. She had been employed at First National Bank, volunteered at the hospital, and returned to work at Winco until she was nearly 80.
Former Linfield physics and environmental science professor Clarence "Clancy" Hinrichs died Feb 28. He was 82. He graduated from Linfield in 1957 and returned there to teach after earning his master's and doctorate degrees.
March saw the death of Allen Methven, longtime dentist, Air Force and Army veteran and patriarch of Methven Family Vineyards near Dayton. He was 74.
Methven and his wife, Jill, planted Chardonnay, Pinot Noir and Pinot Gris, Gamay and Riesling grapes near their home in the Eola Hills in 2002. They made sure their land was salmon safe and Live Certified, he said, so they could leave it in good shape for the next generation.
Tom McFadden Jr., a longtime McMinnville CPA, died March 14 at age 63. A Linfield graduate, he was a longtime supporter of Wildcat athletics.
Longtime Linfield psychology professor James A. "Jim" Duke died March 10. He was 88. An Army veteran, he had been involved in charitable work and the First Baptist Church.
Floyd McKay, a McMinnville High School and Linfield graduate, died March 4. He was 86. A longtime journalist, he had covered Oregon politics during key periods of change.
Gerald Strang, a docent at the Evergreen Aviation Museum, died March 8 at age 84. He had been a music teacher, a pilot and an air traffic controller.
In April, luthier George David Armstrong of Yamhill died at age 76. The owner of the Newberg Music Center and member of the Rendezvous String Band was known for making dulcimers, mandolins and other stringed instruments.
April also saw the death of Tom Meicho of McMinnville, who had been dean of admissions at Linfield, his alma mater, until retiring in 1993. At 93, he still was active in the McMinnville City Club and the First Baptist Church.
In May, photographer Scott Carl died May 3. A Carlton native, he had served on the Carlton City Council for 20 years. He was 58.
In June, John F. Kerrigan, Ph.D., died June 10 after a long battle with Parkinson's disease. He was longtime Linfield University staff member.
July brought the death of former McMinnville High School German teacher Burkhard Gebauer. He died suddenly July 15 while visiting his family in Germany. He had taught history, as well as language, for more than 20 years.
August saw the death of Roelie Goddik, a native of Denmark who came to the Dayton area in 1984 with her husband to farm. She was an accomplished equestrienne, among other skills.
Former Yamhill County Sheriff Jack Crabtree died Aug. 5 from cancer. He was 62. Crabtree had worked as safety director for the McMinnville School District after retiring from a 30-year law enforcement career.
Steve Bobb Sr., who served as a Grand Ronde Tribal Council member from 2007-13 and returned to the council from 2018-21, died of cancer Aug. 11. He was 73.
Former Linfield president Vivian Bull died Aug. 12 in Pennsylvania. She was 87. When she took the job in 1992, she became Linfield's first female president. She oversaw expansions both in the campus and its offerings.
On Sept. 21, former Yamhill County Sheriff Norm Hand died at age 77. Hand was a longtime McMinnville Police officer who was elected sheriff in 1996 and 2000, serving until he retired in 2002.
Longtime McMinnville High School drama teacher Barbara Jellinek died Sept. 25 in Seattle, where she had moved several years ago. She was also well known for acting in and directing shows at Gallery Theater.
October saw the death of Marlene Jean "Jeannie" (Paris) Putman, who died Oct. 11. She was 87. A 1954 graduate of Dayton High School, she worked at Fredricks Motors, McMinnville Hospital and Maddox Insurance before she and her husband purchased Dave's Red and White in May 1969 and transformed it into Putt's Market, which became vital to Dayton as a grocery store, community information outlet and gathering place.
On Nov. 10, Dean L. Warrick, a star athlete at Amity High School in the late 1940s and early 1950s, died. He served in the Army from 1954 to 1956 as part of the U.S. forces in Japan. In the summer of 2022, he was thrilled to take part in the 70th anniversary parade for the first East-West Shrine All-Star Football Game, in which he played.
November's deaths included that of Rene Quinones, who served on the Sheridan City Council from 2007 to 2018. He was 72 when he died Nov. 25. He was called the "smartest individual in the room" during a Sheridan meeting in his honor.
December saw the death of Ron Davison, longtime business owner and avid sports supporter. He died Dec. 13 at age 80.
He and his brother, Tom, took over Davison Auto Parts from their father, expanded its number of locations and opened a winery supply businesses, as well. Ron was part of the "chain gang" at McMinnville High School football games for more than 50 years, and supported high school and college sports in many other ways.
Nanette "Grandma" LaRue of Sheridan, a long-time foster mother and poultry advocate who came to know many local children while working in the laundry and kitchen at Faulconer-Chapman school, died in December.
Rosalind "Roz" Turner, who served for years as McMinnville children's librarian, and as a volunteer with CASA, Meals-on-Wheels, Habitat for Humanity and many other local programs, died Dec. 27 at age 92.
In addition to these and many others, Yamhill County lost numerous military veterans in 2022.
They included World War II veterans Stephen Monroe Fairbanks, Bob Baker and Marv Worden.
After serving as a soldier in World War II, Baker became a minister. A devout Christian, he died in February at age 97.
Worden, a native of Dundee, died April 13 in his McMinnville home. After the war, he operated a concrete block plant. He was a longtime member of the Benevolent and Protective Order of Elks.
Fairbanks, who died Jan. 18 at age 94, moved to McMinnville after serving in the Navy during WWII. He worked for Chuck Colvin Ford.
Among other veterans Yamhill County lost this year were Harry Chase, who served in the Marines, died in January at age 80; Dean Kenneth Swanson, who served in the Army National Guard in the 1960s, Jan. 31; Phillip Paul Nunemacher, an Air Force vet who flew the flag every day for the rest of his life, Jan. 30; Clarence "Leo" Leathers, an Air Force veteran, Linfield graduate and longtime local contractor, Feb. 3; Larry Louis Mennenga, an Army veteran who was a door gunner in Vietnam, died May 1; Alvin James Bellows of Carlton, who served in the US Air Force from 1949 to 1951, May 13; Jerry Arthur Hanowell, an Army veteran, May 27; Marvin Trotter, who served in the Navy and later became a Mason and past exalted ruler of Elks Lodge 1283 in McMinnville, June; Milton Douglas Forell, 79, a fire control technician in the U.S. Navy, June 28; Michael David Page, who served in the Air National Guard during the first Gulf War, June 28; Robert Raymond Williams fought in Vietnam with the Army and was a lifetime member of American Legion Post 173 in Carlton, Oct. 31; Gordon Winter of McMinnville, who served in the Marines in Vietnam, Nov. 30; Robert D. Jensen of Yamhill, who served as a battalion commander's driver in the Army, stationed in Germany, Dec. 16.