What's in a name?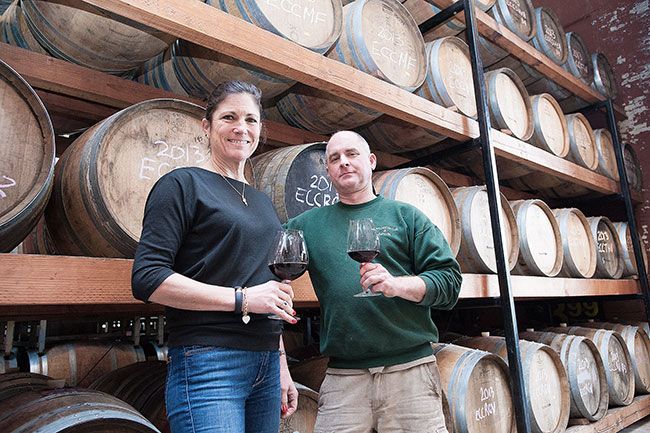 Elizabeth "Liz" Chambers comes from a family of high achievers. Credit her mother, Carolyn, who founded Chambers Communications Corporation back in 1959.
The Eugene-based company owns ABC-affiliated television stations in Eugene, Medford and Klamath Falls, as well a film and video production company in Eugene. Until the middle of last year, it was also the ABC affiliate in Bend.
Chambers is a loyal supporter of her alma mater, the University of Oregon, and an avid fan of fine wine, notably pinot noir. As friends, relatives and associates will all attest, she doesn't do anything halfway.
After graduating with a finance degree, she learned the real world workings of finance and business at Chubb Corp., the nation's eighth largest property and casualty insurer. After six years with Chubb, she moved to the family firm in 1987.
At Chambers Communications, her field of expertise was risk management. With her, the health and stability of a business always comes first.
In 1995, her mother asked her if she would take over Silvan Ridge-Hinman Vineyards, a Eugene-based vintner the company had acquired a few years earlier. She agreed, albeit reluctantly.
"I felt like a duck out of water," she said. "I had a good grasp of business operations from a money standpoint. But other than liking the stuff, I knew absolutely nothing about wine."
Fortunately, Chambers was a quick learner. She got out into the winery and started asking questions. She also started taking classes at Chemeketa.
For the first four years, she said, she struggled to wrap her arms around it all. Then things began to come together for her.
"The logic of it all finally fell into place," she said. "I gained confidence and was able to start making decisions that made sense and made a difference."
In 2004, Chambers got the opportunity to buy McMinnville's Panther Creek Cellars, a highly regarded pinot noir producer. And by that point, it was a move she could make with confidence.
Steering a steady ship the next several years, she kept both Silvan Ridge and Panther Creek profitable, despite a rocky economy.
But with her mother's death in 2011, family differences about the future direction of the business threatened the wine element she had built up over the previous decade.
"I owned 80 percent of Silvan Ridge," she said, "and I was able to buy the remaining 20 percent from other family members. But with Panther Creek, I didn't own the name, only the building, equipment and wine."
That long-established name proved valuable enough to elicit an attractive offer from Bacchus Capital Management, which has offices in San Francisco and New York.
Bacchus made a substantial investment in Wine by Joe in late 2011. Looking to expand its interests, the company struck a deal with the family for purchase of the Panther Creek brand in April 2013.
The sale cost Chambers a prestigious brand, but left her with a facility that had been producing wine of fine breeding since 1987, along with an inventory of wines in storage. It also left her with a set of fruit contracts with top growers, one of McMinnville's most historic buildings and a highly skilled winemaker in Michael Stevenson, who joined Panther Creek in 1994.
"I want to drink wines that have table manners, wines that can dance," Chambers said. "I want elegance and style in my wines." And with Stevenson on board, she said, she felt well positioned to do that.
In his view, Stevenson said, "What's in the vineyard determines 90 percent of what's in the bottle. The warm days and cool nights of the Willamette Valley lend an important balance between acidity and flavor for pinot noir."
He said he and Chambers were in total sync. "We strive for a natural integration of flavors, derived through restraint in winemaking that respects the distinct character of each vintage without excessive manipulation," he said.
They already had wines from the 2011 vintage ready to market. All they needed was a new brand identity to replace Panther Creek.
Chambers consulted widely with people she respected. After considerable weighing of various alternatives, she decided to build the brand around her own name.
"I had pretty much made up my mind that was what I was going to do," she recalled, "when a good friend said, 'Well, you can't use Liz. That's just not appropriate for these special wines. How about Elizabeth?"
Even though she's always gone by Liz, she gave that some thought. "In the end, we arrived at Elizabeth Chambers Cellar, and that was that," she said.
Like the wines they grace, the Elizabeth Chambers labels exude understated elegance. They are decal-edged, blind-embossed and accented with a blue foil butterfly, in memory of Chambers' mother.
The new wines with the long history are now poised for release. Three examples from Elizabeth Chambers Cellar are now being supplied to established distributors, and not just in the Pacific Northwest. They are also being marketed in Florida, Georgia, Illinois, New Jersey, New York, Texas and Washington, D.C.
The lineup includes a 2011 Winemakers Cuvée Pinot Noir, a custom blend primarily sourced from the Freedom Hill and Lazy River vineyards, and a pair of single-vineyard pinots.
Available nationally in limited quantities, the initial single vineyard releases are a 2011 Shea and a 2011 Freedom Hill. Total production is now at 3,500 cases, and Chambers said it will not exceed 5,000.
The winery's stately brick building once housed huge McMinnville Water & Light turbines that supplied power to the city. It is being remodeled to feature a light-flooded tasting room adjacent to a large, private outdoor garden and patio seating area.
Completion of this Granary District oasis is scheduled for early summer 2014. And such an addition will undoubtedly add credence to revitalization of the Pinot Quarter as an alternative name for the wine-centric area.
Karl Klooster can be reached by e-mail at kklooster@newsregister.com or phone at 503-687-1227.