News-Register Subscriber Services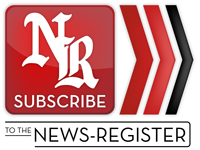 SUBSCRIBE
The News-Register is the Yamhill Valley's leading source of news and information about our area's government, schools and people.
Our family owned community newspaper delivers local news, local sports and local bargains to homes all around the Yamhill Valley.
Click here to subscribe to the News-Register and/or NewsRegister.com
Subscription includes twice-weekly Mail Delivery / Early Access to E-Edition
For Help: Circulation Department, (503) 472-1199, circulation@newsregister.com
In-County
Print and Online
Out-of-County
Print and Online

Online Only

3 months $30.00
3 months $44.00
1 day $2.00
6 months $56.00
6 months $84.00
7 days $5.00
1 year $89.00
1 year $164.00
1 month $10.00
3 months $30.00
6 months $56.00
1 year $89.00


Renew your News-Register Subscription
Pay your bill online - Convenient and Secure!
Save the cost of postage and the risk of interruption of your delivery by paying your bill here.
---


Give the Gift of the News-Register
Sharing information is a wonderful thing. Send someone the News-Register as a gift and they will receive both the newspaper and online access to local news. Order now!
---


Moving?
Change your address here!
Don't miss a single issue of the News-Register. Let us know where you've been and where you're moving and we'll make sure your newspaper moves there too.
---

Where can I Find the News-Register?
Racks and retail locations throughout Yamhill County.
Click here to find the nearest spot to pick up a copy.
---


Taking a Vacation or Trip?
Stop and restart your News-Register Home Delivery.
---


Delivery issues or comments
Good or bad, let us know about it. We aim to please. Tell us how we're doing here.