Stopping By: War Correspondence
Through letters home, woman gets to know the soldier in her father
The Rev. Richard Berkey was constantly caring for other people, helping to heal their minds and souls. He pushed for low-income housing and increased opportunities for the poor. He eschewed the limelight and didn't seek monetary rewards, always giving of himself instead.
In recent years — two decades after his death — the McMinnville woman has had the chance to get to know her father in another way. Through his letters home and the secret journal he kept during World War II, she's met a 22-year-old medic who did his growing up on the battlefields of France and Germany.
She's discovered how the frightened young soldier became a confident and compassionate caregiver, and how he returned home to become first a minister, then her beloved dad.
In the process, she came to realize, "The war made him what he was."
Learning that has been a fascinating, sometimes painful, experience, Huntsberger said, but it's only increased her bond with her father.
Now she's telling his story in a book, "Waiting for Peace: The Journals and Correspondence of a World War II Medic." "I felt that maybe this was left for me to do," said Huntsberger, a local piano teacher.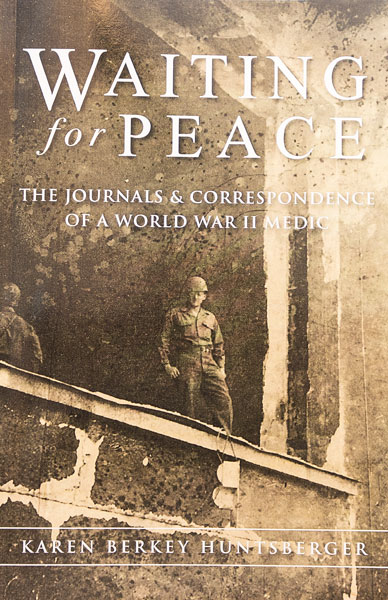 The book includes 71 photos from WWII, shot by a friend her father met in the medical corps. The cover shot shows Cpl. Berkey standing in the bombed-out window of the Berghof, Hitler's home in the Bavarian Alps, on May 19, 1945.
The first American troops reached the site in early May, a few days after Hitler committed suicide in Berlin. By the middle of the month, Berkey and many other soldiers were touring the Berghof — an opportunity for them to reaffirm that Hitler was dead and celebrate the end of the war in Europe.
A few years before he visited the Berghof, the man who would become her father was drafted into the U.S. Army.
His older brothers, Jonas and David, were already serving in the Navy in the Pacific. His sister Lucy was a Navy Wave stationed in Washington, D.C. And like their younger brother, all three would make it home.
Their younger two sisters probably would have served as well if they had been old enough. Huntsberger said the Berkeys, like the majority of Americans of that era, believed firmly in serving their country.
Richard was in college when he got his draft notice. He was studying at Indiana University to become a doctor.
He would never fulfill that dream. He did finish college after the war, but decided against a career in medicine.
Huntsberger said the horrors her father saw on the battlefield led him to choose the church, instead. "I think he did want to care for people, just not as a medic again," his daughter said.
When the college boy was drafted, though, the Army took note of his medical interest. So he was assigned as a combat medic with the 68th Armored Infantry Battalion, C Company.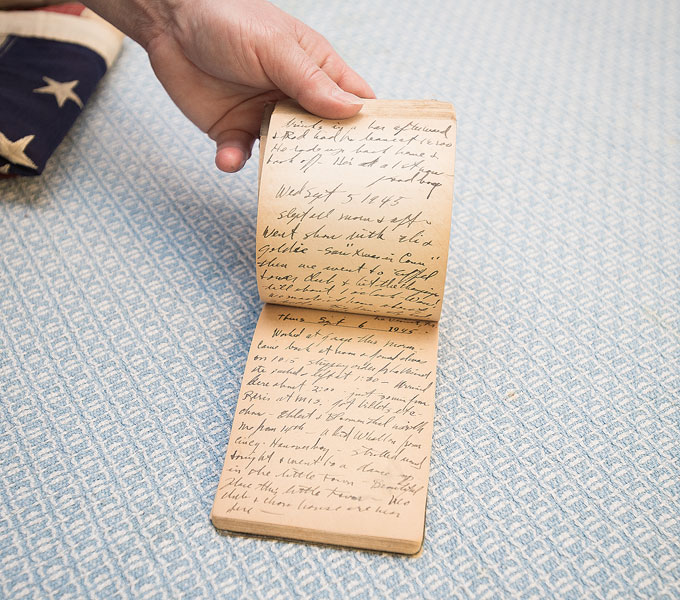 Huntsberger's father, Richard Berkey, carried this journal during his service as a medic in World War II. In it, he recorded his real feelings — often quite different from the sentiments he wrote to his family and and friends at home.
In 1944, he shipped out to Europe to care for the sick and wounded as the Allies fought to defeat Hitler's forces.
He and other medics tended to all those who were hurt, not just those who wore Allied uniforms. "One minute you might be shooting at the enemy, the next minute you'd be patching him up," Huntsberger said, noting that it solidified her father's belief in helping everyone.
In addition to treating soldiers, the medics aided residents of the towns they passed through or in which they billeted. In gratitude, the townspeople shared their meager provisions.
"He even delivered a baby once," Huntsberger said, recalling how her father helped a Polish refugee bring her child into the world.
Berkey himself was hurt on Dec. 18, 1944 — 10 years to the day before his daughter's birth.
His unit's daily log reports that he was "slightly wounded," a euphemism that indicates he would live, but doesn't explain much about his injuries. Imagine, Huntsberger said with wonder, what her grandmother thought upon receiving a telegram from the Army, saying her son was "slightly wounded."
Here's what happened: Berkey was struck by shrapnel, bits of metal that burned deep into the flesh of his upper arm.
Still, he kept working for hours, helping the more seriously injured soldiers on the battlefield. The valiant effort earned him a Bronze Star.
Finally, weak and in pain, he turned to his fellow medics for care. He felt bad about having to ask for help, he noted in his journel.
Hospitalized for two months, he underwent three surgeries to remove shrapnel, along with pieces of his uniform that had become embedded in the wound, leading to severe infection.
Huntsberger recalled seeing the scars on her father's arm. But until she did her research, she didn't know how serious his condition had been.
Her father, like many other soldiers, also suffered partial hearing loss that lasted long after the guns stopped firing. And every once in a while during her childhood, he would lose focus on the present, letting his thoughts drift.
She realized back then that his vagary had something to do with the war, but she didn't understand.
"He didn't talk about it," she said. "He never talked about the war."
And, she added with regret, "I never asked."
It wasn't until both her parents were gone that Huntsberger began filling in the many missing pieces of her father's story.
Clearing out her mother's house, she discovered her father's WWII flag and a treasure trove of letters written to and from him during the war. Some were from his parents, younger sisters, teachers and townspeople.
The latter group included "girlfriends" from school, including his future wife, who, at the time, was merely a friend supporting the war effort. They didn't become romantically involved until after he came home.
She and other people at home wrote about rationing and activities to help the war effort. And they focused on happy news designed to give soldiers some relief from the daily grind.
Berkey's letters from the war zone were friendly, but light on details. He couldn't tell his mother or other correspondents about his whereabouts or his missions, because the information could have fallen into enemy hands.
He also scrubbed his correspondence of his fears and concerns, assuring the people back home that everything was going OK. He didn't describe the brutality of a bomb attack, or tell his mother he had to wear the same clothes for a whole month. Instead, he picked wildflowers from the meadow behind the Berghof and pressed the petals into his letters.
But his personal journal recorded a different story. Life on the front lines was definitely not OK.
He saw people shot and mutilated. He administered morphine to ease wounded soldiers' pain, often knowing that was all he could do for them. He watched friends die. He mourned them.
The fact that he kept a journal at all is pretty remarkable, Huntsberger said.
Soldiers were ordered not to, out of concern that information might fall into enemy hands. But Berkey, as a medic, could tuck the little book into his breast pocket as if it were a treatment manual and jot down his thoughts as if he were keeping patient records.
When she first saw the journal, Huntsberger could tell a lot about her father's experience without even opening the book.
Battles and weather left their mark. The pages were scuffed, the binding held together with medical tape.
When she opened the cover, she saw page after page filled with Berkey's cramped handwriting in fountain pen or pencil. At first, she found it difficult to decipher, but soon she became an expert.
She also had some help: Her mother had transcribed the journal in typewritten form in the mid-90s, although Huntsberger hadn't read it at the time.
"I'd always avoided World War II because of the horror of it," she explained, describing the war as "mass global insanity" that led to the death of 60 million people.
"I'm very sensitive," she said. "Things affect me deeply. If I read something about the war, I'd dream about it."
However, she also believes it's important for people to learn about history. So when she came into possession of the journal and the letters, Huntsberger knew she had to overcome her reluctance.
She also realized she needed to study the WWII era in order to give her father's story some context. She watched movies and mini-series, such as "Band of Brothers," and read all sorts of accounts of the war.
She reached out to other children whose fathers served with hers. And she turned again and again to Buster Crockett, her father's best friend in the service.
The WWII veteran provided a great deal of information for Huntsberger's book before he died in October 2014. "Buster was my last living source," she said.
To fill in the final gaps, she requested her father's service records and daily reports kept by his company.
In 2013, Huntsberger also traveled to France to visit the Lorraine American Cemetery in which more than 10,000 U.S. soldiers are buried, including 11 of her father's fellow soldiers. "Dad watched them die," she said, awestruck.
She had hesitated to visit the cemetery, fearing the experience would be too intense for her to take.
"But it was incredible," she said. "I felt I knew these guys."
She was honored to be able to pay tribute to them — and, by doing so, to pay tribute to her father, as well.
Starla Pointer, who is convinced everyone has an interesting story to tell, has been writing the weekly "Stopping By" column since 1996. She's always looking for suggestions. Contact her at 503-687-1263 or spointer@newsregister.com.