Hill Dogs inspired by their roots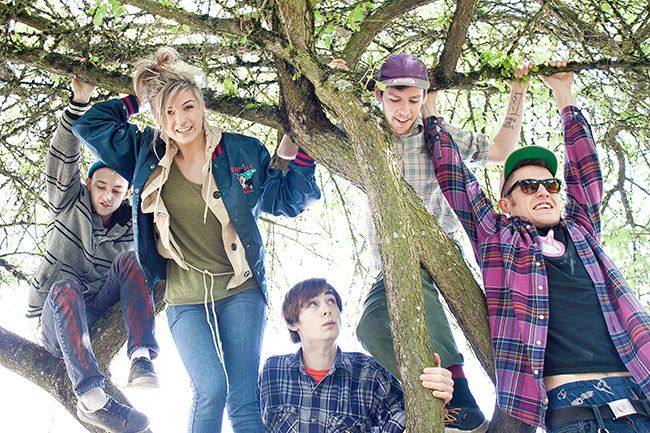 Sitting on the deck of The Coffee Cottage in Newberg, the five members of The Hill Dogs reminisce like a group that's been together for years.
"I remember exactly when that song came to be," guitarist Lucas Benoit said. "It was out on the front lawn during an acoustic practice. We don't do that anymore."
"Well, it's been winter," jabs back frontman Taylor Kingman.
While the band was created several years ago, the current lineup didn't coalesce until the summer 2011. It features Kingman, lead vocalist and guitar; Benoit, guitar; Kody Mikkelson, bass; Kayla Stroik, violin; and, Ricky Rohr, drums.
The Newberg High grads recently self-released their debut album, "Ghosts Of Champoeg." It can be purchased at The Vortex in McMinnville, Newberg Music Center and Coffee Cottage in Newberg, Ranch Records in Salem and Bend, and Music Millennium in Portland.
The band will perform Saturday at 2 p.m. in the Granary District as part of the La Casa Verde festivities. They will follow Jack Ruby Presents, booked for noon to 1:30 p.m.
The Hill Dogs describe their sound as big-hearted, fire-breathing folk rock. And that's a spot-on description.
I simplify it as folk rock that sounds best loud. I would also tag the phrase, "music beyond their years," for the musicians ranging in age from 19 to 22.
The album's roots actually go back years, as Kingman began writing the songs in middle school. Most of the songs were written in the century-old Champoeg schoolhouse, about a mile from where Kingman grew up, hence the name "Ghosts of Champoeg."
Kingman thought that name would best tie the songs together. And it may be a coincidence or not, but "Ghosts of Champoeg" is a great fit for the 15 tales told and the melodies imparted on the album.
Smalls town scenes and country landscape appear often, like on the love song, "Emma Dear": "And the gravel road we took, to the muddy river shore / Where we say and we looked, at the Willamette's subtle roar." "The farm shed creaked / I smoked so I could breathe / The filbert trees undressed to show the blight and death beneath," Kingman sings on "I Swear I'll be Better (When I'm Dead)."
The themes are timeless — inequity, human frailty, trust broken and love realized — but the sounds are contemporary.
Having a full songbook from the get go was advantageous for The Hill Dogs. It was then just a matter of bonding and learning to arrange songs together.
"We're all very analytical in our approach, in how we make music and how we listen to music," Mikkelson said. "It's really a five-piece puzzle."
Last year, the Hill Dogs moved into a small house in downtown Newberg for the summer. That's also when they recorded "Ghosts of Champoeg," funding the album through a Kickstarter campaign. While the long-awaited release of their debut is one to celebrated, the band is just as pleased to move past the songs that have encompassed their lives for two years.
"It's such a breath of fresh air to start working on new songs," Benoit said.
And they're not taking their time. The Hill Dogs have already began recording for their next album. Since recording "Ghosts of Champoeg," the band has become tighter and begun to break away from any certain genre, incorporating more rock and developing a sound uniquely their own.
Other upcoming gigs include April 26 at Mississippi Pizza and the Wildwood MusicFest on July 19.
"Ghosts of Champoeg" can be streamed for free at www.hilldogs.bandcamp.com.
Contact Ossie Bladine at obladine@newsregister.com.