Getting a kick out of coaching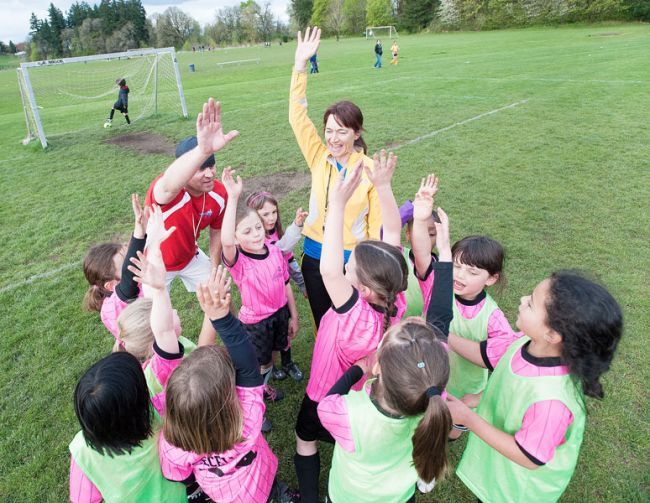 Around Carlton, the name Wright is most often associated with Ken Wright and his winery, Ken Wright Cellars. The noted winemaker's wife, however, has her own areas of accomplishment entirely, unrelated to the making of near-perfect pinots.
Karen Wright is a highly creative crafter of original jewelry so beautifully conceived and composed that pieces are avidly snapped up at shows and benefit auctions.
But as much as she loves both wine and jewelry, her ultimate passion is soccer. She likes to watch it, play it and coach it, striving all the while to improve her skill level in the process.
Perhaps more than any other sport, soccer is truly a team effort. Some players may possess superior abilities, but without working in unison with their teammates, they won't score many goals.
Wright's mission is to introduce children to the sport at an early age and give as many of them as possible the opportunity to participate.
"It's all about touches, she said. "To learn you have to play."
Wright herself learned to play, quite proficiently, as a youngster growing up in Northern California. When she enrolled at San Jose State University, however, the status of the sport had not yet gained much traction at the collegiate level.
Undaunted, she joined a local club spawned by enthusiasts like herself, who would give anything to be able to compete with and against the best around.
"We played club teams mostly from the San Francisco Bay Area," she said. The toughest were out of Stanford and Berkeley. And we consistently beat them."
Years later, the thrill of blasting a ball past the goalie's outstretched arms and burying it in the back of the net had still not faded from her memory when an opportunity arose, courtesy of a local car dealer and one of his major suppliers.
"I was working with Carlton Together Cares, teaching soccer basics to elementary school kids, when Jim Doran dropped by and said, "I've got some money for you."
"It turned out that Chevrolet had come up with a soccer sponsorship program. They were giving away a new car, and we could sell raffle tickets for a chance to win it."
She said, "We sold more than $3,500 worth of tickets, and that gave us the seed money we needed to get the Yamhill-Carlton Soccer Club off the ground."
Response was as good as they could have hoped, particularly among the younger set. Enough students signed up initially to create teams at each level from kindergarten to fourth grade.
Wright said the older kids weren't quite as interested, owing to the fact they had already formed sports preferences.
Although Wright had been an outstanding player during her college years, her playing background had not prepared her for this assignment.
"I really didn't know how to coach," she said. "Mr Maine, the P.E. teacher at Carlton Elementary, helped me. And I went on the Internet, which has just about everything in the world."
That was early 2011 — four soccer seasons ago now. She fielded teams in the spring of 2011, fall of 2011, spring of 2012 and fall of 2012, and is working with a spring 2013 team.
To look at Wright commanding the attention of an energetic group of youngsters during one of her Soccer Stars clinics, held Wednesdays at Carlton Elementary, you'd never have guessed her lack of training just two years earlier.
"Freeze," she barks as rowdiness begins to gain momentum among the group. The kids do exactly that, then look sheepishly toward their coach as she orders, "Simon says do what I'm doing."
That puts everyone back on track, ready to tackle the assignment at hand, which is the basics of foot passing.
They crank up to see how many passes they can make in a minute. After losing the ball a couple of times, they manage to get into a relatively respectable rhythm before being ordered to stop.
"That was at least 11 million," one boy bellows. "Eleven million and one," Wright shouts back as she boots the ball across the field.
They close the drill by organizing themselves into a circle and shouting "Y-C SOCCER CLUB" at the top of their lungs.
Having completed this Soccer Stars day, the kids line up to be measured for jerseys and given patches for those jerseys.
Anyone who comes to three consecutive sessions of Soccer Stars gets a jersey and patch. Some kids sport quite a few patches on their sashes, and are clearly going for more.
The Y-C Soccer Club has become so popular with second and third graders that the club had to divide them into two teams each.
"If a group gets too big," Wright noted, "not enough people will get to touch the ball. We often play three-on-three in practice, and we usually have seven on a side in games."
In interscholastic and professional soccer, teams consist of 11 players. They play games called "matches" on fields called "pitches."
Adding an impressive "touch" of prestige to the picture, Wright enlisted the services of Mike Smith, who heads the Portland Timbers Academy, director of the professional team's Timbers Academy.
The Academy is the centerpiece of the Timbers youth outreach program and Smith has already conducted two coaching clinics in Carlton for the club with a third clinic scheduled in May.
The club plays a 12-game season in the McMinnville Parks & Recreation League, based at Joe Dancer Park. Wright admits to spending an average of 20 hours a week on her club activities, between practices and games.
Just like players on the teams, Wright readily admits she couldn't have done this all by herself. She particularly wanted to thank Parks & Rec. program director Steve Ganzer for his cooperation, as well as all the supportive parents of players.
Then there's Carol West and her CTC staff, not to mention Wright's fellow coaches and assistants including Greg Wall, Kaitlyn Clemens, Amber Horne, Kelly Williams and Shanna Kerr.
But Kerr said a lot of the credit does, indeed, rest with Wright.
"Karen has built a great program," she said. "It's because of her that Carlton has the highest per capita participation in soccer of any city in the state, and probably the Pacific Northwest."
And that's what I found out while OUT and ABOUT — Realizing the biggest kick I'll ever have chance to get out of the world's most popular sport is yelling GOOOAAALLLLLL!!!!
Karl Klooster can be reached by e-mail at kklooster@newsregister.com or by phone at 503-687-1227.