Gardening in an old-fashioned fashion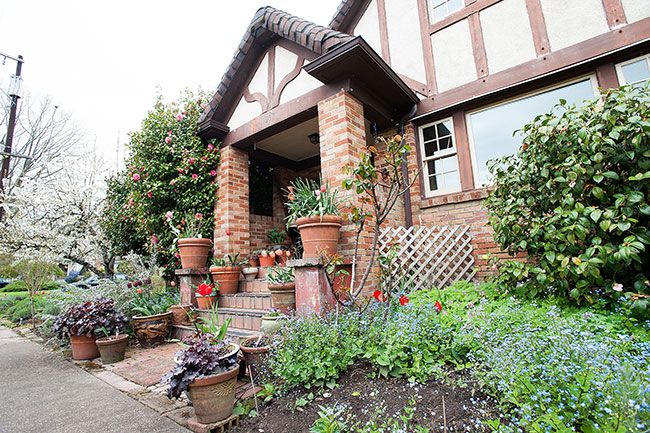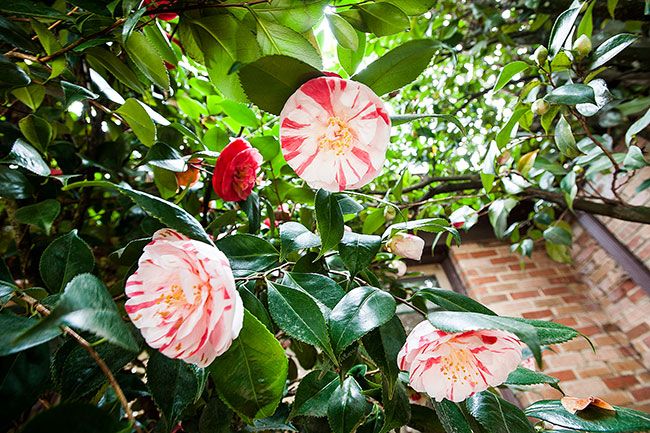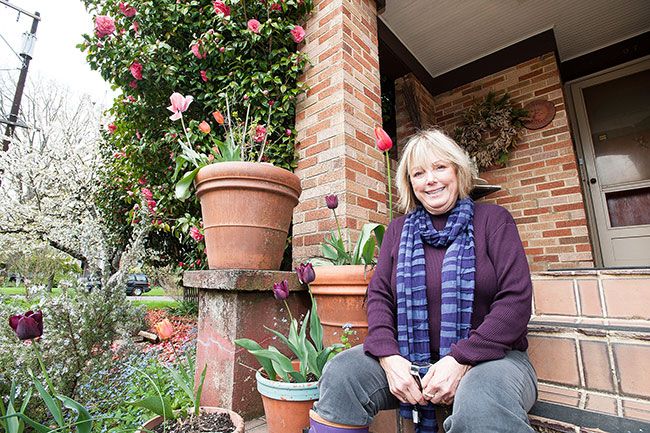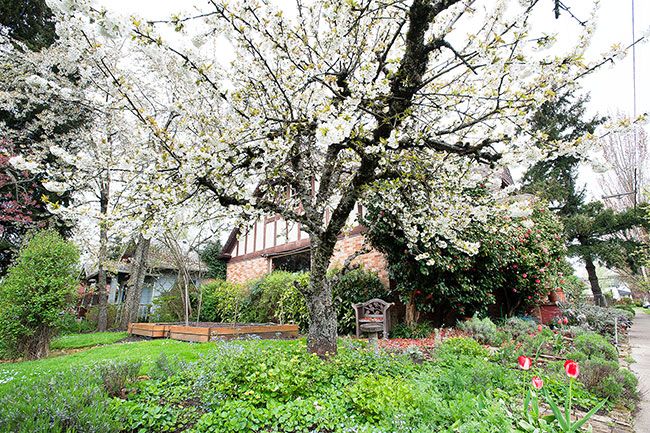 Enormous camellias, planted when the house was built, back in the 1930s, now dominate the entire left half of the front. Covered in bright spring blooms, they tower above the roofline.
Keeping the garden true to that 1930s feeling is part of Joan Drabkin's criteria in selecting her plantings. The other two are looking pretty while requiring relatively little maintenance.
She has succeeded so well the McMinnville Garden Club awarded her its Yard of the Month honor for the month for April.
"I kind of like that old-fashioned look," Drabkin said. "It's not formally landscaped."
She and her husband, Jules, have lived in the house since the 1970s. And over time, they have made it uniquely their own.
When they moved in, Drabkin said, it was completely lawn. They have removed much of that in favor of flowers and vegetables.
Eventually, she said, "I would like to pull out all the grass — I don't like grass; I think it's a boring waste — but I haven't had the energy yet. I would like to put in blueberries and raspberries."
Initially, walnut trees occupied the curb strip, and Drabkin has fond memories of harvesting nuts from them.
"My children and I would come out, and it was like an Easter egg hunt, picking them up," she recalled. "We had racks we would put in the hallway to dry them."
The trees eventually succumbed to blackline disease, and had to be removed. Now, apple and quince trees bloom in that space.
In the fall, Drabkin, who loves to cook, will turn the fragrant, astringent quinces into membrillo — a kind of fruit paste.
A cherry tree blossoms in the front yard. Underneath, tulips and poppies open brightly colored blossoms.
In the other half of the front yard, forget-me-nots create a carpet of blue, punctuated by the occasional random tulip or poppy. Later in the summer, lavender bushes will open fragrant purple blooms.
"I sort of like the surprise tulips," Drabkin said. "I have them popping up here and there. I always think I'm going to plant more in the fall, but I never do."
Of all her blooms, she said, "Tulips are my favorite." They were also, she noted, "my grandmother's favorite flower."
Pots of the bulbs line the steps to the door, adding still more color.
In the side yard, raised beds await planting with vegetables. A second vegetable and herb garden stands behind a picket fence in the front yard, still providing overwintered sorrel for one of Drabkin's favorite soups and fresh herbs for the kitchen.
"I love having this little urban garden with cherries and apples and little flowers," she said.
Drabkin loves to spend time in the garden.
"It's my meditation, my time to kind of center myself," she said. "It's fun, and you meet a lot of people.
"On a nice day, people are walking by. They say hello and ask about the garden."
Drabkin didn't garden as much when her children were young, but has been able to spend more time on it since they have grown up and moved out on their own. And she has passed her love of gardening on to all three of them.
It has always been in her blood.
"My mother was a fabulous gardener, but I didn't really like gardening with her," Drabkin said. "She just gave me hard jobs, and I didn't get to plan anything."
It's the planning that she enjoys most.
"It's very creative to garden," she said. "You're making a painting is what you're doing."
Her own painting includes brick paths meandering among the blooms. They are built from old bricks she found around the house.
They must have been left over from building the house," she said. "I would find them in piles or dig them up, and I just collected enough to use in paths."
She has a neverending list of new projects, including a wood-burning oven.
"My husband is reading about how to build one," she said. "There's always something to do."