Derby Days a hit once again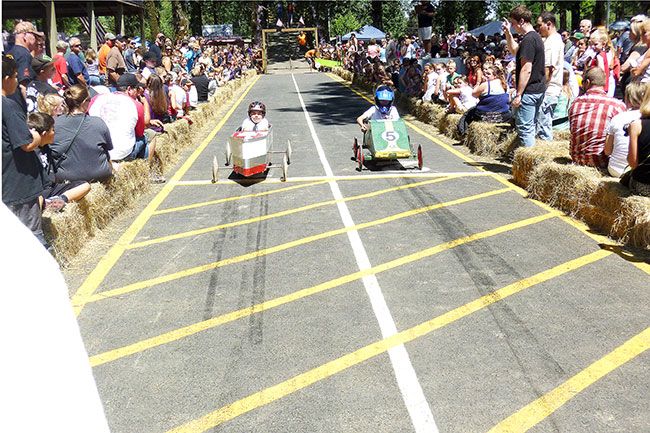 Racing in an Oregon State Beavers inspired car, 9-year-old Sam Shabaan of West Linn, a Sunset Primary student, outpaced the competition, taking home the top prize in his first time racing at Derby Days.
"This was his first year, it was his brother's car last year," said Shabaan's stepfather Will Waits. "Now that Sam's old enough he raced and that was the best I'd ever seen the car do. The car's probably 20 years old at least."
The Derby Days races started just after noon and featured around 20 racers in all. Participants were split into two categories, cars built from kits and homemade cars. After a round robin tournament, allowing everyone to race one another at least once, a double-elimination bracket was formed to determine a victor.
Heat after heat racers went at it, with many close finishes.
The top four finishers in both brackets were awarded prizes, an assortment of remote control cars and other toys, with the top finishers getting first choice.
Plenty of fun-filled booths, games, music, auctions and events outlined the racing competitions throughout the weekend. Two other competitions delighted festival-goers on Saturday: the tricycle races and the frog jump.
Always a big draw, the frog jump contest attracted a staggering 63 participants this year. After the Yamhill Fire Department wet down the pavement — spraying much of the crowd in the process — mostly kids with the help of parents took turns with their frogs.
Frogs of all sizes, ranging from two inches in length to nearly two feet participated on Saturday.
After being placed in a designated circle, each frog got three jumps to travel as far as possible – with as much coaxing from their owners as possible. The top 5 finishers of the 63 participants then moved to the finals, getting one more try. The highest combined score of the first and second rounds was named champion.
The longest jump on the day and highest combined distance both came from a frog named Roper from Stewart Pond. His combined score was 242 inches, with his first triple-jump at 195 inches, nearly three feet farther than any other amphibian.
Derby Days has been a well-known festival and cherished part of the community since its beginning. It draws people from all over the state.
Waits and his family prefer Derby Days to other festivals that Oregon has to offer.
"We've been coming the past four years or so and we really like it," he said. "We're actually missing the West Linn Old Country Fair to be here, so we like the Derby Days a lot."