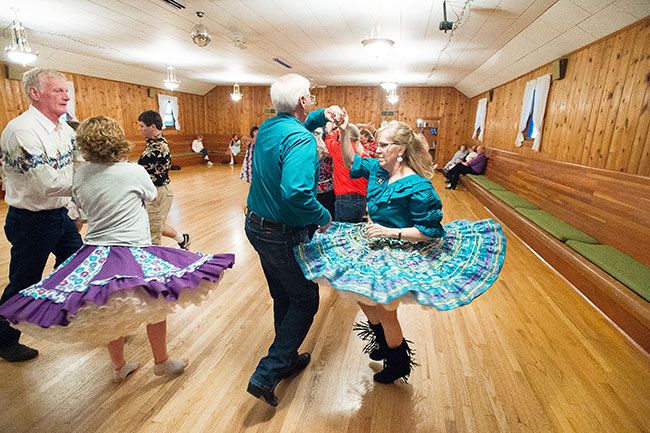 Stopping By: Hip to be square
This is square dancing 2017: a little bit country, a little bit rock 'n roll.
"It's more modern, but still traditional and still fun," said Bonnie Jepson, president of McMinnville's venerable Braids & Braves Square Dance Club.
The family-oriented Braids & Braves just finished up a season of dancing at the McMinnville Grange. It's planning to move to a new venue in Dayton, the Palmer Creek Lodge at 606 Fourth St., following its annual summer hiatus.
The club also plans to begin offering square dance lessons in the fall. They are scheduled to run 6:30 to 8 p.m. Sundays, starting Sept. 10, at the Yamhill Valley Heritage Center, just south of McMinnville.
In an effort to interest more people in joining the fun, Braids & Braves has several demonstrations planned this summer. Visitors can watch the dancers — perhaps catch the bug themselves — at Yamhill Derby Days on Saturday, July 15, and the Amity Pancake Breakfast on Sunday, July 23.
In addition, Braids & Braves will join square dancers at the state Capitol in Salem on Friday, July 14, to celebrate Oregon's official dance. The club returns to Yamhill County for Harvest Fest on the weekend of Aug. 19 and 20 at the Heritage Center.
Oregon is among nearly two-dozen states that have adopted square dancing as their official state dance. About 40 percent of states don't have an official dance on the books, and the rest have variously opted for clogging, the shag, the Maypole dance, or, in the case of Hawaii, the hula.
The 51-year-old Oregon Federation of Square and Round Dance Clubs touts square dancing as a good workout and a vehicle for good family fun. It's a way to exercise the mind as well as the body, the federation says.
"Modern square dancing is dancing and thinking," the federation says on its website.
"It's aerobic exercise that helps coordination, balance, endurance and cardiac function, and helps keep muscles toned and healthy."
Almost anyone can learn to square dance, Jepson said. Even people who can't walk well can do many of the moves.
It does take some practice.
New dancers need to learn the names of the patterns and train their arms and legs to follow the movements. They also need to practice working with other dancers.
In square dancing, four pairs dance together. No one dances alone.
Braids & Braves teaches new dancers at lessons led by Leonard Snodgrass, the club's regular "caller," who calls out directions as music plays. Newcomers start with the basics in September and learn more calls and more complex patterns over the winter and early spring.
Club members and other regulars work with rookies during the weekly sessions. Often two new couples are paired with two experienced ones.
Both individuals and couples can take the lessons, Jepson said. Club members who partner up with single students are called "angels."
At regular dances, club members "do our best to make sure singles get partners to dance with," she said. "We don't mind sharing."
She usually dances with her husband, Jerry. But he may dance with their daughter or granddaughters, too, while she rests or attends to club business.
The Jepsons have been square dancing for years. In fact, both danced in school when they were seventh-graders in Tillamook.
After they married, he suggested they try square dancing again. They started lessons in 1990 or '91.
"The people were really, really polite and welcoming," she said. And the caller had patience — something she sees at lessons and dances to this day.
After learning moves such as "spin chain through" and "grand square," she and her husband joined the Tillamook club. They also do-si-doed with the 4-n-8-ers in Hillsboro -- that club's name refers to the four couples, or eight people, who form a square.
When they moved to McMinnville a couple years ago, she said, the Jepsons looked for a place to dance. That's how they found the Braids & Braves.
They travel frequently to dances hosted by other clubs, as well. Sometimes they take their camper so they won't have to drive home after a late-night event.
The Braids & Braves claims more than two dozen members. But attendance at the club's dances is often double that, as events attract dancers from other clubs in the Willamette Valley, such as Newberg, Rickreall, Tigard, Albany, Corvallis, Lebanon and Salem.
Although such attire is not required, many of the women still wear pouffy square dance skirts that swirl as they twirl. Other women wear regular skirts or pants. Men usually wear long sleeves as they offer their arms to their partners.
Not everyone in the club gets out on the dance floor. Some have retired from dancing, but still love being there, Jepson said.
"It's a great social thing," she said. "Good friendship. Good food. Good fun, family."
She said she's pleased that her grandchildren learned to dance. It's a good activity for young people, she said, and it teaches them manners and social skills.
And she agrees with what the Oregon Federation of Square and Round Dance Clubs says: Square dancing is "friendship set to music."
Contact Starla Pointer at 503-687-1263 or spointer@newsregister.com.