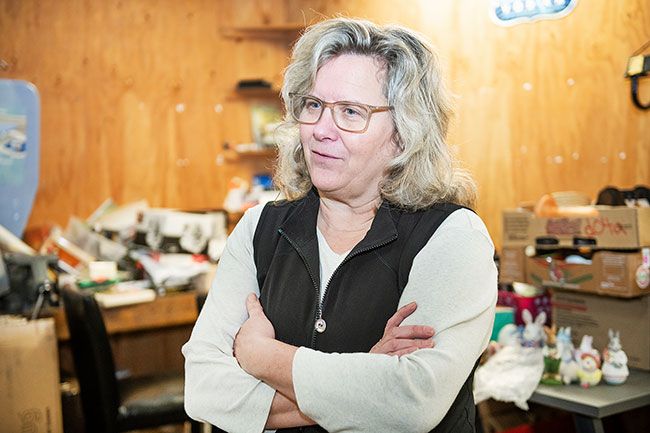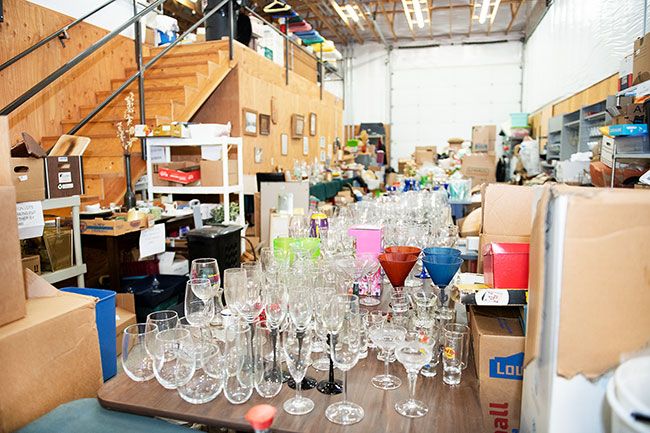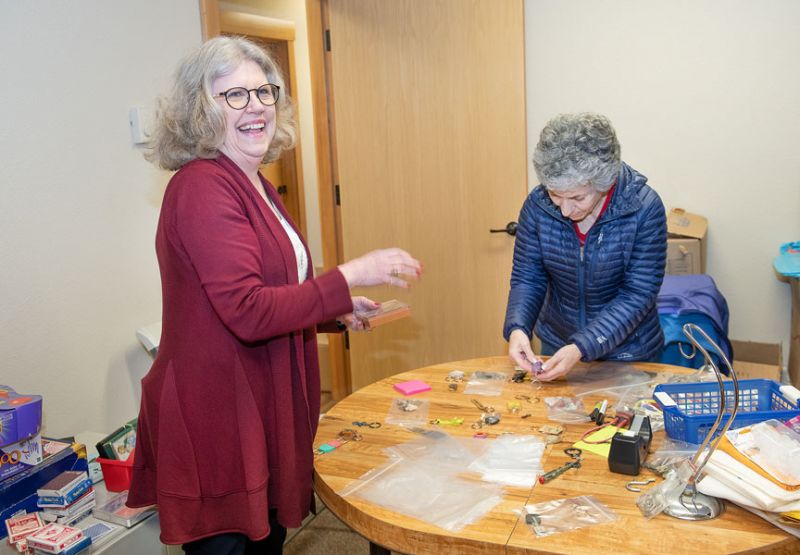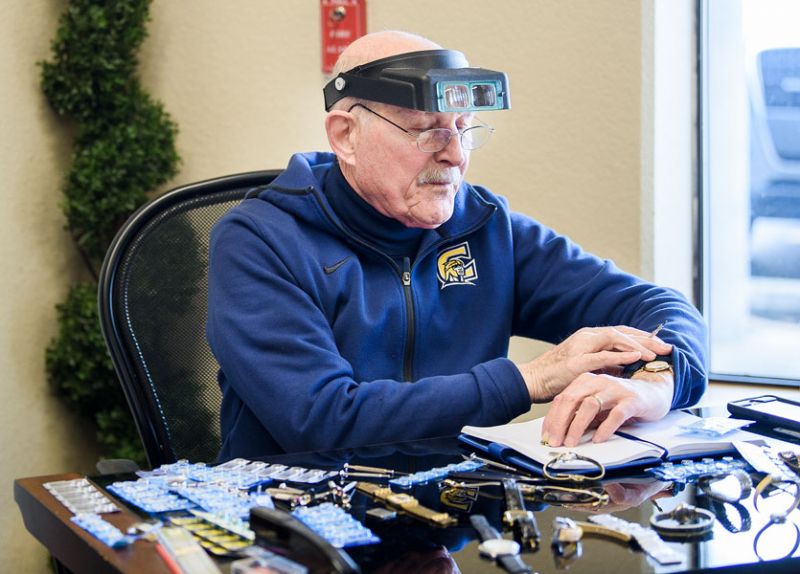 Stopping by: Spokes of giving
Why does Cami Nyquist devote her time to a company that collects used items, sells them to raise money for charity and, in doing so, trains individuals and nonprofits how to use the Internet to generate support?
"Why would I do this?" she pondered the question she frequently hears. "Why wouldn't I?"
Nyquist, who grew up in McMinnville and graduated from Mac High, started a small eBay shop 25 years ago to sell knick-knacks and consignment items.
She built it into an award-winning entity, switching from the commercial Swedemom.com to Swedemom Center for Giving. And that charitable organization, in turn, created MacHub, which collects usable items to keep them out of the landfill and sells or uses them to help others.
Her efforts have won her accolades and invitations to talk to other entrepreneurs and community nonprofits across the nation.
In fall 2021, Ebay contacted Nyquist, telling her they wanted to feature her and several other sellers in videos celebrating the company's 25th anniversary. She soon was being followed by a film crew.
Nyquist, who has taught online sales techniques at Chemeketa Community College, was a speaker for eBay's investor Day conference on March 10. Nearly 20,000 people registered for the virtual conference, where she talked about taking an eBay business to a charity platform.
It takes a community effort, she said.
Many hands contribute to the success of Swedemom Center for Giving and MacHub, Nyquist said.
"If you have people who can do a little bit and use their passions, it makes a world of difference," she said.
Nyquist, who receives no pay for the work she puts into Swedemom/MacHub, is modest about her own role.
"I did what I set out to do," she said. "There were a lot of challenges learning, at first, but it gave me the chance to go on and to help people with what I have to offer."
She credits her mother with instilling her penchant for helping others as well as for being "my greatest cheerleader."
The late Karin Swanson set the example of helping others. Nyquist's father, scientist Lynn Swanson, taught her about entrepreneurship.
Her husband, Ted Nyquist, and other family members and friends also provided inspiration and support, she said.
"I was given some abilities," Nyquist said. "If we all use (our talents) to help each other … look what we can do."
Nyquist already had many skills, as well as passion, in college when she learned about technology and realized how computers could be used to organize information.
She put that use into practice a few years later when she organized an event honoring former McMinnville High School choir teacher Doug Anderson; she built a database of former members of the Twilighters choral group.
With the advent of the Internet in the 1990s, she realized she could expand her reach from local to international.
"I saw an amazing opportunity to bring humanity and technology together for compassionate output," she said.
A stay-at-home mom used to multi-tasking, she knew people and their habits.
She knew they had "stuff" they didn't need or want anymore but that others would value. She knew everyone would benefit from keeping that stuff out of the landfill, as well.
It was a matter of connecting those with to those without.
Nyquist opened an eBay site she named Swedemom in honor of her heritage. The Swedish reference also connotes simplicity and sustainability, she said; the "mom" brings up thoughts of caring and compassion.
Her success on eBay attracted the attention of Chemeketa Community College officials, who asked her to teach students to put items online for profit.
She was still honing her own skills, as well. Her oldest son, then in elementary school, helped her learn to photograph items and upload the photos, for instance; her youngest now helps with information storage for the company, and both her daughters are involved, as well.
"Each step took a lot of time," she said, recalling how several hours were invested in selling each item.
She realized the work could be done more efficiently assembly-line style, with someone taking pictures, another person writing descriptions, etc. "People have different skill sets," she said. "If people could work together …"
Pat Fuchs of Online Northwest and other tech-minded community members worked with her as she improved what Swedemom was doing and taught more people how to streamline the process.
Nyquist's online efforts began evolving toward more charitable work around 2013. "Business and life got very interesting" then, she said.
Swedemom Center for Giving became a 501(c)(3) nonprofit with help from attorney Dave Haugeberg. It not only sold used goods to raise funds for charities, but also hatched other sites to benefit local nonprofits such as the Yamhill County Gospel Rescue Mission.
In addition, to expand Swedemom Center of Giving's marketing efforts, Nyquist has partnered with students from Chemeketa Community College and those pursuing MBA's through Willamette University's PACE program.
Nyquist also worked with Jeb Bladine of the News-Register to form Mac Hub, which later became a separate nonprofit. The offshoot of Swedemom Center for Giving was created to accept donations from the community and turn them into profits for charities.
In conjunction with the 50th anniversary of Earth Day in 2020, MacHub asked community members to declutter their houses and give their cast-offs to the charitable effort.
It would keep things out of the landfill, Nyquist said, in addition to allowing others to buy things they needed at an affordable price and raising resources for local charities.
About 700 households all over Yamhill County participated. Volunteers picked up everything from small kitchen items to works of art to large pieces of furniture; the goods were offered in auction that August.
So much was donated, piles remained after the auction, Nyquist said. Swedemom Center of Giving and MacHub began holding auctions regularly in an attempt to systematically sell everything off.
Interns from the McMinnville Economic Development Program helped organize the sales, Nyquist said.
Volunteers are still sorting and selling items from that collection, as well as additional donations that come to the MacHub collection center next to Staples. Over the months, donations have been stored at Oregon Lithoprint, Your Space, the old community college buildings next to the Nazarene Church on the Hill and Yamhill County Fairgrounds.
"We had donations stored in my old horse stalls," Nyquist said, recalling how her adult life tied into her teenage equestrian hobby.
"It was a reminder … when you're in your own community, you remember who taught you and how you can make the most impact," she said.
MacHub was using fairgrounds' storage in September 2020 during the period when people and animals displaced by the terrible wildfires also were staying there. That made it easy for the nonprofit to supply clothing and other things to replace things they'd lost in the fires.
After the fairgrounds reopened for its usual activities, MacHub moved the bulk of its inventory into a building offered by Harold Washington near Washington Roofing.
It also has office space at the latter site, just southwest of town. Volunteers come there every Wednesday to sort and repair items to prepare them for sale.
MacHub can find the value in every donated item, Nyquist said.
Habitat for Humanity helps MacHub collect some donations, sending construction-related items to the Habitat ReStore and various other things to MacHub's online auctions.
Such partnerships between nonprofits are important, Nyquist said.
"We're all here to help," she explained.
In addition to working with Habitat to collect donations, MacHub might help equip a kitchen in a new Habitat house, or organize furniture and other items for a YCAP client family moving into a house.
Recently, MacHub provided travel mugs to the Sunday Sandwich program so people could have real cups for their beverages, rather than disposable ones.
In December, Nyquist's organization worked with the McMinnville Lions Club to provide Christmas decorations for several families. The Lions gave the trees and MacHub supplied ornaments and other trimmings.
"We've become a community warehouse," she said.
For more information, go to the website, www.swedemomcenterofgiving.org.
---
WHERE 'NOTHING IS WASTED'
Volunteers make a big difference for Swedemom Center of Giving and MacHub, related nonprofits that turn donations into supplies or cash to support local charities.
The volunteer crew fills the nonprofits' offices just southwest of McMinnville. Some live in Yamhill County; others drive from the Portland area or other places to lend their expertise to the charitable project and to spend time in a convivial atmosphere with other volunteers. Wednesdays are especially busy.
Swedemom founder Cami Nyquist, a volunteer herself, recruited many of the dedicated workers. In many cases she'd known them for years in other capacities.
Norm Berney of Oregon City, for instance, met Nyquist at a gift show when he was representing his family's Swiss watch company and she was selling things in her eBay store, Swedemom.com.
"I saw her sincerity and her natural gift for helping and caring for others," said Berney, who earlier had operated a watch shop in the Galleria in Portland.
Both Oregonians, they shared an interest in track, as well. He coached wrestling and track at schools such as Corban University, and often visited McMinnville for meets; he recruited Mac High athletes, as well.
Berney, who also was a counselor at Clackamas Community College, was supportive when Nyquist was working on turning her business into a nonprofit. And she was supportive of his efforts when he led a fundraising campaign to build a new track at Corbin.
"It's been a beautiful collaboration," Nyquist said.
Berney now is a board member at Swedemom. But on Wednesdays, he lays out his tools and looks through the piles of watches donated to the nonprofit.
Some need new batteries. Some need minor repairs. Some make good decorations, although they no longer tick — using them for steampunk designs or jewelry keeps them out of the landfill, at least, he and Nyquist said.
Some of the donated watches are invaluable to clients of nonprofits who need timepieces. A few are gems that can be sold to cover the cost of running MacHub or provide funds for other nonprofits, they said.
Another Wednesday volunteer is Glenn Howard, a McMinnville resident retired from the wine industry. He's a philatelist.
"Cami has a lot of stamps. I've documented stamps from 129 countries," he said, reluctant to take time from his work sorting and cataloging. Howard said he examines stamps for their rarity, age and condition so he can determine their potential value. He uses his contacts in the world of stamp collectors to find buyers for single stamps or lots.
It's volunteer work he enjoys. And he's pleased to be able to use skills developed over 72 years of collecting.
In addition to his stamp hobby, Howard has worked designing and providing equipment for GE International. He also was an electronics technician with the FBI, a job that took him to 78 countries, he said.
He moved to McMinnville to operate a vineyard. He grew grapes for wineries such as R. Stuart and Elizabeth Chambers for 20 years.
His wife introduced him to Nyquist. "She told him about Cami's mission of helping needy people," he said. "I liked the mission and I needed something to do."
He said he looks forward to Wednesdays. "Cami has provided me a lot of enjoyment," he said.
Beth Frischmuth and Lois Costing also enjoy spending their Wednesdays at Swedemom/MacHub.
"It's something different each week," said Frischmuth, who was working with Costing to pick out the best key rings on a recent Wednesday.
On another day, she said, it might be pencils or shoes. The latter go into a bin to be sent to people who need footwear in a Third World country.
That's in keeping with Nyquist's philosophy: "Nothing is wasted."
The two women met when the sorting was taking place at the Yamhill County Fairgrounds following the big collection of donations after Earth Day 2020. They said they've enjoyed "rescuing stuff" and seeing that it can be used again: books for the Friends of the Library sales, for instance.
"We're trying to create sellability," Costing said, since "100% of our sales go to helping the community."
Both volunteers are retired teachers
Frishmuth said she started helping out because she wanted to make a positive contribution.
The McMinnville resident also volunteers with the Sunday Sandwich program, which provides free food near the McMinnville Public Library each week. She's been able to make connections between her two volunteer jobs: she's tapped into MacHub's supplies to make cups, water bottles, gloves, hats and other needed items for Sunday Sandwich clients.
Frishmuth also is interested in environmental issues, and working to first resell usable items at MacHub.
Costing lives in Happy Valley and commutes on Wednesdays with another volunteer. She doesn't mind the trip, since she also gets to visit her daughters and granddaughters when she's in McMinnville.
She uses her knowledge about fabrics and antiques as she and Frishmuth sort items She said she enjoys knowing she's helping other nonprofits.
"It also fills a need in my life, to help people," Costing said.
Starla Pointer, who believes everyone has an interesting story to tell, has been writing the weekly "Stopping By" column since 1996. She's always looking for suggestions. Contact her at 503-687-1263 or spointer@newsregister.com.