Top 10 sports stories of 2013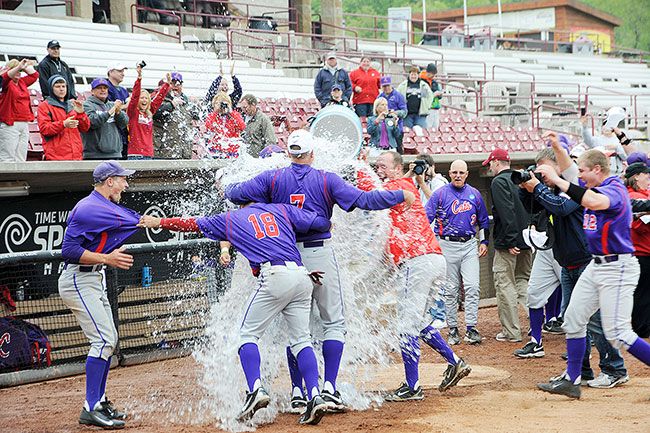 1) On the CWS diamond, Linfield is golden
Was there a moment when the Linfield baseball team knew it would win the NCAA Division III National Championship?
According to one player, speaking on the condition of anonymity, there was. The Wildcats had split two hectic games in the Division III College World Series with Ithaca College of New York, losing the second game 6-4. Ithaca moved onto a sudden-death contest against Southern Maine … and fell at the hands of the Huskies.
Facing a team they knew they could beat, the Wildcats walked onto the Fox Cities Stadium field in Appleton, Wisc., and did exactly that, scoring four runs in the fourth inning to defeat Southern Maine, 4-1, for the program's first NCAA Division III title in baseball.
It was the program's third national title in its history – Linfield won NAIA national titles in 1966 and 1971 – and the first for sixth-year head coach Scott Brosius. This was no small accomplishment for Brosius, a Milwaukie native, who won a World Series MVP award while playing for the New York Yankees.
"This ranks up there, believe me," Brosius told assembled media following the championship game. "This is about more than just me, this is about more than us. This is a college campus, a community. This is a big deal."
How the Wildcats (42-8 overall) did it is less of a surprise: A collection of talented pieces came together.
Start with sophomore pitcher and McMinnville graduate Chris Haddeland, the National Pitcher of the Year in 2013.
Haddeland posted a remarkable record of 15-1 in 18 appearances, striking out 96, walking 23 and recording an earned-run average of 1.07. Opponents hit .194 against him on the year.
Then look toward junior second baseman Tim Wilson, a first-team All-American from Redmond, Wash. Wilson hit an outstanding .401 on the season – his third straight of .400 or better – slugging .567 and racking up 81 total hits. In the field, Wilson posted a .982 fielding percentage while splitting time between second base and left field. He was named the Linfield College Male Athlete in June.
The Wildcats mashed in 2013, as Jake Wylie (.396), Kramer Lindell (.389), Nick Fisher (.374), Clayton Truex (.333) and Michael Hopp (.308) each posted hitting percentages above .300. The pitching staff as a whole allowed opponents to hit .230 against it, striking out 317 batters to 117 walks.
Linfield tore through the Northwest Conference, going 21-3 and winning the conference title through four games. It survived a three-game series against Trinity College of Texas to win the NCAA Division III West Region and advance to the Division III College World Series.
The road to the national title was not a smooth one, and it tested the resolve of the Wildcats to the very end.
"I'll remember this for my whole life," Wilson told the News-Register in June.
2) Mac makes waves on mat
An admirable goal for a McMinnville High School team, regardless of sport and level. In wrestling, it had happened twice in what can generously be described as the post-World War II era.
That changed in 2013, as the Grizzlies defeated the Tigers, 45-28, on Jan. 24. McMinnville won nine contested matches to boost its dual-meet record to 8-0 on the season.
"Just from a mental standpoint it's good to win," said Mac coach Shawn Keinonen. "Newberg doesn't own us anymore. This is a building block."
Keinonen is a Newberg High School graduate – or a traitor, depending upon the tint of your glasses – and he weighs his words carefully when discussing his alma mater.
He was, of course, proven correct. The win became a building block toward a historic season for the Grizzlies, beginning with a Class 6A Special District 3 dual-meet title.
McMinnville's run continued at the SD3 championships on Feb. 10. Jered Sublet (132 pounds), J.T. Barnes (152 pounds) and Tiger Paasch (170 pounds) each won individual district tiles. Six other wrestlers – Bryce Branson (120 pounds), Bobby Crowston (138), Solomon Souza (120), Aspen Nelson (106), Manny Humlie (126) and Chris Cerda (195) – also qualified for the Class 6A state championships with top-four finishes as the Grizzlies finished third.
Mac finished fifth as a team at the state championship meet, held on Feb. 22 at Veterans Memorial Coliseum in Portland. Sublet won the 132-pound state title, and Paasch pinned Tyler Chay of West Linn, the No. 1-seeded wrestler at 170 pounds, to give the Grizzlies two state titles. Barnes lost the state title match at 160 pounds by fall to No. 1-ranked Reed Van Anrooy of Roseburg, and Branson won the fifth-place match at 120 pounds.
"I just hope kids in McMinnville see what is attainable in wrestling," Keinonen told the News-Register after McMinnville's state performance. "Tiger didn't start wrestling until sixth, seventh grade. Jared didn't start until eighth grade. There's a lot of potential. I would like to see a few more kids get out and try this whole thing."
3) Grizzlies, meet your new coach
Turnover is an inevitability in the coaching profession for better – promotions and upward mobility – or worse, particularly at the high school level.
Every school in Yamhill County experienced turnover within its coaching ranks. McMinnville High School got hit especially hard. Changes were made in eight coaching positions in 2013, concentrated in the fall and spring sports.
Most visible among the changes was the hiring of Robin Hill to the helm of the Grizzlies' football program. Hill became Mac's third head coach of the past four seasons when he succeeded Don Rutschman, who accepted an assistant position on Hill's staff.
Hill had made the OSAA state playoffs 20 times in 25 seasons at Sprague High School in Salem, winning a state championship in 2004. He took what he described as a "hiatus" in 2012 after leaving the Olympians before returning to the sideline.
"The kids have been great," Hill told the News-Register in July. "I'm a little more involved in the summer (workouts) than I was in the past. It's energized me."
Hard work paid off in a 6-5 season that ended in the second round of the OSAA Class 6A state playoffs with a loss to Oregon City. It was the Grizzlies' first winning season since 2005.
Two other new hires made their debuts with McMinnville High sports in the 2013 calendar year.
Courtney Seifert, a former Linfield softball player, accepted the position of Grizzlies head softball coach and guided Mac to an 8-17 record, culminating in an OSAA Class 6A play-in game loss to South Medford.
Jory Shene took over a boys soccer position that had experienced some tumult in recent years, despite team success. Under Shene, formerly the head coach at Molalla, the Grizzlies claimed a share of the Class 6A Pacific Conference title and advanced to the second round of the OSAA state playoffs.
Four more new hires will debut with the Grizzlies in the spring of 2014. Former Linfield baseball player Jordan Harlow, a member of the Wildcats' 2013 national championship team (see No. 1), will succeed Darren Bland atop the Mac baseball program.
Former Linfield tennis player and assistant coach Alex Martin will succeed Wes Gabrielsen – whom Martin coached with the Wildcats – as the Grizzlies' boys tennis coach. Gabrielsen will join former McMinnville girls tennis coach Lisa Macy-Baker in leading Linfield women's tennis in the spring; Angelica Huston will take over the Mac girls.
The McMinnville girls golf coaching position vacated by Ben Heuberger remained open at press time, with an announcement expected in January.
4) OSAA Draws new lines
They won't pick up a bat or a ball. They don't throw, kick, or defend. They don't blow whistles or gesture toward the scorers' table.
Nevertheless, the members of the Oregon School Activities Association's classification and redistricting committee had more impact than anyone on high school sports in Yamhill County in 2013. On Oct. 7, the committee issued its final recommendation for revamping the state's six-level classification system for the time period beginning in the fall of 2014 and the spring of 2018.
The OSAA must still approve a plan for conducting postseason events and determining other issues related to competition. (Spoiler alert: play-in games may be no more. Rejoice!) Regardless, after a full calendar year of deliberation, this much is clear: Oregon high school sports will still operate along six levels, 1A to 6A. Thanks to the reconstitution of the Portland Interscholastic League and enrollment trends across the state, a number of schools are moving between classifications and leagues. And a lot of people are unhappy with the final recommendation.
McMinnville High School will be uprooted from the Class 6A Pacific Conference (which will be dissolved) and inserted into the Class 6A Central Valley Conference along with newcomers Forest Grove and West Albany (up from Class 5A). Newberg opted to go its own way, entering the Class 6A Three Rivers League with suburban Portland schools. The Battle of the Bypass may be reduced to the occasional nonleague game after decades of ferocity and enmity.
Amity, Dayton, Sheridan and Willamina all remain with the Class 3A West Valley League, which adds Taft of Lincoln City from Class 4A. Yamhill-Carlton will no longer call the Class 4A Cowapa League home; the Tigers move to the Class 4A Oregon West Conference, formerly the Val-Co League, which Y-C competed in before the move to six classifications. Perrydale and St. Paul will move to the Class 2A Tri-River Conference – and will go from playing eight-man football to playing 11-man football, at least for one season.
What happens to the institutional knowledge built up over the past eight years in a question for the new year. Until then, pump up those tires, Grizzlies sports fans. You're going to Salem.
5) Dotes steps down
He didn't go out on top, but Larry Doty held his head high when he announced he would step down as coach of the Linfield men's basketball team after 26 seasons.
"I can look myself in the mirror and say that you know what? I poured my heart, my soul and my body into Linfield College and the basketball program for 26 years as the head coach, and I'm proud of what I've done," Doty said just after the March announcement.
Doty finished with a 330-347 record. He became the winningest coach in school history late in the 2011-12 season, surpassing the 324 wins of Ted Wilson, whom Doty played for in the 1970s.
The last two seasons were clearly the most challenging for the man players and fans affectionately call "Dotes." The Wildcats were 5-20 in 2011-12 and 4-21 in 2012-13, the two worst season's in program history.
From 1998-2001, Linfield went 57-21 and made it to the NCAA Division III playoffs in 2001. Doty's two best seasons came in that stretch. Linfield was 20-5 in 1998-99 and won the Northwest Conference. The Wildcats again won the conference championship in 2000-01 after a 21-6 record. Linfield hasn't won a conference championship since.
"It's the right time for the basketball program," Doty said. "I've been here 26 years. Linfield will hire a really good coach, and I'm going to be their biggest fan."
That new coach turned out to be Shanan Rosenberg, who came to McMinnville after spending the 11 years as coach at Foothill College, a community college outside of Palo Alto, Calif. He was 186-131 at Foothill. He took over the program amidst turmoil and guided it to eight appearances in the state playoffs in the last 10 years, including a 22-5 record last season.
The Wildcats have started the 2013-14 season 2-6.
6) 54"40' or fight on the mat
Yamhill County is home to some of the top prep wrestlers in the state of Oregon.
Not just between 120 and 138 pounds, but the concentration within those four weight classes is a sight to behold.
Class 3A West Valley League schools claimed 3A state titles at 120, 126, 132 and 138 pounds in 2013. The Willamina Bulldogs took home hardware with 180 points in the team competition, second only to state champion Glide (205). It was the second straight year Willamina garnered state runner-up honors. Dayton finished 10th as a team (78 points), with Sheridan coming in 17th (24.5 points) and Amity coming in 23rd (three points).
Two local wrestlers won their second consecutive title and will be back next season to go for three in a row. Willamina junior Skyler Voigt outlasted all competitors at 120 pounds, and Sheridan sophomore Justin Acuff earned his second consecutive title at 132 pounds.
Willamina junior Coty Brown avenged a runner-up finish the year before with a state title at 126 pounds. Micah Cisneros added to Dayton's list of state champions, win the title at 138 pounds.
The Bulldogs had 10 different wrestlers place in attaining runner-up honors, with Michael Reyes coming in second at 113 pounds and Trevor Hunt finishing third at 160 pounds. Five different wrestlers placed for Dayton, with Michael Gentry winning four consecutive matches at 126 pounds to take third place.
All four area schools gained strength for the 2013-14 season, either by raw numbers or personal improvement. Willamina, with five consecutive district titles to its name, is the favorite, with Dayton an intriguing dark horse. Expect fireworks in the upcoming dual meets.
7) KLYC signs off .. then back on
When Yamhill County's longstanding AM radio station, 1260 KLYC, went silent in March, the local sports community lost its source of local high school sports broadcasts. The news created a rush of memories for Brian Eriksen, who was the sports play-by-play man since 2000 with his friend Jeff Ivie.
For the first time in years, it looked, the fall sports season would be without radio broadcasts - a major bummer, to say the least. After all, Friday night football (or Saturday afternoon) without a radio broadcast leaves something to be desired for.
"I've called a football game on Friday nights since 1988," Erickson said. "It's been a while that I haven't been in a press box on a Friday night."
Erickson wasn't away for too long.
Dave Adams and his wife, Norma, bought the station in June. It was made clear that residents still pined for those sports play-by-play.
"When we first started talking to people about what they wanted from their radio station, we heard quickly they wanted local sports back," Dave Adams said.
When McMinnville football opened its season at Centennial, Erickson and Ivie were there in the press box to make the call as the Grizzlies won 53-29.
KLYC will have basketball games on air starting in January.
8) Hasslen takes on the world
Disappointment, elation and experience earned were all part of Alyssa Hasslen's 2013 track and field season, highlighted by her first taste of elite world competition.
The 2009 McMinnville High graduate placed third in the women's shot put at the U.S. Track and Field National Championships in Des Moines, Iowa in late June, earning her a spot on the U.S. national team that competed in August in Moscow, Russia at the World Championships.
Hasslen placed last in the competition with a best throw of 52 feet, 4.75 inches — almost eight feet short of her career best. She admitted to being intimidated by the size of scope of the event and competition. But she earned valuable experience to help her make her goal of an appearance in the 2016 Olympics in Rio de Janiero, Brazil.
"It definitely opened my eyes to how intense it is and how mentally focused I need to be," she said. "I did let my nerves get to me. It wasn't as bad as it could have been and I definitely have a lot more in me. I just have to get to a level where I'm comfortable competing with these girls."
Her qualifying event came two weeks after her most disappointing performance of the year. Hasslen went from 24th at the NCAA Championships to third in the U.S. Track and Field Championships in a span of two weeks. She scored a season's best throw of 59 feet, 4 3/4 inches in Des Moines, Iowa.
She spent time between the two events in Yamhill County with friends and family. During that time, she also threw at the high school track and lifting in the weight room.
Before the World Championship, Hasslen took part in a training camp for U.S. athletes, July 28 to Aug. 4 in Linz, Austria. It was her fourth time making a U.S. roster, but her first U.S. senior team -- on par with the Olympics for track and field athletes.
Hasslen is now the second McMinnville alumnus to compete at a global track and field championship. Grant Robison, a former state champion distance runner, represented the U.S. in the 1,500 meters at the 2004 Athens Games.
9) Bump, set, spike
Willamina has dominated Class 3A West Valley League volleyball throughout the past four seasons.
Had the Bulldogs faltered at any point in 2013, Amity, Dayton and Sheridan were right there, ready to pick up the slack.
The four Yamhill County schools finished atop the West Valley League standings in 2013, with Willamina winning its fourth consecutive league title (14-0 WVL). Dayton parlayed a 10-4 league record into second place, just ahead of third-place Amity (9-5). After struggling in nonleague play, a young Sheridan squad developed into a true upstart, finishing fourth in WVL play with a 7-7 record. The Bulldogs, Pirates and Warriors all qualified for the OSAA Class 3A state playoffs.
Willamina demonstrated consistency and mental toughness under longtime head coach Carrie Zimbrick, The Bulldogs have gone 56-0 in WVL play over the past four seasons and lost five sets to league opponents in 2013. (Two came at Dayton on Oct. 15 in what may have been the league's game of the year, a 25-20, 20-25, 27-25, 20-25, 15-13 thriller against the Pirates.)
Alas, all three teams faltered in the Class 3A state playoffs: Salem Academy upset Willamina, Valley Catholic defeated Dayton and Santiam Christian trounced Amity. Fast-forward to the fall of 2014, and the future looks bright: the Pirates, Bulldogs and Spartans all return most of their top players for the 2013 season. Though the Bulldogs graduate eight players, Zimbrick's team can never be counted out.
10) Dayton's close calls
The Dayton Pirates athletic program had plenty to celebrate in 2013, but no championships to add to the mantel as three teams just fell short of winning state titles.
Dayton's softball team, with just one senior on the roster, was ranked No. 1 entering the championship game on May 31 against No. 2 Rainier. But the Columbians proved to be the more powerful team in their 9-3 win for the 3A state softball champions. It was Dayton's fourth appearance in the state championship game, but the first since 2005. The Pirates won state championships in 2002 and 2003.
After clinching its third straight West Valley League title, Dayton beat Bandon, Willamina and Santiam Christian to make the finals. Its semifinal win came in dramatic fashion, as shortstop Sydney Van Noy won the game for the Pirates in the bottom of the eighth inning on a walk-off inside-the-park home run, the first of her career.
The boys basketball team and football team both played the role of defending champions in 2013. Both lost in semifinal games, coming up short in their bids for back-to-back titles.
The Pirates football team was a perfect 11-0 heading into a semifinal matchup against Nyssa, also 11-0, at Summit High School on a freezing night in Bend. The Bulldogs executed a three-minute, 78-yard drive and scored the go-ahead touchdown with 25 seconds to go to defeat the two-time defending state champions, 19-15.
Dayton's defense allowed just 8.5 points per game on the season.
Following three consecutive appearances in the finals, the boys basketball team was denied a fourth by WVL rival Horizon Christian, who won 53-30. The Hawks went on to beat Blanchet Catholic, 49-29, in the finals.
The Pirates beat Valley Catholic, 51-42, in the third place game. The Pirates shot 7-of-10 from 3-point range and held Valley Catholic to 26 percent shooting from the field in the win. The team finished the season with a 21-7 record.