Nothing short of surreal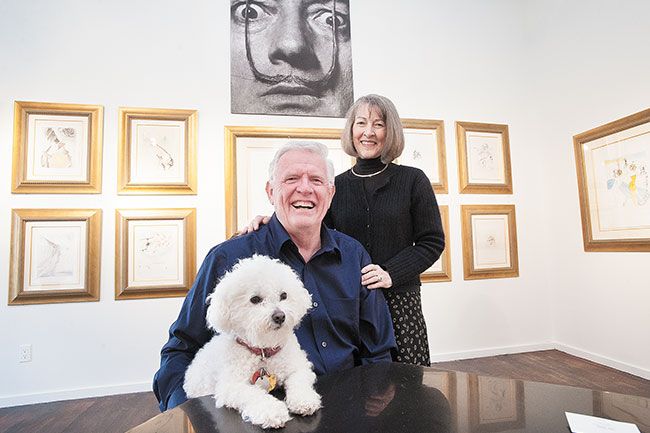 The West Coast's only showing of selected pieces from the famed Argillet Collection of Salvador Dali work has just opened at Lawrence Gallery, south of McMinnville on Highway 18.
Owner Gary Lawrence, who has operated the gallery on Oregon's busiest two-lane highway since 1977, said the collection was sent directly from the Armenian National Gallery in the capital city of Yerevan.
"This collection is being shown mostly in museums," Lawrence said. "We are very fortunate that Christine Argillet has given us the opportunity to present it here."
The collection features 43 framed works in all. Most are copper-plate etchings, but also included are two original watercolors, some Aubusson tapestries and some signed engravings in book form.
Prices range from a bank-busting $300,000 for one of the watercolors, and $130,000 for the other, to a modest $3,000 for an authentic Dali print.
The works in the Argillet Collection were acquired by Dali publisher and close friend Pierre Argillet over many years from the time their association began in 1934.
Argillet commissioned several series, including Mythologie and Les Hippies, examples of which are part of the Lawrence Gallery show.
To ensure their completion, and prevent their sale to another collector, he sent his young daughter, Christine, to keep an eye on the unpredictable painter as he went about his work.
Only a child when the surrealist hand-etched the copper plates that yielded most of the limited edition prints presented at the Lawrence Gallery show, Christine came to regard Dali as something of a surrogate father.
Upon her own father's death in 2001, she inherited his vast collection of Dali's work. Much of it is displayed at a museum in the family chateau just outside Paris. She also has a gallery in Los Angeles.
Dali, who died in 1989, was one of the most famous artists of the 20th century, and certainly the most flamboyant. He is also the world's best known, and arguably the best, surrealist.
Regrettably, authenticity is a huge issue with Dali prints these days.
The pieces in the Argillet Collection were all acquired directly from the artist and are not in question. But many others are.
Skepticism has arisen as a consequence of Dali's behavior during the latter part of his life, after his wife died and he fell under the influence of a shady agent and manager.
This calculating con man cut off Dali's contact with friends and relatives, then cajoled him into signing many blank sheets of art paper. He used them to create forgeries that have clouded and confused the market.
To assuage any trepidation about provenance, a certificate of authenticity from Argillet accompanies every piece on the market.
With the help of his wife, Signe, Gary Lawrence reconfigured the gallery interior to create the sense of a dramatic room — an enclave devoted exclusively to honor the world famous surrealist.
But the eminent Señor Salvador is not the only artist of immense talent and imagination presented for approval, attachment and ultimately acquisition by Lawrence Gallery clients.
The works of numerous prominent Northwest artists and sculptors are displayed there as well. Gaining notice for budding local talent was how Lawrence got his start 36 years ago.
His son, Brent, is a brilliant sculptor in his own right. One of the pieces he has displayed at the gallery seems to transform sheets of steel into thick rock, with images reminiscent of Stone Age cave paintings.
Brent's son, Luke, has also tried his hand at metal sculpting, with striking results. His work is exemplified in a giant tortoise whose shell shimmers with a multi-faceted patina.
Several pieces from Gary's own lifetime of work crafting welded sculptures in wire and metal are on display as well, making three generations of sculptors in what can truly be called a family gallery.
Noted resort developers John and Betty Gray encouraged him to open a gallery in their Salishan mall in 1978. Thanks to their input and support, it flourished from the outset.
He also established a gallery in Portland's Pearl District, but ended up closing it. Between the two remaining galleries, from 100 to 150 artists are represented at any one time.
Major shows in recent years have included the Carmen Collection of Pablo Picasso's etching plates and corresponding prints, the Renoiresque works of modern Spanish master Royo and Changing Times, a presentation of the late American sculptor Frederick Hart's human forms captured in bronze, acrylic resin and cast marble.
Times changed for Gary Lawrence as well when he took a much-needed hiatus from the day to day intensity of the business that consumed his total attention.
"I lived on a 40-foot sailboat for four years," Lawrence said. "It gave me a break from the galleries, which continued under the management of a good group of people I trained."
Then, the thrilling challenge of sailing the high seas gave way to a chilling challenge that came close to spelling the end for the simple Humboldt County boy with high-toned taste in art.
"In 2007, I almost died from blood clots in the lung," he said." Fortunately, both the Bellevue and Salishan galleries were still doing OK when I got back on my feet, but we couldn't keep the Portland gallery."
Though Signe doesn't express her talents in fine art, she makes certain her always-on-the-move husband stays focused. "Tedious things bore him quickly, so I fill in wherever necessary," she said.
Now that Gary is once again able to put his full energies into the business, there's no telling what's next. For now, let's just say with a wink and a twirl of the mustache, "Hello, Dali."
And that's what I found out while OUT and ABOUT — having a surreally good time delving into the devious mind of the genre's master — Salvador Domingo Felipe Jacinto Dalí i Domènech, 1st Marqués de Dalí de Pubol.
Karl Klooster can be reached by e-mail at kklooster@newsregister.com or by phone at 503-687-1227.