National champs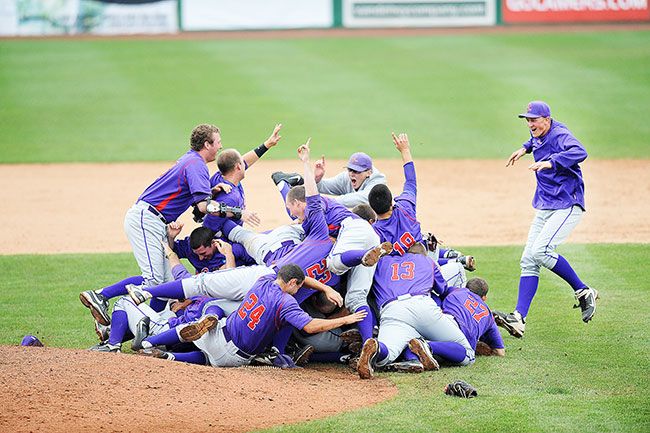 The Linfield Wildcats are national champions.
The No. 1-ranked Linfield baseball team completed its most successful season in program history Tuesday in Appleton, Wis. by defeating Southern Maine 4-1 in a winner-take-all championship finale of the NCAA Division III baseball championships. Led by national pitcher of the year Chris Haddeland, three First-Team All-Americans and coach Scott Brosius, the Wildcats (42-8) captured their first NCAA national championship in baseball after winning two in the NAIA.
"I'll remember this for my whole life," senior Tim Wilson said. "Everything."
The Wildcats got back to McMinnville and Linfield's campus at 1 a.m. Wednesday in the middle of a rain storm. Waiting for the team bus and police escort were nearly 50 students and fans. As each player stepped off the bus, a quick cheer went up from the crowd, and hugs were passed around. Today, there is a national championship celebration at 4 p.m. at Roy Helser Field so the baseball team can share its success with even more fans that couldn't make the trip to Wisconsin.
"It's a big deal for the campus," Brosius said Thursday on Portland radio station 1080 AM The Fan. "It's a big deal for the city, and we just look forward to having a group out at the stadium and sharing the win with everybody."
Wilson said it was awesome to see the throng of wet fans waiting around in the early hours for the team bus.
"Really cool to see the following we had and the impact we had on people," he said.
Linfield College President Dr. Thomas Hellie flew back on the team's charter plane from Appleton. He said one thing that struck him was the sense of care and community that Linfield has.
"It's not just at this college either," Hellie said. "It extends out to people who graduated from here and the parents."
The baseball team's character also made an impression on Hellie, something Brosius has prided himself on and talked endlessly about with this group. Hellie said it was a special, precious thing that you don't see often.
"Our student-athletes are great students and fine young men as well as great athletes," Hellie said.
Legendary football and baseball coach Ad Rutschman, who won four national championships (three in football, one in baseball) at Linfield as a coach, watched the championship final Tuesday on Evergreen Aviation & Space Museum's IMAX screen. He is still an avid fan of Linfield athletics, and coaches Scott Carnahan and Jim Ray both played baseball for Rutschman.
Rutschman, like Hellie, was impressed with the way Brosius' players carried themselves on the national stage.
"Winning is important, but winning with class is more important," Rutschman said. "To me, they won with class."
Brosius said Tuesday in the postgame news conference in Appleton this national championship ranks up there with any of his three World Series rings he won while playing with the New York Yankees. He's taken the Wildcats to the College World Series twice before, but this is the first time they've finished the weekend.
"He has done a wonderful job," Rutschman said of Brosius. "Scott is not only a good coach, but in my opinion, he is an outstanding human being. He's a great role model for our young people."
Hellie said this national championship, like the two Linfield softball team won in 2007 and 2011 or the most recent football championship in 2004, will help tell Linfield's story of being a place where students can come to be great in academics and also be successful outside of the classroom.
"It's part of our long history."