Kelly McDonald and Cassie Sollars - 20-year visions for McMinnville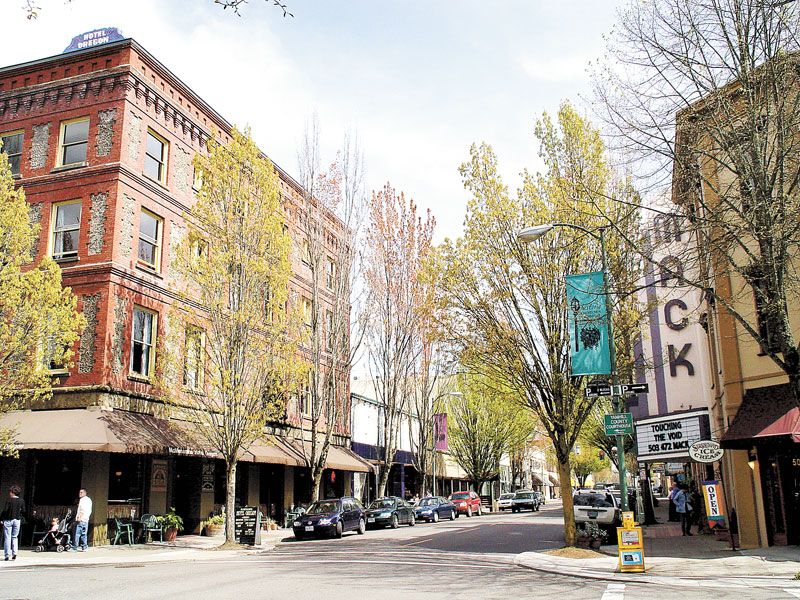 For almost two years, the city of McMinnville has enlisted the help of local citizens in formulating a vision for the area known as the Northeast Gateway District.
Its 75 acres lie roughly between Northeast Third and 14th streets, and from the railroad tracks on the east side to just behind the old Cook Elementary School on the west. The properties are a mix of residential, retail and industrial, both heavy and light.
The purpose of the original study — and subsequent development policies now proposed — is to help transform the district from its underdeveloped state into a zone with more opportunities for people living in and visiting this community to work, shop, taste and relax.
So, if the Northeast Gateway Plan is implemented, how would this part of McMinnville look in 20 years?
One example is the type of renewal development seen in the Granary District, which lies within the Gateway area. In the early years, it was a thriving industrial center of McMinnville; at the turn of the millennium, the area had become a vacated, heavy-industrial wasteland. Residents may recall the gravel lots, lack of landscaping and deteriorated building facades. Slowly, properties were acquired and transformed to become the attractive community asset that today houses many thriving businesses in a mixed-use community, similar to what is being proposed for the entire Gateway district.
Development would follow a similar path. The Alpine Avenue corridor through the district, which today includes gravel-filled potholes, will be improved. Design standards would address outdated industrial facades, and zoning ordinances would provide for a mix of uses organized into meaningful areas.
What this area could become in 20 years is a thriving mecca of artisan businesses where people can perfect their crafts and sell their items, perhaps even living above their shops. The Alpine corridor could support multiple modes of transportation: cars and trucks, bicycles and pedestrian as well as transforming at times to a festival theme.
Housing could be developed in the district so more people could live closer to the downtown core, affording the opportunity to bike or walk to work. There are proposals for a trail connecting the district to downtown, and even a park with green space for residents to enjoy. Events such as the Oregon Brews & BBQs, Turkey Rama and the new music festival could benefit from an additional venue and extra parking.
Property values would increase, so tax revenues would rise to support needed infrastructure. This underutilized, decaying area of McMinnville could be transformed into a district reflecting the beauty that McMinnville residents deserve and have come to enjoy within the downtown core.
Guest writer Kelly McDonald graduated from Linfield College in 1990. After purchasing a seed business in 1995, he became managing partner of the Granary District. He is a board member of the Chamber of Commerce and a founding member of the McMinnville Economic Development Partnership.
Twenty-seven years ago, when the McMinnville Downtown Association (MDA) was founded, the vacancy rate in downtown storefronts was 18 percent. Nearly one in every five commercial spaces was vacant, and the core of our beautiful city was threatened with near-extinction.
Through the work of a partnership of private property and business owners, the city of McMinnville and thousands upon thousands of volunteer hours over the years, downtown McMinnville has become the showpiece it is today.
It didn't happen overnight. Planning began with a dedicated corps of business and property owners who met weekly for nearly two years. The group worked with the city to develop an ordinance assessing these same property owners for a small pool of money. The city used the annual assessment to contract with MDA to advance economic development, historic preservation, beautification and promotional activities in the city center. Over the years, the assessment shrank from 75 percent of MDA's support to less than 20 percent of its annual income.
So, what does the future hold for McMinnville's downtown? What will it look like in the next 20 or 25 years?
The truth is that our work is far from done.
Because of a series of harsh economic realities over the past five years, the McMinnville City Council drafted an urban renewal ordinance for infrastructure redevelopment in parts of downtown and the Northeast Gateway District over the next 25 years.
About one-third of the expected funding is slated for Alpine Street and Lafayette Avenue upgrades; about 12 percent for downtown streetscape improvements; and the balance of funds for transportation and infrastructure improvements that will benefit both downtown and the Northeast Gateway District.
Here is part of the project list for downtown McMinnville:
- Move overhead utilities underground.
- Enhance landscaping and street trees.
- Increase historic street lighting and establish traffic signal standards.
- Add more public parking and repair sidewalks.
- Establish sign design standards and guidelines.
- Redesign mid-block crosswalks.
- Improve transportation safety at Adams, Baker, First and Second and Fifth streets.
MDA's role over the next 20 to 25 years will continue as it has in past decades: We'll help foster economic development by attracting a complementary business mix; we'll continue to work with public and private partners on historic preservation and beautification measures; and we'll work with property and business owners to establish the types of promotions and marketing that keep the core thriving and attractive for tourists and our local population.
It's not just our downtown — it's your downtown. The cooperation that makes that possible is uniquely designed for economic health in the years to come. Our partnership is proof of the cultural and investment ethic that makes our community what it is.
Guest writer Cassie Sollars is manager of the McMinnville Downtown Association. After careers in banking, real estate, accounting and editorial writing, she's now in her "dream job." She lives in McMinnville with her husband, Randy. Her love for Oregon's Favorite Main Street grows every day.