Club sports summer styles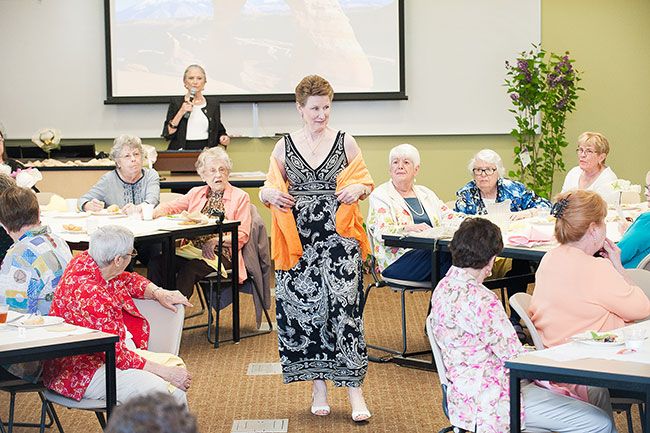 In previous years, members have highlight more of a hearty sense of humor than anything else. One member might drape herself with grape vines and ripe fruit, to represent the club's wine subset, while another might cover her outfit with handcrafts to represent the craft contingent or playing cards to displayed the bunco bunch.
But this year, organizers asked local stores to lend real outfits. As a result, models decked themselves out in seasonal finery from Accessory Appeal, Mes Amies, JC Penney, Yamhill Valley Dry Goods and Cupcake Couture.
When Jean Lierman was asked to be serve as one of the models, she readily agreed. "I thought I just had to be funny," she said, "but it's real clothes!"
She and the other models — Karen Olson, JoAnn Premer, Althea Richards, June Fidel and Wanda Roberts — took the time to pick just-right outfits. As more than 50 club members finished lunch, they waited nervously for their turn on the runway.
Emcee Rosalee Hayes described the clothing as each model walked through the meeting room at Chemeketa Community College's Yamhill Valley Campus.
Club members applauded both casual clothes and office attire. When the models returned dressed up for an evening out, they gasped.
"Wow! Exotic!" the women agreed as Fidel showed off a hot pink blouse and a black skirt that was long in back and knee-lengh in front.
And they sighed when Premer appeared in pallazo pants and a black top with daring ecru lace shoulders. "I want that," one club member said.