All in the family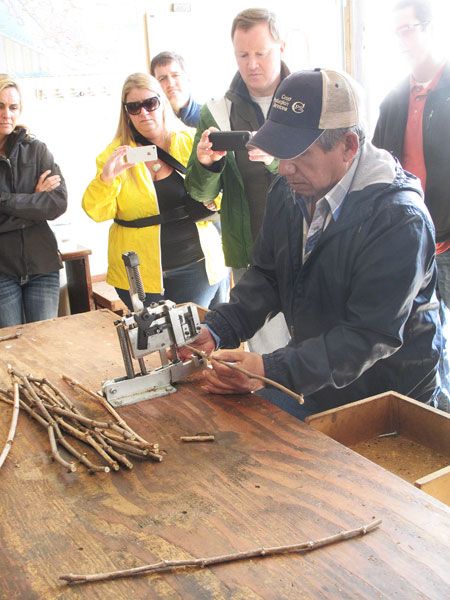 So this year, all the holidays, birthdays and wedding anniversaries the family usually celebrates are going to take a back seat to the 20th anniversary of the company Doug and Jo Ann Fries — pronounced freeze — started 20 years ago.
In 1993, the couple founded what has become Oregon's fourth-largest winery. But the history behind Duck Pond goes back many years before that, centered on Doug's love of growing things.
Fries farmed row crops in California's Central Valley until 1982. Then he moved to the Yamhill Valley and planted a hazelnut orchard.
The wine bug bit him in 1985. He put in 12 acres of pinot noir off Fulquartz Landing Road that year, and has continued planting new vines ever since.
The same year Doug built his winery in Dundee, he began planting the 433-acre Desert Wind Vineyard in the Columbia Valley's Wahluke Slope AVA. Next, he began planting the Hylo, Delaney, St. Jory and Willow Creek vineyards, which collectively encompass 270 acres in the South Salem Hills.
In 2000, he added the 52-acre Sacagawea Vineyard to his Wahluke Slope holdings. In 2008, he acquired a site near Sutherlin in Oregon's Umpqua Valley and began planting the 358-acre Coles Valley Vineyard.
Over the years, the winery's total vineyard holdings in Oregon and Washington have soared to more than 1,100 acres. And from all reports, Doug has no plans to quit there.
But these days, he first has to clear moves with his wife, Jo Ann, his son, Greg, his daughter-in-law, Amber, his daughter, Lisa, and his son-in-law, Scott, not to mention his winemaker, Mark Chargin.
Every one of them plays a key role in the operation of the company. Although Doug and Jo Ann retain majority ownership, decision making is strictly a group effort.
When they built their winery at the eastern end of Dundee in 1993, Doug and Jo Ann worked as a team, he handling the growing and processing, she the administration.
Meantime, Greg attended the University of California at Davis, where he studied agribusiness, vineyard management and fermentation science.
After graduating in 1994, he assumed winemaking duties at Duck Pond. He retained the position until 2010, when Chargin was promoted to head winemaker.
It wasn't long before Lisa began helping her mother run the office side of the business. She now oversees day-to-day administrative operations.
Completing the family team, Lisa's husband, Scott, serves as head of sales and marketing, while Greg's wife, Amber, handles promotion and public relations.
"So what's with the duck?" people often ask. As with any business, coming up with a catchy name took a bit of creative thinking.
Doug and Jo Ann lived on Duck Pond Lane, which passed by a duck pond. In the end, that attachment stuck.
Since their adoption of the webfooted moniker, application of this particular species of our feathered friends has taken many graphically interesting forms.
The duck being a rather attractive creature, a whole flock of different ducks have appeared on labels over the years. But none of them seemed just right for their Columbia Valley wines.
By 1997, the growing Washington side of their business called for a separate identity. Thus was born the Desert Wind brand.
For the first seven years, they trucked their Washington grapes to Dundee for processing. Then, in 2004, they opened the Desert Wind Winery in Prosser, Wash.
Management of the Washington operation fell to Greg, so he needed help with with winemaking. And he brought Chargin in from California to help in 2007.
With operations that spread from Columbia Valley to the Willamette Valley to the Umpqua Valley, Greg needed to free up time to work with Doug on vineyard and facility management. So Chargin was promoted to head winemaker in 2010 and given responsibility for operations at both the Duck Pond and Desert Wind wineries.
Together, the two brands are distributed in 44 states in the U.S. and 28 countries abroad. Total sales last year exceeded 138,000 cases.
Duck Pond started out small. Its growth was essentially organic.
"Our goal was always to make good value wines," Greg said.
The winery has been a family affair from the outset, so everyone has had to grow and evolve along with the business. And they all seem to have made the necessary adjustments.
The Frieses recently invited media representatives to join them in a day at Duck Pond to honor its 20th anniversary. The formal celebration is scheduled to follow on Memorial Day,
With the entire family serving as hosts, we went by luxury tour bus to see their vineyards in the Willamette Valley's South Salem Hills
At their nursery, we indulged in a clay oven pizza lunch catered by Dundee's Red Hills Market. Returning to the winery, we directly compared the mature and the new.
Deep orange-tinged pinots from the early 1990s sat alongside a purple, tannic 2012 just thieved from the barrel. It was a dramatic counterpoint
From there, the group had the opportunity to taste currently releases from Desert Wind, then visit the Allison Inn's Jory Restaurant for some gourmet fare accompanied by Duck Pond wines.
It was a fitting way to end a delightful day with one of Oregon's closest-knit wine families, whose members share a commitment to making value wines of high quality.
Karl Klooster can be reached by e-mail at kklooster@newsregister.com or by phone at 503-687-1227.