Scott Hill retiring from KeyBank after 36 years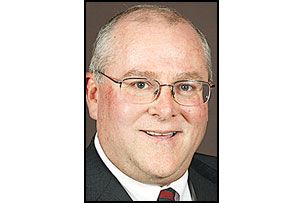 Obviously, Hill liked the work. He spent the next 36 years at it, all for the same company, now known as KeyBank. He will be retiring from his current position, vice president and area retail leader, later this month.
After he obtained his degree, Hill entered a training program. He went on to serve as manager of a series of branches in the Portland Metro area.
After a period in commercial lending, he had the opportunity to become the area retail leader in 1992. He moved to McMinnville to assume responsibility for the downtown McMinnville branch and six others.
The move also catapulted Hill into community service — with the bank's full support and encouragement.
He has been active in the McMinnville Downtown Association, McMinnville Area Chamber of Commerce, United Way of Yamhill County and McMinnville Library Foundation, and was a long-time board member of the Oregon Downtown Development Association. In addition, he served with the American Lung Association and Lines for Life, formerly the Oregon Partnership.
In 2004, Hill became involved with the McMinnville City Council. He was elected to a third term in 2012.
"The bank has been very supportive of my desire to give back to the community," Hill said. He anticipates his community involvement to expand in his retirement — that is, between time spent with his adult children and two grandchildren.
Banking itself has changed dramatically in the decades Hill has been involved. He remembers the era before computers, saying that as recently as 1988 there were only two computers on the bank's executive floor in downtown Portland.
"We split the use," Hill recalled. "Everybody got to use them two hours a day."
Significant technological and other changes have been made in the last five years, he said, but the bank's focus remains on the client. Hill said he is extremely analytical but enjoys working with people, and that his banking career supported both of those passions. From the time he was first hired, he said, it made him eager to go to work in the morning.
"You've got to take the complexity of finance and say, 'Here's how to make life easier,'" he said.
In the years he's been in McMinnville, while he feels that both he and the community have changed, there are aspects that remain the same. "It's still a community that's all about the livability," he said.
Hill said that he especially enjoys a community that he still feels is run by local citizens, businesses and other groups. And while it's grown, he feels the growth has been well managed.
"I still think McMinnville has that 'wow' factor for families as it did for my family," he said.
Hill believes community leaders retain the same passion he saw when he and his family first arrived, even though the faces are changing.
"The nice thing there is the old-timers are there to mentor," he said. "You don't see that in bigger communities. I think that's a uniqueness in this area that others have lost sight of."
Hill said he has no plans to move. He will spend more time with his church and in the community, because while he has been able to devote time to worthwhile causes, the pace of work life has been pretty hectic.
He said the decision to retire happened naturally. "When the time's right, your heart tells you it's right," he said.
He said his son wants his help with some summer remodeling work in Washington. But starting in the fall, he said, his focus will be on health, family, community and church.
"I really want to give more meaningful service," he said, so he is planning to continue with the city council.
"I love that," Hill said. "I never look at anything at the city as a chore."
He enjoys listening to concerns, talking to constituents and working with the capable staff. He considers his service somewhat of a hobby.
"It helps rejuvenate me," he said.
"Scott has been a coach and mentor to many, and his loyalty and dedication to Key have played an integral role in the bank's success in Oregon," said John Nolting, KeyBank's regional retail executive. "He is a true professional and dedicated leader who has earned the respect of his employees, peers, partners and community.
"We wish Scott the best in this next chapter and thank him for his years of dedicated service. He will be missed greatly."
Hill said Angel Aguiar, who moved into the role of McMinnville branch manager two months ago, will ensure there is a continued connection between the bank and the community.